Hair Care Tips for Monsoon Season
Hairs become oily, unmanageable with the beginning of the rainy season. Oily scalp, tightly curled hair and dry locks are the results of the extra moisture content in the atmosphere causing itchy scalps, flaking, and dandruff.
Here are few tips to protect your hair in the monsoon.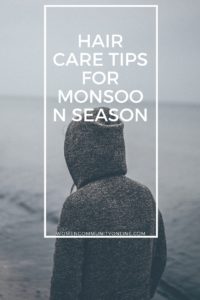 Keep your hair dry in the monsoon.
Rainwater is normally acidic and filthy with the expanded levels of stickiness in monsoon.
Before you leave your house dry your hair and protect your hair from damage.
Usually, people dry their hairs using the towel. Avoid combing wet hairs.
Shampoo your hairs twice in a week.
Make it a habit to wash and dry your hair at least thrice in a week to avoid fungal and bacterial infections.
But be careful washing your hair every day or too often can multiply the problems you already have with your hair.
Proper Conditioning and Moisturizing of your hairs.
Do not skip the conditioner as using a good conditioner will help to moisturize your hair and minimize the frizz.
This should be applied once you have cleaned your hair with shampoo.
Your hair will become soft, shiny and healthy.
Massage the hair oil of your choice to moisturize your hairs so that the scalp absorbs some oil and can hydrate and revive the driest strands in slow temperatures.
Avoid using hair styling products.
Hairstyling in clammy monsoon can harm your hair.
Excessive use of hair gels and sprays will only cause further damage.
Limit the use of hair dryers for drying hairs. Instead, use the towel to dry your hairs.
Use of umbrellas or waterproof jackets with a hoodie to protect your hairs in the rain.
The waterproof raincoats and jackets protect you from rains.
You can use some colorful umbrellas matching your outfit and experience the rainy season all your way.
Avoid tying of wet hairs.
Tying hairs tight high up is not advised in monsoon as it leads to trapping of rainwater in your hair and the humidity makes the hair even more curly and limp.
As the sun is not visible in monsoon hairs won't dry naturally. So keep your hairs wide open and avoid tying wet hairs which will prevent breakage of hairs.
A Healthy diet regime.
Always a good amount of protein, vitamins, and minerals is required by your hairs to strengthen the hair follicles.
For this, it will be important to have a good amount of food rich in vitamins and minerals.
Giving you a manageable haircut.
In case you can't keep up your long hair because of lack of time, it will be ideal to trim your hair short.
The length of hair must be settled on your manageability. You should trim your hair to the point that it becomes easy for you to manage them in less time.
This will also help in reduction of hairs fall and hair breakage.
Do take proper care of your hairs by these simple tricks and enjoy the rainy season without stressing over your looks.