Navratri Special Recipe: Farali Sabudana Vada Recipe
28th September 2017, is the eight day of Navratri Festival. It is celebrated as Maha Ashtami or Durga Ashtami. Those who can't-do fasting for entire nine days of Navratri, observe fast on this particular day of Maha Ashtami. Today I'm sharing one of my favorite farali recipe ( which can be eaten in fasts ) which is very easy. It is called Farali Sabudana Vada.
Farali Sabudana Vada Ingredients ( for 7-8 nos )
2 cups boiled and mashed potatoes
½ cup sabudana (sago in English) 7-8 hours soaked and dried
2 tablespoons of Singhara flour (Water chestnut flour)
two teaspoons of chopped peanuts
2 finely chopped green chilies
1 tablespoons of Rock salt (sendha namak )
one teaspoon of cumin seeds
1 teaspoon sesame seeds
2 tablespoons of coriander leaves
Farali Sabudana Vada Preparation
Take mashed potatoes in a bowl.
Add sabudana (sago), chopped peanuts, singhara flour, rock salt, chopped green chilies, sesame seeds, cumin seeds and coriander leaves to it and mix it well.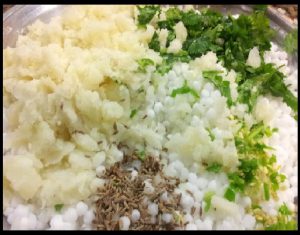 Take a small portion of this mixture and make small balls of it with the help of your hands as shown in the image below.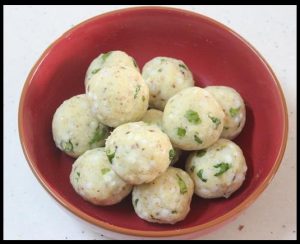 Deep fry them in a pan until they are golden brown.
Farali sabudana vada is ready to serve.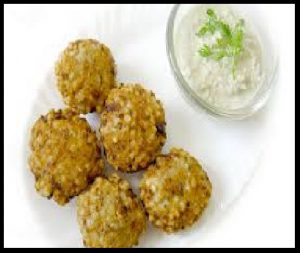 Serve it hot with sweet curd.