Chikki and Laddu Recipe for Uttrayan: Makar Sankranti Recipe
Makar Sankranti Recipe Chikki and Laddu are best Makar Sankranti Recipe, a famous festival of Hindus celebrated on 14th January every year. Chikki is a sweet dishes commonly made of sesame or peanuts and laddu is made with sesame.
Everyone likes to eat sesame Chikki and Laddu in winter. Both dishes are very Crunchy and crispy. Chikki and laddu take too little time in making. Dishes made with sesame give both warmth and energy to the body to fight against cold winter.
Makar Sankranti Recipe Sesame Chikki
Ingredients Required for Crispy Sesame Chikki Recipe
Sesame – 1 cup
Sugar – 1 cup
Ghee – 2-3 tablespoons
Cashews – 20-25
Pistachios – 1 Table Spoon
Small cardamom – 7-8
Method to make Crispy Sesame Chikki Recipe
First of all, a major point to be noted before making chikki is that Chikki is cut immediately into square shape pieces once you turn off the flame.
Chikki will stick to the pan if you failed in doing so.
Be careful while roasting sesame seeds, if they are roasted more they can taste a bit bitter.
Cut the cashew nuts into small pieces and the pistachios into thin pieces.
Peel the cardamom and powder it.
Add the ghee to grease the top of the board or plate on which you are putting chikki for cutting.
Heat heavy bottom frying pan put sesame seeds to it. Stir it constantly on the medium flame, until the sesame starts to change its color and turn light brown.
Take out all the roasted sesame seeds on a separate plate and keep it aside.
Add ghee to a pan and let it melt. Add sugar and melt it by constantly stirring it on medium flame.
Remember to keep the flame medium slow otherwise the sugar can burn instead of melting.
After the sugar is completely melted, turn off the gas and mix all the roasted sesame seeds in melted sugar.
Add chopped cashews and pistachios and cardamom powder and mix all the ingredients properly.
Put the mixture on the greased board and roll it flat. Then immediately cut into square shape pieces with the help of a pizza cutter or a knife.
Once it is cooled down, separate the pieces of chikki and place it on the plate to serve.
Crispy sesame chikki is ready to eat.
You can store it in the airtight container and keep it for 2-3 months.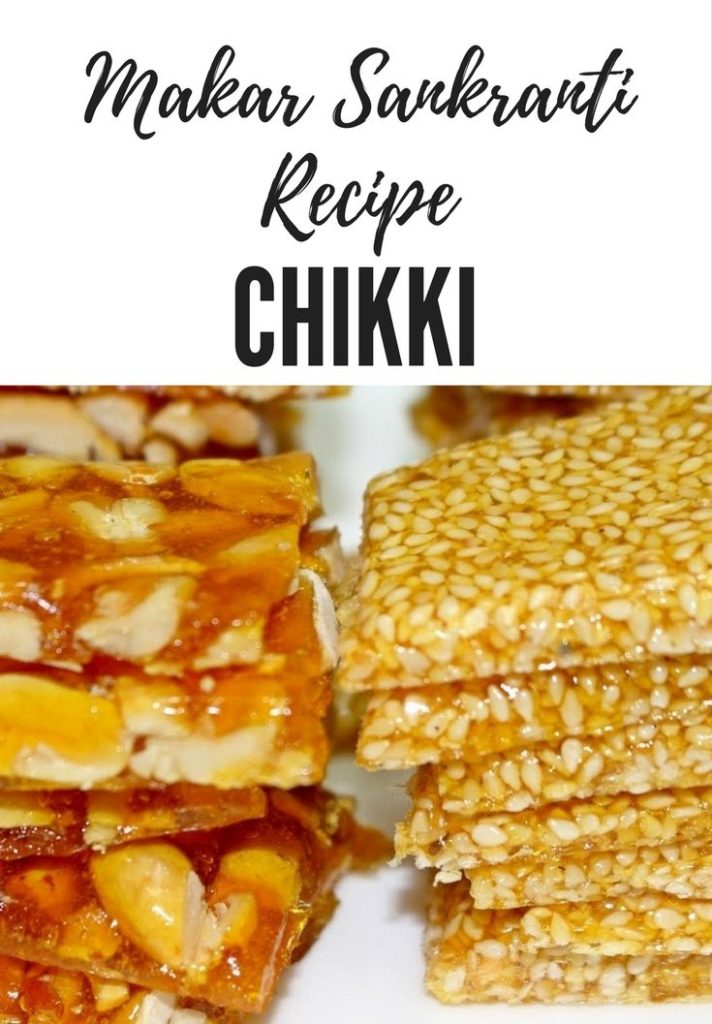 Peanut Chikki
Ingredients Required for Peanut Chikki
Peanuts 250 gm
Jaggery or Sugar 250 gm
Ghee 1.5 teaspoon
Method
Roast peanuts and remove its skin.
Put ghee in the pan and keep it on the medium flame and heat it.
Break the jaggery into pieces and add it to the pan, cook and stir the jaggery continuously on medium flame.
When jaggery starts melting add peanuts to it and mixes it well.
Cook it for 2-3 minutes and turn the gas off.
Immediately take this mixture out on a greased board and spread it on board to roll it flat.
Cut chikki into square shape pieces as seen in the image.
Peanut chikki is ready. Store Chikki in an airtight container.
Makar Sankranti Recipe Sesame Laddu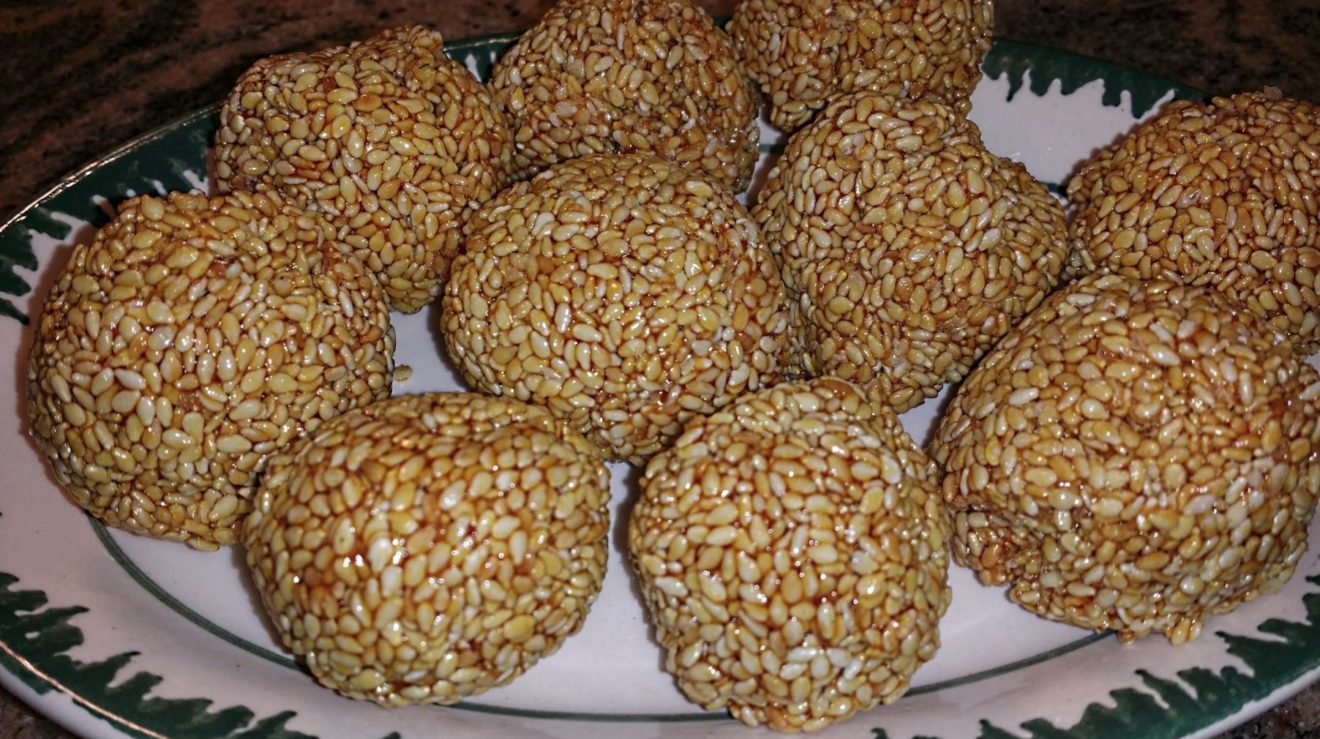 Ingredients Required for Sesame Laddu
Sesame – 2 cups
Jaggery – 1 cup
Cashews – 2 tablespoons
Almond-2 Table Spoon
Cardamom – 7 to 8
Ghee – 2 teaspoons
Method to make Sesame Laddu
Heat a heavy frying pan and add sesame to it. Stirring constantly with the spoon, fry the sesame seeds until light brown.
Sesame burns very soon, so keep in mind that they don't get burned, otherwise, they will become bitter in taste after burning.
Remove roasted sesame on a plate and let them cool.
Put a spoonful of ghee in another pan and heat it.
Break the jaggery into small pieces and Melt it in ghee by heating it on a very low flame.
When jaggery melts, stop the flame immediately. Now add chopped cashews and almonds to it.
Mix all ingredients properly and let it cool down.
After cooling down, mix the roasted sesame seeds in it and cardamom powder also in it.
Grease your hand with ghee and take sesame jaggery mixture in your palms and start making small round balls as seen in the image.
Laddus needs to be made from a hot mixture, otherwise, the mixture will start to cool and it will freeze.
Make round golf balls size laddus and place them on a plate for cooling.
Jaggery sesame laddus are ready to serve. This recipe is so quick and tasty and healthy. You can put them in the airtight container and eat it for 3 months.
Hope you will like these Healthy Makar Sankranti Recipes. Happy Makar Sankranti to all..!!