Sugar Free Mango Kulfi Recipe
Kulfi is a popular frozen Indian dessert, like ice cream, but, it's not churned. It is dense and creamy in appearance.  Kulfi, made via slow cooking or evaporation of the milk until milk is reduced to half its quantity. The semi-condensed mixture of the kulfi is then sealed in the mold and refrigerated. Since kulfi is a frozen dense dairy dessert, unlike ice cream it takes a longer time to melt. Sugar-free mango kulfi is rich, creamy, and easy to make dessert. It's best made with Kesar mangoes or Alphonso mangoes.
Kulfi originated in the Mughal emperor era was first brought to India in the sixth century. It comes in varieties of flavors. Mango, cardamom, cream, saffron kulfi are the traditional flavors. Kulfi is served by the restaurants as well by the traditional street vendors. Vendors keep it cold in a pot filled with ice and salt, hence it is also known as  Matka kulfi.
Sugar-Free Mango Kulfi Recipe
Ingredients
1 liter of low-fat milk

1 large mango pureed

2 tablespoon sugar-free powder

1 cup of no sugar milk powder

2 teaspoon of cornflour

1 teaspoon of cardamom powder

A pinch of saffron

1 tablespoon of chopped almonds

1 tablespoon of pistachios

kulfi molds
Servings: 4 people
Preparation Time: 4 -5 hours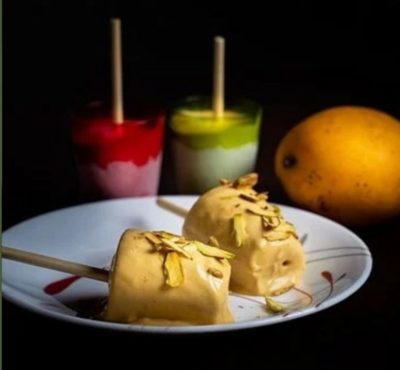 Image source
Instructions
In a wide and deep bottom pan, heat milk.

Bring it to a boil on the low flame till it thickens and reduces to half its quantity.

Once you get the specific consistency, add milk powder and cardamom powder to the mixture. Mix well.
Dissolve the cornflour in 1/4th cup of water and mix it well with the milk mixture.
Turn off the flame.
Add mango puree and blend it well with the milk mixture.
Add sugar-free powder, saffron, pistachios, almonds and mix them uniformly.
Let the kulfi mixture cool down to room temperature.
Once the mixture completely cools down, pour it into the kulfi molds and freeze the kulfi for 4 to 5 hours.
Remove the set kulfis from the refrigerator, unmold it, and take it out on a plate.
Cut with a knife and serve it chilled.
Sugar-free Mango Kulfi is ready to serve!
Pin Sugar-Free Mango Kulfi Recipe for later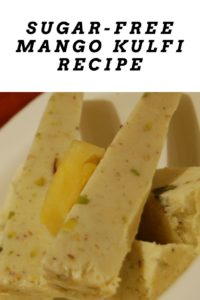 You May Also Like