Lalbaugcha Raja Ganesha History
Every year, the first look of Lalbaugcha Raja Ganesha reveals on Ganesh Chaturthi, after its Pran Pratishthapana Puja. The magnificent idol of Lord Ganesha will be open for public darshan after its Pran Pratishthapana Puja. The Pran Pratishthapana will take place on Ganesh Chaturthi, with all customs and traditions. The whole country celebrates Ganesh Utsav on a big & small scale but, Gujarat, Maharashtra, celebrates it extravagantly.
Lalbaugcha Raja is the most popular Ganesha idol of Mumbai, India. Lalbaugcha Raja Ganesha Idol founded in 1934, has its history of more than 85th year. The design of the idol is patent and retained about 15 to 20 feet tall. The Kambli family of Maharashtra has planned the idol and has designed it for over eight decades.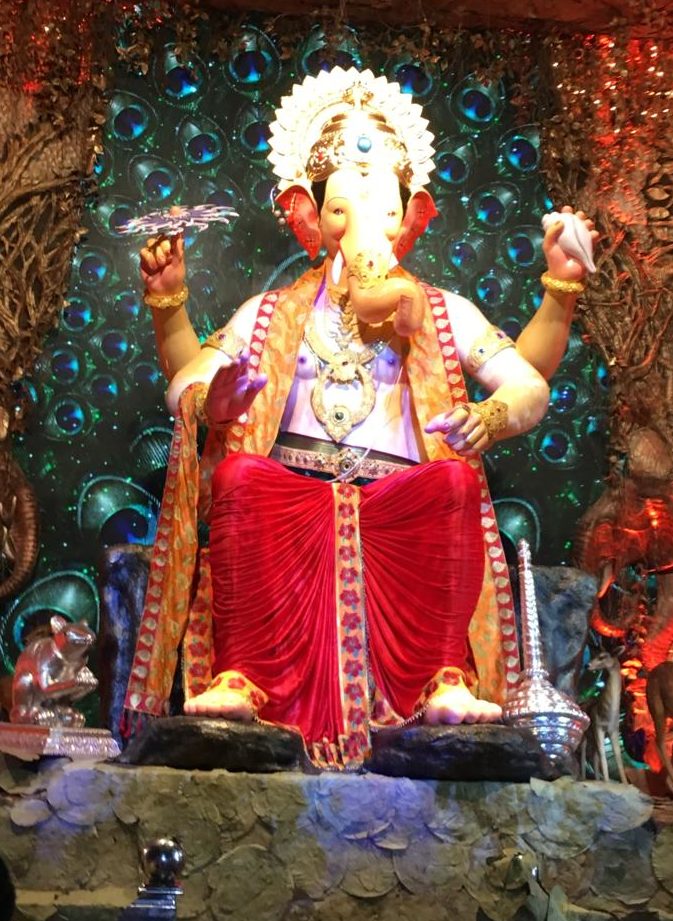 Lalbaugcha Raja Ganesha History
Lalbaugcha Raja is a Marathi name that means " The King of Lalbaug ". Lalbagh is a famous marketplace in Mumbai, where this famous Sarvajanik Ganesh idol sets every year.
The Mandal established during the freedom struggle of India. It was before known as the Sarvajanik Ganeshotsav Mandal. Its a result of the fulfillment of a vow, that the Sarvajanik Ganeshotsav Mandal endowed. A vow for the construction of the Lalbaug Market at its present place.
In 1932, after the closing of the marketplace at Peru Chawl, the fishermen and traders had to sit in open for trading. They desired and vowed for a permanent place for their business, from Lord Ganesha. As soon as their wish accomplished, they set a Ganesh Idol on 12 September 1934. They set the idol of Lord Ganesha dressed in the fisherman's costume. Since then, Lalbaughcha Raja Ganesha has become famous as the Mannat ke Ganpati. So, Lalbaugcha Raja is also known as "Mannat ke Ganpati" or "the wish-fulfilling Ganesha".
Lalbaugcha Raja Charms Thousands Of Devotees For Darshan
Lakhs of people from across the country, every year, turn up to seek the blessings of Lalbaugcha Raja. They stand in long queues from the early morning for darshan. Film actors and Politicians also visit this famous Ganesha Pandal seeking the fulfillment of their prayers.
The Ganesha idol placed in a huge pandal for public display attracts devotees from all over the country. The Ganesha idol resides for eleven days for public darshan from Ganesh Chaturthi to Anant Chaturdashi. Thereafter, the idol led by thousands of people, arrives at the Arabian Sea of Girgaum Chowpatty with a grand Visarjan procession, to immerse in the sea.
Lakhs of devotees come on the roads to bid farewell to their favorite Lord Ganesha. They gather in large numbers with drums and sing, dance, and throw colors to say goodbye to Ganesha. They make a wish and request Ganesha to come back soon the next year.
"Ganpati Bappa Morya"
Reference:
https://en.wikipedia.org/wiki/Lalbaugcha_Raja
You May Also Like: