Rice Coconut Modak Recipe
Modak is an Indian sweet made with sweet filling stuffed inside it. Modak is considered as the favorite sweet of the Hindu God Ganesha. Filling of a modak is made of grated coconut and jaggery or sugar stuffing, while its outer shell is made of flour (either rice flour, wheat, or maida; all-purpose flour). I am going to share here rice coconut modak recipe, made with rice flour. Modak can be fried or steamed in a regular vessel or a modak maker.
Modak Maker
Rice Coconut Modak Recipe
This rice coconut modak has several health benefits. It has the goodness of coconut, dry fruits, rice flour, and clarified butter (ghee). Coconut is rich in vital minerals like iron, manganese, selenium, potassium, zinc, and copper. Also, Jaggery used in modak preparation is good for digestion and liver detoxification. Dry fruits are the powerhouse of essential nutrients, antioxidants, fiber. Rice flour is gluten-free in nature, which is high in protein and vitamins. Ghee is a reliable source of fat-soluble vitamin A, that is necessary for eyesight, the immune system, and the functioning of the heart, lungs, kidneys, and other body organs. Overall, modak is a filling snack that not only has religious significance but also health gains.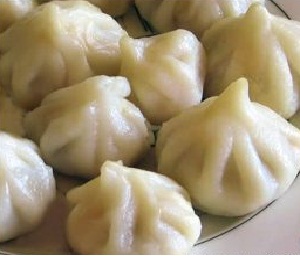 Modak Ingredients
1½ cup of rice flour
1 cup of water
A pinch of salt (optional)
5-6 tablespoons of grated coconut
grated dry fruits ( dates, cashews nut, pistachios, raisins, almonds )
2 tablespoons of jaggery or powdered sugar
½ teaspoon of poppy seeds
½ teaspoon of cardamom powder
1 teaspoon ghee
(This measurement is for 7-8 nos of Modak )
Modak Recipe
For Modak Filling

First of all dry roast the poppy seeds in a pan until you get its sweet smell.
Take another pan. Add grated coconut and jaggery/sugar to it.
Stir it continuously until jaggery or sugar melts and mixes with coconut.
Then add ghee and cardamom powder, dates, cashews nut, pistachios, raisins, almonds, and poppy seeds to it. Let this cool down.
Modak Recipe Dough

Take a vessel. Add water and salt to it and bring it to boil.
Pour this water over rice flour.
Now leave this aside to cool down.
After it cools down make dough out of it.
Modak Preparation

Grease your palm and knead dough gently. Take equal portions of dough and roll it around with the help of chakla and belan (rolling board and pin) or simply with your hands.
Now take coconut filling and place it over the rolled dough bringing the edges of dough together to cover it on top as shown in the image.
Repeat this with the rest of the dough and filling. You can also make modak with molds that are easily available in the market.
Steam or fry this modak as per your wish.
For steaming, boil water in a steamer. Grease all modak with ghee in a plate or tray and place it in a steamer for 10 minutes. Remove after 10 minutes and serve it.
For frying, deep fry all modak in ghee. Just be careful they don't break while frying.
Rice Coconut Modak is ready to serve.
You May Also Like