The festival of Navratri – Navratri festival celebration
Navratri festival
Navratri is a Hindu festival celebrated in autumn every year to honor the Goddess Durga in the Hindu Ashvin month. It is also called Sharad Navratri. It is celebrated to worship the nine different forms of Goddess Durga namely, Maa Brahmaachaarini, Maa Chandraghantaa, Maa Kushmandaa, Maa Skanda Mata, Maa Kaatyayani, Maa Kaalratri, Maa Mahaagauri and Maa Siddhidaatri.
Word Navratri is a Sanskrit word which means 'Nine Nights'. 'Nav' means nine and 'Ratri' means night. The festival of Navratri continues for nine days.  This year Navratri will be celebrated on Thursday 21st September 2017 to Saturday 30th September 2017.
Story Behind Navratri festival
According to Hindu mythology, during those nine days, Goddess Durga fought a battle with demon Mahishasur and demolished him. Goddess Durga is represented as Shakti – the ultimate divine energy or power. It is also said that Goddess Durga is a divine and eternal form of shakti which can never be created nor destroyed. Hence, Navratri symbolizes the victory over evil. This festival itself grants female highest respect.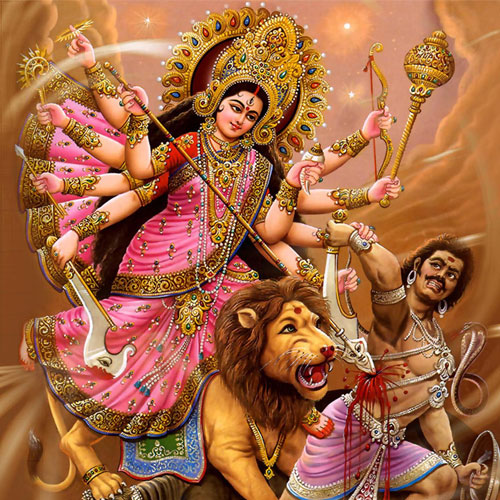 Navratri festival In India
Navratri is celebrated throughout the country. In North India, the idols of Goddess Durga are worshipped. Young girls ( Kumarika) are worshipped in the form of the deity. They are offered delicious food items and gifts. In Bengal, decorative pandals are made and people worship Goddess Durga and perform Durga Puja. In Gujarat, the nine nights of the Navratri are celebrated in a traditional dance form Garba and Dandiya. The festival is celebrated all over the country with joy and enthusiasm but it holds extreme importance for the Gujarati and Bengali communities in India. The best part of this festival is the traditional dance form of Dandiya and Garba. Some people also observe fast for entire nine days during the festival.
The Eight day of Navratri is celebrated as 'Maha Ashtami' and Night day is called 'Maha Navami'. On these days, Yagya ( Hawan ) is performed. Kanya Pujan is also done. Nine young girls representing the nine forms of Goddess Durga are worshipped in a specific ritual way that includes washing their feet and offering them delicious food items and gifts.
The last day of the festival is celebrated as Vijaya Dashmi (also known as Dussehra). Dussehra is another Hindu Festival celebrated on the 10th day as the victory of the Hindu God Ram over the demon Ravan. It symbolizes that the Good always triumphs over evil.
The nine days of Navratri are considered very auspicious. I wish and hope that Goddess Durga showers her blessings on every one of us. Happy Navratri to All..!!