How To Get Traditional Look For Navratri Garba
Today, I will tell you how you can get that perfect traditional look for Navratri Garba night. But, before this, let's know what is Navratri and Garba.
The most eagerly awaited Navratri festival has begun in India. It will continue for nine days and end on the 18th of October. Navratri is an Indian festival celebrated largely in Maharashtra and Gujarat and across the country. People celebrate Navratri with full devotion and offer their prayers to Goddess Durga. They worship nine different forms of Maa Durga, keep fasts, do Jagran, kirtan and celebrate Navratri with traditional dance form called Garba and Dandiya. For which, they also dress up traditionally and do the Garba and dandiya raas. We Gujaratis are very fond of garba. Our every occasion is incomplete without garba.
The religious significance of Navratri
Navratri means the festival of nine nights. It also signifies the worship of Goddess Durga. Goddess Durga is " Shakti " the universal supreme power. She is the feminine form of divinity. Maa Durga is also called Maa Amba and Maa Shakti. The festival of Navratri is not only to worship Goddess Durga but, also to achieve victory over the evil demons residing within us. Thus, this festival is a symbol of victory of good over evil. Goddess Lakshmi and Saraswati, are also worshipped during Navratri. Goddess Lakshmi is the goddess of wealth and Goddess Saraswati is the goddess of knowledge.
Garba and Dandiya
Garba is a traditional dance form of an Indian state, Gujarat. Its believed that Garba began in Lord Krishna's era. It was first done by Lord Krishna's wife Rukmani in Dwarka when her desire to marry Lord Krishna was fulfilled by her Kuldevi Maa Amba. In Garba, women clap with their hands in groups and move in a circle, around the portrait of Maa Durga and an earthen pot. This earthen pot is called Garba, it has a lamp placed inside it. On the other hand, dandiya is a dance in which two people dance together with two decorated sticks in hands. Dandiya is well-known as Radha-Krishna dance. Lord Krishna used to do Dandiya Raas with Radha and Gopis.
Earlier, the Garba dance used to be very simple but, these days you will see a lot of innovation in the steps and moves. People start the preparation of their unique garba steps quite early in advance. These days, big organizers prepare for the celebration of nine nights of Navratri. Many popular singers and celebrities make their presence to double the joy of people. You will not only get a visual-treat of Navratri fashion and Garba but, get a taste of delicious Gujarati fast food delicacies served in the stalls.
Get your traditional look for Navratri Garba with the following tips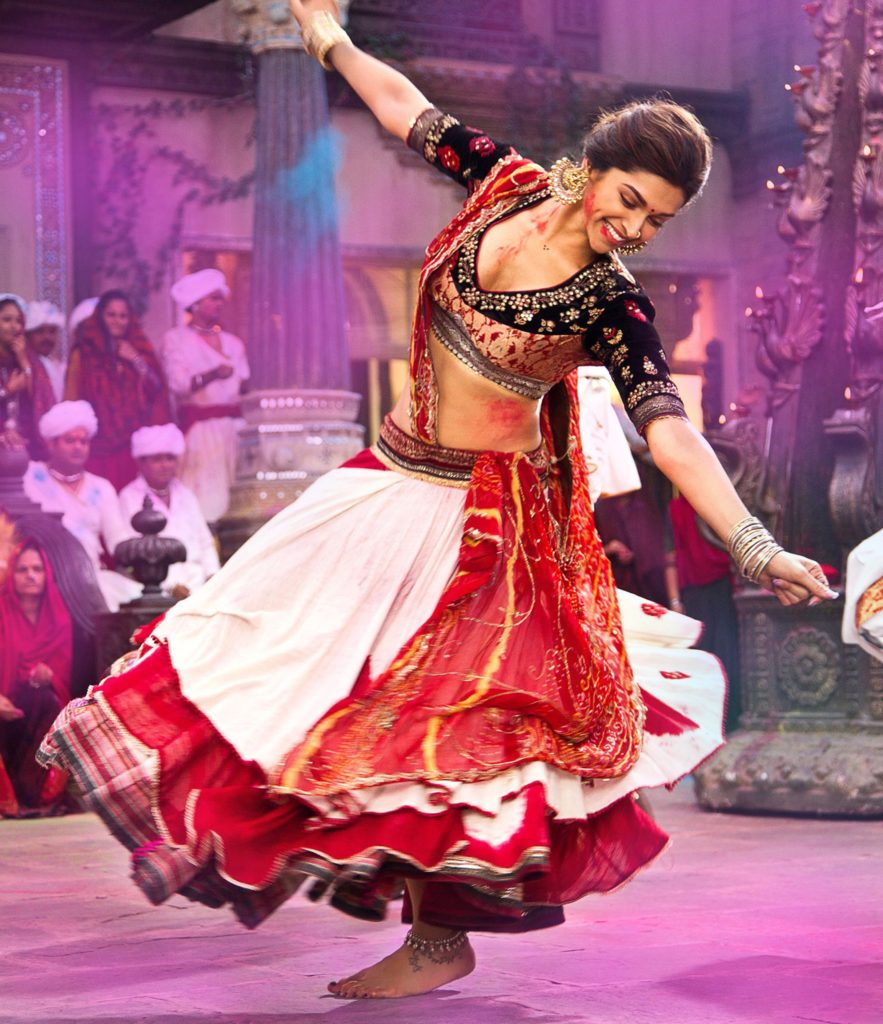 Navratri Outfit
Chaniya Choli or Ghagra Choli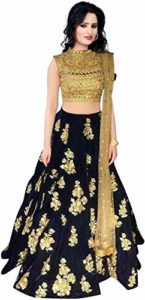 (Click to buy)
Ghagra choli is locally known as chaniya choli. It is a traditional outfit of an Indian woman. When the long-awaited Navratri festival arrives, people are all excited to dress up, like never before. Women wear traditional chaniya choli for garba and dandiya night. Traditional chaniya choli are a lot decorated with stones, mirror work, gotta Patti work, beads, shells, zari work, and embroidery. Mirror, bandhani, and embroidery work is a must for Gujaratis while selecting any garba outfit.
Chaniya or Ghagra is a long colorful skirt, accompanied with a choli and a dupatta. Chaniya is usually in multi colors and made of plain or bandhani fabric. They are either plain or nicely decorated with pompom, stones, mirror or shells.
Dupattas, are of contrasting color, either plain or with embroidery or mirror work done on them. It's usually pinned on one side of the shoulder. Another end of the dupatta is tucked to the waist from behind.
Cholis are usually semi-backless or backless. They come in a wide variety of attractive colors and strings.
These days, knee-length chaniya cholis are in fashion, because they help in doing the garba well.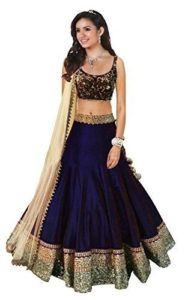 The traditional Indian Lehenga attire is a better option to wear, for a Dandiya night.  Usually, girls opt for off-shoulder long lehenga choli, because it not only gives them a traditional look but, also gives a Bollywood look.
The only difference between a Chaniya choli and a Lehenga choli is its fitting. Lehenga is in more fitting at the waist area, while Chaniya or Ghagra is with loose-fitting at the waist areas. This makes chaniya choli little more comfortable to wear.
Lancha is another Indian attire, which gives traditional as well as the sophisticated look on the garba ground. It is the length of choli, that makes Lancha different from Chaniya choli and Lehenga Choli. Its long choli covers your stomach and back, which makes Lancha more stylish and different. A perfect option to go for, if you are heavy near your waist area.
Navratri Accessories
Navratri accessories are all about a necklace, earrings, mang tikas, Kamarband, ring, nose ring, bangles, kada, armlet, mojaris, anklet, bindi, tattoo, and nail art. All these traditional accessories are worn by girls and women for Navratri Garba night.
Traditional Navratri oxidized Necklace with pompom is very much in trend these days. Besides, simple long oxidized necklaces are also preferred by many girls and women.
When you are wearing a simple Navratri outfit, you can opt for a double layer necklace. It'll style up your choli and glam up your traditional look for Navratri Garba.
Earring worn is usually a set with a neckpiece. But, some ladies also like to wear long Antique metal earrings which goes matching with their necklace.
Mang Tikka is usually worn in the middle part of the hair above the forehead. There are different patterns and designs of mang tikka. They are mainly stone-based, oxidized, Kundan stone studded, pearl studded, boho style hair harness, and crown pattern tikkas. But, multicolor pompom Mang Tikka is currently fancied by many girls and women.
Kamarband is a waistband made of silver or oxidized alloy. They are either simple or stone studded. Wearing a Kamarband will enhance your Navratri outfit and Navratri Garba look.
Ring, studded with stones or pearl and lined with gold or silver always looks trendy. These days big adjustable finger rings are in trend for Navratri. They're made of alloy.
Oxidized floral, silver lining nose pin and nose ring are currently in the fashion for this festive Garba season.
These days silk thread bangles with pompom are in fashion. Other than that, silver zircon bangles, beaded bangles, metal bangles, and oxidized bangles are also worn by women.
Kada is worn in hands. They're made of alloy and looks like a bracelet. Wearing bangles and kada on alternate days is a very good option.
Armlet is a bracelet worn by women on the upper arm. For Navratri, silver linings oxidized armlet and silk thread armlet are preferred. Opt for an armlet that matches with your outfit and accessories.
Mojaris are footwear worn to dress up your feet in a traditional look. They are very popular hand-crafted footwear worn by both women and men during Navratri Garba. Moreover, wearing mojaris won't harm your feet and ankle while you are on Garba ground. At present, Rajasthani and Jaipuri mojari are very popular. Ethnic embroidered footwear and mirror work juttis are also in the latest trend.
The anklet is an ankle chain or bracelet worn around an ankle. Pompom anklet, silver-lined oxidized anklet, afghani anklet is in the latest Navratri fashion. Choose such an anklet, which doesn't get stuck in your outfit and matches your outfit.
A festive-look of a girl or a woman is incomplete without a bindi. Bindi is a beautiful mark worn by Indian women in the middle part of her forehead. For Navratri Garba night, chose a bindi that not only enhance your traditional look but also, glam-up your face. Choose a simple stone studded bindi it will compliment every Navratri outfit. Keep your bindi simple, because overdoing your bindi can overpower your makeup.
A tattoo is optional but, done by many women and men. Many people, make a temporary colorful tattoo done for Navratri. During Navratri, you can make a tattoo on your back, waist, upper arm, or fingers.
Sparkle-up your nails with a glitter based nail polish or go for nail-art with glitter. It will also add a vibrant look to your traditional look for Navratri Garba.
Select such accessories, that are easy to wear and go well with your outfit. Note that they don't cause any damage to your outfit. Also, make sure you are not allergic to imitation jewelry. Apply a good moisturizer on your hands, neck, and back before wearing your fashion accessories.
Navratri Hairstyles
An unspoiled hairstyle will add more beauty, to your traditional look for Navratri garba night. If you like hair coloring. Apply streaks and highlights on your hairs, with vibrant hair colors like red and golden.
Go for a fishtail braid, flip twist ponytail, vintage curls, a bun with a pouf, braided loose bun, volumized ponytail, side braid, simple braid, and floral bun hairstyles. Don't forget to use sparkles, flowers and hair accessories to decorate and style your hairstyles.
Navratri Makeup Tips
Prime your skin –  On the Garba ground, you will sweat a lot. To prepare yourself for the sweat, always use a face primer. A primer will keep your makeup intact.
Use Powdered Products – Apply a good and light base. You can use BB cream as well. Choose powdered products rather than liquids and creams. Powder products will absorb wetness from your skin. Creams and liquid-based products will only make your face look wetter.
Highlight your face to make your makeup look more natural. Also, don't forget to moisturize your face before applying makeup.
Eyes – Go for smokey or bold eye makeup. Go for shades that are clearly visible in the intense lights of Garba ground. Use gold, bronze, and copper shades. Apply a waterproof mascara, kajal, and winged eyeliner. Also, don't forget to groom your eyebrows, and fill them with proper eyeshadow.
Lips – Use the best quality lipstick color. Go for pink, peach, nude, light corals, plum and red lip colors and use it according to your skin tone. If you are using bold eye makeup, then go for light lip colors, to balance your look and vice versa.
Don't forget to use waterproof makeup products and keep extra blotting tissues in your wallet all times.
You don't need to worry about the hot and sweaty atmosphere if you prepare yourself correctly. Achieve the traditional look you want, for this Navratri Garba, and woo everyone with your charm.
Happy and Vibrant Navratri to all the readers.
You May Also Like