Navratri Festival Celebration Facts & Significance
Navratri is a Hindu festival celebrated every year to honor the Goddess Durga. It falls in autumn in the Hindu Ashvin month and it is also known as Sharad Navratri. Navratri festival celebration includes worshiping the nine different forms of divine Goddess Durga. People all over the country and living abroad, celebrate this festival with great enthusiasm. In this post, I will share the significance of the Navratri festival and why is the Navratri festival celebrated? Also, we will know the different forms of Maa Durga and how they're worshipped.
When The Festival Of Navratri Falls?
Navaratri festival befalls twice a year. According to the Hindu calendar, the first Navaratri happens in Chaitra, (March-April). The second Navaratri occurs in Ashwin month (September-October, according to the English calendar). Devotees observe the festival of Navratri for nine days and nights.
Chaitra Navaratri marks the beginning of the Hindu year. Ashvin or Shardiya Navaratri marks the victory of truth over evil and unrighteousness. But, Sharadiya Navratri counts as the main Navratri. It begins on Shukla Paksha of Ashwin in autumn and lasts for a full nine days.
Navratri Meaning
The word Navratri derived from the Sanskrit language means the Nine Nights. 'Nav' means nine and 'Ratri' means night. The festival of Navratri continues for nine days. The tenth day purports as Dussehra or Vijaya Dashami. Navaratri festival worships nine different forms of Maa Durga for nine days, hence termed as Navaratri.
Nine forms of Durga are,
1. Shailputri Maa
On the first day of Navratri, devotees worship Maa Shailputri. Shailputri Mata is the daughter of the mountains. She is a manifestation of the goddess Durga. Worship of Maa Shailputri begins with placing a Kalash filled with water, near puja sthal (home temple). Devotees offer flowers, rice, sindoor, lit cow' ghee lamp, and an incense stick in front of the Kalash. Then, devotees recite aarti, bhajans, and Durga Chalisa. We get strength by worshiping Maa Shailputri to remove the complexity of our minds.
2. Maa Brahmaachaarini
On the second day of the Navratri Maa Brahmaachaarini form of Maa Durga is worshipped. Brahmacharini is a Sanskrit word which means a loyal female student who dwells in Guru Ashrama with other students. Devotees worship Maa Brahmacharini by offering milk, curd, water, ghee, honey on her idol. They offer flowers, rice, sandalwood, kumkum, and sandalwood in her feet. They then light lamp and incense stick and offer Prasada. By worshiping this form of Maa Durga, devotees endow with success, determination, and strength of character.
3. Maa Chandraghantaa
People worship Chandraghanta Mata on the third day of Navratri. This form of Maa Durga shines like the moon and has a half-moon on her forehead, that matches a bell. Devotees worship Maa Chandraghanta by offering her flowers, rice (akshat), lamp, incense stick, naivedyam and shringar items. On this day, they also prepare kheer (milk pudding) as prasada. Maa Chandraghanta blesses her devotees with the courage to fight your fears and resist negative forces.
4. Kushmandaa Maa
Kushmandaa Maa is the fourth form of Goddes Durga that is worshiped on the fourth day of Navratri. Mata Kushmandaa implies the universal seed or the creator of the universe. She is also referred to as Adishakti or Adiswarup. Devotees worship Maa Kushmanda by offering their prayers with flowers and naivedyam (delicious bhog). With the blessing of Maa Kushmanda, devotees can dignify themselves and achieve salvation.
Nine forms of Maa Durga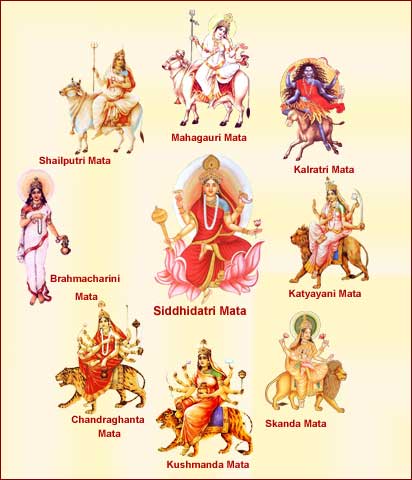 5. Maa Skandamata
Skandmata is the fifth form of Goddess Durga worshipped on the fifth day of Navratri. Lord Kartikeya, the elder son of Goddess Parvati and Lord Shiva is also known as Skanda. Thus, Skandamata means the mother of Kartikeya. To worship the idol of Skanda Mata, devotees offer her yellow or red-colored attire and shringar along with flowers, rice, kumkum, and Prasada. By worshiping Skandmata, devotees get blessed twice, both from Skandmata and Lord Kartikeya, who is sitting in her lap. Devotees get blessed with the knowledge to be able to deal with practical situations.
6. Katyayani Maa
Katyayani Maa is the sixth form of Goddess Durga, identified as the destroyer of the brutal demon Mahishasura. By worshiping Maa Katyayani, devotees get freed from all kinds of negative energies of life and of horoscope. Devotees worship Maa Katyayani in the form of a Kalash or an idol. They offer prasad to Maa Katyayani and recite mantras and bhajans, and perform aarti. Worshiping Maa Katyayani can remove obstacles in getting progeny.
7. Maa Kalratri
Devotees offer their prayers to Mata Kalratri on the seventh day of Navratri. Mata Kalratri referred to the Goddess who destroyed Kaal. Worshiping Maa Kalratri blesses her devotees with grandeur. The worship of Maa Kalratri commences at night by wearing white or red clean clothes. Devotees recite the Navarna mantra after they lit a lamp, and offer flowers, rice, kumkum, and jaggery to Goddess. By worshipping Maa Kalratri, one wins over enemies, opponents, fear, setbacks, illnesses, and negative energy.
8. Mahagauri Maa
Mahagauri, the eighth form of Maa Durga is worshipped on the eighth day of the Navratri festival. Devotees worship Maa Mahagauri's idol by offering her flowers, shringar, fruits, naivedhyam, lamp, and incense stick. Devotees also chant the Durga Saptashati path and perform Kanya pooja, in which they worship young girls as forms of the goddess.  By worshiping this form of Maa Durga, devotees receive relief from all the worldly miseries. Those who can't-do fasting for the entire nine days of Navratri, observe fast on this particular day of Maha Ashtami.
9. Maa Siddhidatri
On the ninth day of Navratri, devotees pray Siddhidatri Mata. Devotees worship Maa Siddhidatri by offering her lighting a lamp, incense stick, and offering flowers, kumkum, rice,a and reciting Durga Saptashati. They also perform havan on this day chanting the Shakti beej mantra. By worshiping Maa Siddhidatri, devotees achieve completeness, happiness, and virtue.
Why Navratri Is Celebrated?
Goddess Durga represents Shakti – the ultimate divine energy or power. It's believed that Goddess Durga is a divine and eternal form of shakti. The one who can neither created nor destroyed. Two popular stories comprehend the origin of the Navratri festival describes as below.
It's believed that before fighting a battle with Ravana, Lord Rama along with his brother Lakshmana, devotee Hanuman worshiped Maa Durga for nine days, to defeat him. The entire monkey army also accompanied him. In Rameswaram, he worshiped Maa Durga, and pleased with his devotion, Maa Durga blessed Lord Ram to win against Ravana in Lanka. After nine days, on the tenth day, Lord Rama landed his army to kill demon Ravana in the battle. Since then, worshipping the nine forms of Maa Durga as Navratri adheres. On the tenth day, people burn Ravana effigy and celebrate Vijaya Dashmi or Dussehra, which marks the victory of good over evil.

According to another legend, Demon Mahishasura was a great devotee of Brahma. He pleased Brahma with his tenacity and obtained a boon. In the boon, he asked no god, demon, or any human living on earth could kill him. On receiving the boon, he became very cruel and started terrorizing all the three worlds. Once, Mahishasura attacked devalok (heaven) and took away all the power of Surya Dev, Agni Dev, Vayu Dev, Indra Dev. Since demon Mahisasur had a boon of immortality, no god could withstand them. So, all deities, prayed to Goddess Durga to fight the demon Mahishasura and liberate them from his wrath. Considering the requests of the deities, Maa Durga fought a battle with Mahishasura. Maa Durga, riding a lion and holding a weapon in each hand, for nine consecutive days and killed him.
Hence, Navratri symbolizes the victory over evil. This festival itself grants females the highest regard.
Navratri Festival Celebration In India
The Navratri festival takes place from Pratipada to Navami Tithi of Ashwin month of the Hindu calendar, with great joy. Some people observe a complete fast during the festival of Navratri by taking only water and fruits and no food. The eighth day of Navratri celebrated as 'Maha Ashtami'. On Ashtami, Yagya ( Hawan ) and Kanya Pujan amplify the significance of the festival. Nine young girls representing the nine forms of Goddess Durga. In Kanya Pujan, worship of young girls in a specific ritual way includes washing their feet and offering them delicious food items and gifts.
The ninth day of Navratri manifests as Maha Navami and has high significance for worshipping young girls. North Indians worship the idols of Goddess Durga, as well as Young girls ( Kumarika, a girl of a specific age before attaining adolescence). The ninth day 'Maha Navami' lauds as the birthday of Lord Rama. On Ram Navami, performing puja, fast, and feasting weighs auspicious for initiating any new endeavors.
The whole country celebrates the Navratri festival with great joy and enthusiasm. But, it holds extreme importance for the Gujarati and Bengali communities in India.
The most charming, traditional, and grand celebration is the Durga Puja of West Bengal. Decorative pandals are the main point of attraction. People perform the annual grand Durga Puja with the vermillion game and the dhunuchi naach (a traditional ceremony during Maa Durga aarti) and offer their worship to Maa Durga. They worship the clay sculpture-idols of Goddess Durga for nine days, then immerse the idol in water.
Durga Puja
Image – source
In Gujarat, the nine nights of the Navratri are popular with Garba. Garba and Dandiya is the traditional dance of Gujarat. The best part of this festival is the traditional dance form of Dandiya and Garba. Some people also observe fast for the entire nine days during the festival.
Navratri Garba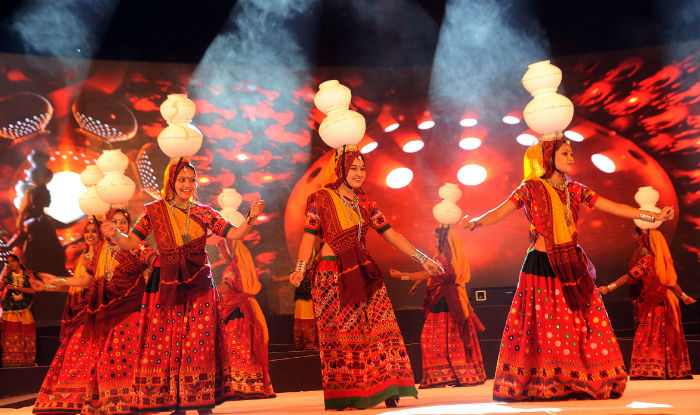 Vijaya Dashmi
The last day of the festival celebrated as Vijaya Dashmi (also known as Dussehra) is another Hindu Festival. This day marks itself on the tenth day, as the victory of the Hindu God Ram over the demon Ravana. It symbolizes that the Good always triumphs over evil. To celebrate Dashera, a staged performance by Ramlila artists performs Ramlila narrating the episodes of the life of Lord Ram. On the tenth day, burning the effigy of Ravana symbolizes the victory of good over evil. This event magnifies by lighting earthen lamps and bursting firecrackers.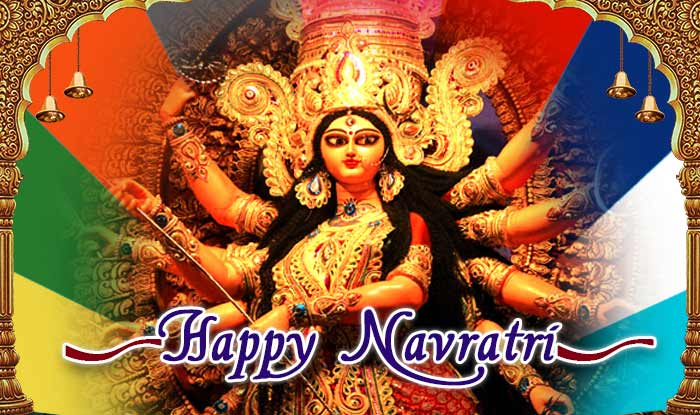 The nine days of Navratri are very auspicious. I wish and hope that Goddess Durga showers her choicest blessings on every one of us. Happy Navratri to all our readers from Team Women Community Online Blog..!
You May Also Like