5 Healthy Soups Recipes For Better Immunity
Are you looking for natural ways to boost your immunity in this lockdown? Staying home, eating healthy, and exercising can help you stay active during this lockdown. Boosting your immunity is an ideal way and a good opportunity to consider your health and the soundness of the body during this lockdown. This post includes five healthy soups recipes filled up with nutritious ingredients, to help your body stay healthy and fight disease.
A healthy body and mind are essential for a person to help them move forward in life. Whether it is a professional field or personal, only a person with a healthy body and mind can traverse a comfortable and hassle-free life. However, it happens that various external factors and atmospheric particles affect our bodies and cause infection and diseases. Our body creates disease-fighting cells to ward off such infections caused by viruses and bacteria. That's immunity. In other words, immunity is a complex network of white blood cells, tissues, lymph systems, organs, bone marrow, and substances that helps the body fight diseases and viruses.
When your immune system is low due to disease, chemotherapy, HIV, or any other reasons, take extra care of yourself to stay healthy. A person with a weak immune system is prone to various ailments. You may fall sick frequently or catch a cold, cough, flu too often.
How Soup Is Good For You?
What you eat, has its impact on your immune system. The best way to strengthen the immune system is to consume immune-boosting foods regularly. Immunity boosting foods are high in antioxidants and essential nutrients, required for the well being of a body. Foods that boost immunity can help prevent you from falling sick frequently. There are many Immunity boosting foods available naturally, like Citrus fruits, Broccoli, Turmeric, Carrots, Garlic, Ginger, Spinach, and yes, Water. These immunity boosters supply the body with adequate vitamins, minerals required for a strong immune system.
The benefits of soup as healthy food are endless and you just have to be creative to make it appetizing. Consuming soup is healthy in every season, especially in the winter and monsoon, they act as immunity boosters. Therefore, the soup must be consumed depending on the season and availability of ingredients. Also, make sure that the ingredients are fresh and organic.
Soups are easily digested, keep you warm, satiated, and your stomach light. Along with satisfying your stomach, they also save you from consuming extra calories. Soups are easily made and a bowl of it provides many essential nutrients to your body. A bowl of soup is rich in anti-oxidant, phytochemicals(chemicals that may prevent the cancer-causing agents), beneficial herbs, vitamins, dietary fiber, potassium, fruits, legumes, vegetables, that not only enhances its taste but also provide vital nutrients to prepare your body fight viruses.
5 Healthy Soups Recipes For Better Immunity
1. Ginger Turmeric Soup
Ingredients
1 tablespoon grated ginger
2 teaspoons fresh ground turmeric root
1 finely chopped onion
2 chopped garlic cloves
1.5 cup of coconut milk
4 cups vegetable stock
1 tablespoon lemon juice
salt
ground black pepper
How To Make
Ginger Turmeric Soup
In a stockpot, heat oil and add onions, saute for 5 minutes.
Next, add garlic, ginger, turmeric, and cook for two minutes.
Add vegetable stock and mix well.
Then add coconut milk, and bring it to a boil.
Add lemon juice, salt, and ground black pepper according to your taste, and serve warm immediately.
Turmeric contains a fat-soluble chemical compound named curcumin, which has antioxidants and anti-inflammatory properties. While, Ginger has been known to cure nausea, stomach disorders, and boost the immune system. This healing Ginger Turmeric soup is a traditional cure to coughs, colds, and indigestion. It's loaded with flavors, essential nutrients, and it's excellent for digestion, and can also help in restoring your system.
2. Carrot Soup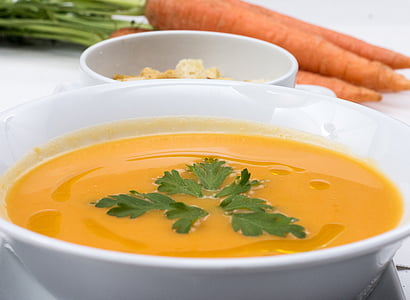 Ingredients
500 grams cleaned chopped carrots
4 cups vegetable stock
1 chopped white onions
1-inch minced ginger
2 minced cloves garlic
1/2 teaspoon turmeric powder
1.5 tablespoons olive oil
4 tablespoon lemon juice
ground black pepper powder as per taste
Carrot Soup Recipe
Heat the olive oil in a stockpot over medium flame and saute white onions until translucent.
Add ginger, garlic, and turmeric powder and cook for two minutes.
Add the carrots and cook for two more minutes.
Pour vegetable broth and bring it to a boil. Simmer until carrots are soft.
Then add lemon juice, salt, and ground black pepper powder.
With a hand blender, puree the mixture until creamlike.
Carrot Soup is ready now, serve it with baked potato wedges.
This carrot soup is delicious and wholesome, great for providing comfort in cold weather. Carrots contain healing properties. They are a good source of Vitamin C, minerals, beta carotene, potassium, fiber, and antioxidants that fight free radicals and boost the immune system. Carrots are good for bone health, regulate cholesterol levels, skin, and eyes.
3. Spinach Soup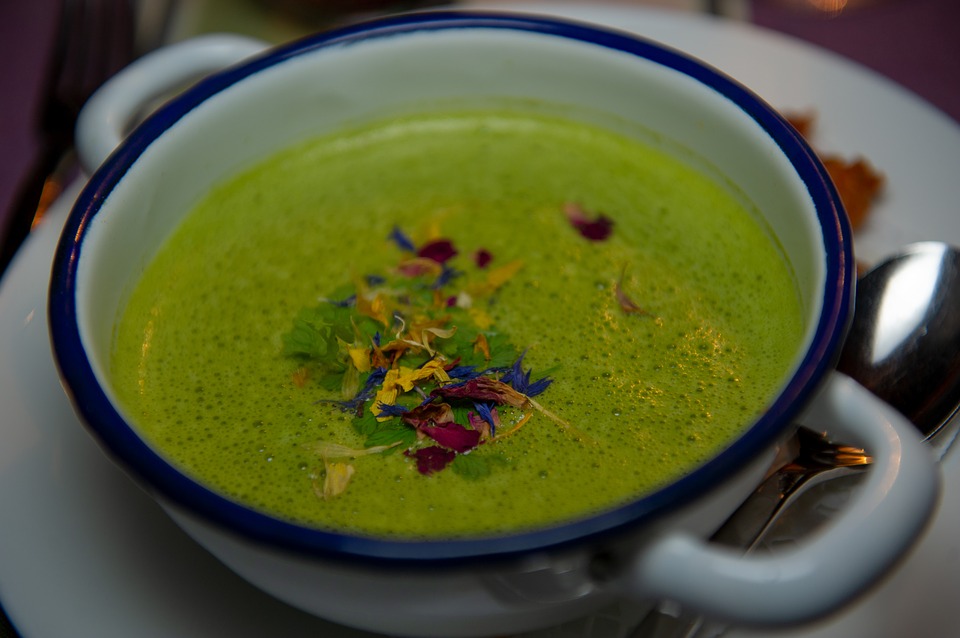 Ingredients
350 gms spinach
6 cups of vegetable stock
1/2 teaspoon of chili powder
1/4 teaspoon of cumin powder
1/2 of cup cilantro
3 tablespoon lemon juice
pink Himalayan salt as per taste
1/2 teaspoon ground black powder
How To Make 
Spinach Soup
In a stockpot, boil the vegetable stock.
Add spinach and simmer for 5 minutes.
Next, add chili powder, cumin powder, ground black pepper, and salt and cook for two more minutes.
Turn off the flame and allow it to cool.
With a hand blender puree the mixture.
Add lemon juice, cilantro and serve it immediately in a soup bowl.
This Spinach soup is a nutrient-rich meal full of disease-fighting antioxidants and essential minerals. It's loaded with essential vitamins and minerals of spinach that are vital for healthy body functions. Spinach is a potential cure for diabetes, asthma, blood pressure, digestive disorders, eye problems, skin, and hair problems.
4. Broccoli Soup
Ingredients
2 cups chopped broccoli
1 cup chopped spinach
1 chopped onion
4 cups vegetable stew
1 cup green onions
2 cloves minced garlic
1 chopped carrot
1 chopped fennel stalk
2 tablespoons lemon juice
3 tablespoons olive oil
ground black pepper as per taste
salt to taste
1 cup of water
How To Make
Broccoli Soup
Heat the olive oil in a stockpot. Add the carrots, onion, garlic, and cook for about 5 minutes.
Add the vegetable stew and water and bring to a boil.
Reduce the flame and allow it to simmer.
Add broccoli, green onions, spinach, and fennel stalk, and cook for 5 more minutes.
Turn off the flame and allow it to cool.
With the help of a hand blender, blend the mixture.
Add salt, ground black pepper, and lemon juice according to your taste.
Serve it immediately in a soup bowl along with whole wheat crusty bread or salad.
This broccoli soup is healthy, low-fat, satisfying, and loaded with flavors and rich nutrients. Broccoli is rich in proteins, iron, vitamins, folic acid, calcium, potassium, selenium, and magnesium essential for a healthy body. Broccoli contains Vitamin C and antioxidants that maintain a healthy immune system, regulate blood sugar and cholesterol, and help in chronic conditions, heart disease, and eye disorders.
5. Mushroom Soup
Ingredients
2 cups chopped shiitake mushrooms
1-inch grated turmeric root
1 chopped onion
6 chopped garlic cloves
1/2 cup chopped spring onions
pink Himalayan salt according to your taste
Ground pepper according to taste
1 tablespoon olive oil
3 cups of water
Mushroom Soup Recipe
Heat olive oil in a nonstick stockpot add onion, garlic, and cook until garlic leaves its rawness.
Add mushrooms and stir-fry for 10 minutes.
Add grated turmeric, salt, and water.
Leave it to simmer, then add grounded pepper, and spring onions.
Cover and cook for 10 more minutes and then serve it hot.
All types of edible mushrooms have many nutritional benefits. They only differ in their levels of protein and fiber content. Mushrooms also contain Vitamin B, and selenium, which promote a healthy immune system, oxygen-carrying red blood cells production, prevent inflammation and damage to cells and tissues. Shiitake mushrooms are known to boost the immune system, regulate the cholesterol levels in the blood, cure colds and flu, and stomach ache.
These five healthy soup recipes are packed with plenty of nutrients and antioxidants that boost your immune system and keep you healthy in viral season. So start adding soup in your diet from today itself. Prepare the soup you like, and strengthen your immune system.
Liked these healthy soup recipes? Pin it for later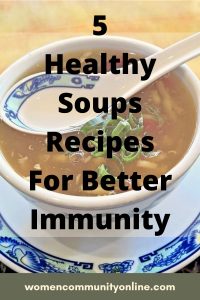 You May Also Like