5 Immune-Boosting Juice Recipes
In this post, I am sharing 5 quick and easily made immune-boosting juice recipes that could help you combat infection and illness, and strengthen your immune system. If you get cold, flu, or an infection easily then you may land up with a variety of health issues, that can be challenging to overcome if you have a weak immunity system. WBC (white blood cells), immunoglobulins, organs, cells, defense cells, lymph nodes, microbes, and proteins constitute a body's healthy immune system. People with a weak immune system are prone to recurrent infections and illnesses. Smoking and alcohol consumption can also weaken your immune system. Having a healthy immune system will help fight off sensitivities, and infections and also help to recover quickly if you get it.
There are several superfoods that you must include in your diet to strengthen your immune system. And the easiest way to consume them fresh in salads, soups, or juices. Juicing them is an ideal option to introduce all fresh and nutritional ingredients into appropriate intake and absorption ratios that help your body for which you only need a good juicer. The following immunity-boosting juice recipes with natural solutions can refresh your system and absorb essential nutrients with ease. These immunity-boosting juice recipes are delicious, quick, and easily made at home. Your body can digest them easily providing it all the benefits required instantly.
Symptoms Of A Weak Immune System
Autoimmune disease like Rheumatoid arthritis, Multiple sclerosis, lupus, Coeliac disease, Temporal arteritis, Vasculitis, Type 1 diabetes, Psoriasis, Inflammatory bowel disease, etc.
Nose and sinus disorders
Ear infections
Skin infections
Infection and Inflammation of the internal organs
Blood disorders
Digestive problems
Delay in growth and development in infants and children
Ways To Strengthen Your Immune System
Say no to alcohol consumption and smoking
Eat fresh fruits, vegetables, and herbs
Maintain a healthy body weight
Follow an exercise routine
Take enough sleep
Take precautions to evade infection
Wash hands thoroughly
Regular health check-ups
5 Immune-Boosting Juice Recipes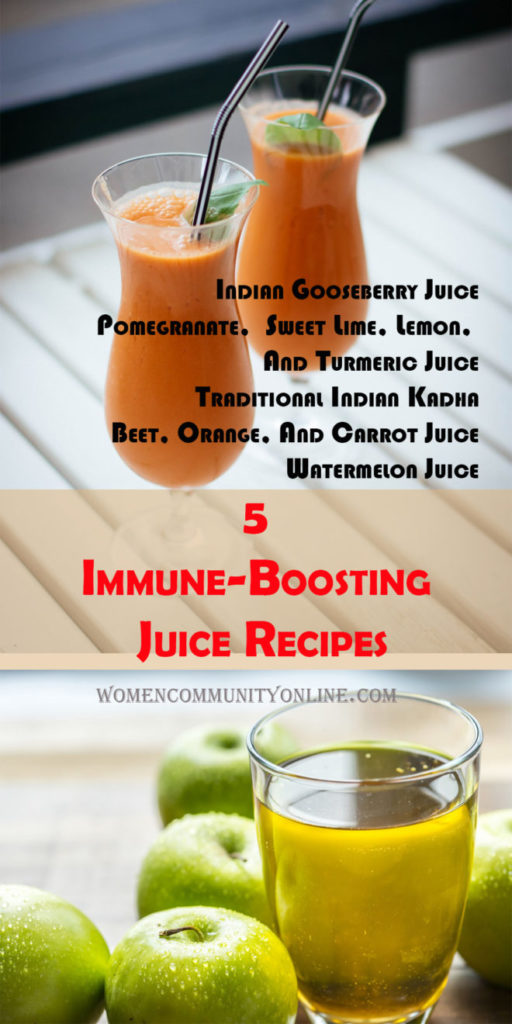 1. Indian Gooseberry Or Amla Juice
Ingredients
1 cup Hot Water
2 tablespoon Indian Gooseberry powder
1 teaspoon Honey
1 inch Ginger
5 to 6 Mint Leaves
5 to 6 Holy basil leaves
Instructions
In one cup of hot water, add Indian gooseberry powder, honey, and mix well. Add grated ginger, chopped mint leaves, and holy basil leaves to the water and let it rest for 10 minutes to let infuse all the flavoring blend well.
Indian gooseberry with honey, ginger, mint leaves, and holy basil is a good source of antioxidants and essential micronutrients. Indian gooseberry or Amla juice is good for revitalizing, detoxing, and strengthen your immune system.
2. Pomegranate,  Sweet Lime, Lemon, And Turmeric Juice
Ingredients
1/2 pomegranate (seeds)
1/2 cup Sweet lime
1 lemon
2-inch chopped ginger
2 teaspoon turmeric powder
1/4 teaspoon black salt
Instructions
Blend all of the ingredients in a juicer blender. Pour the Pomegranate,  Sweet lime, Lemon, and Turmeric Juice in a glass and sprinkle black salt over the top.
This Pomegranate, Sweet lime, Lemon, and Turmeric Juice are loaded with antioxidants, that are essential for a healthy body to fight off infection, inflammation and boost the immune system.
3. Traditional Indian Kadha Recipe

Traditional Indian Kadha is an Ayurvedic tonic prepared by boiling herbs and spices with water to extract their beneficial components.
Ingredients
2 cups of water
4 to 5 Holy basil leaves
1 teaspoon honey
1/4 teaspoon desi ghee (purified butter)
1 teaspoon black pepper powder
1-2 pieces of cloves
1 inch chopped ginger
Instructions
In a saucepan heat the purified butter. Once purified butter melts add chopped ginger, pieces of cloves, black pepper powder, and holy basil leaves. After a minute, add water and bring it to a boil. Keep stirring occasionally.
Reduce the liquid for 10 to 15 minutes until syrup consistency. Strain the hot Kadha in a serving bowl and then pour honey and some crushed holy basil leaves over the top.
This Kadha is packed with Immunity booster ingredients like holy basil leaves, mint, purified butter, honey, and ginger that shields the human body from harmful free radicals and helps in detoxifying, revive the immune system, and protect DNA. It can be consumed twice a day to get the most of it when you have a cough, cold, flu, or fever.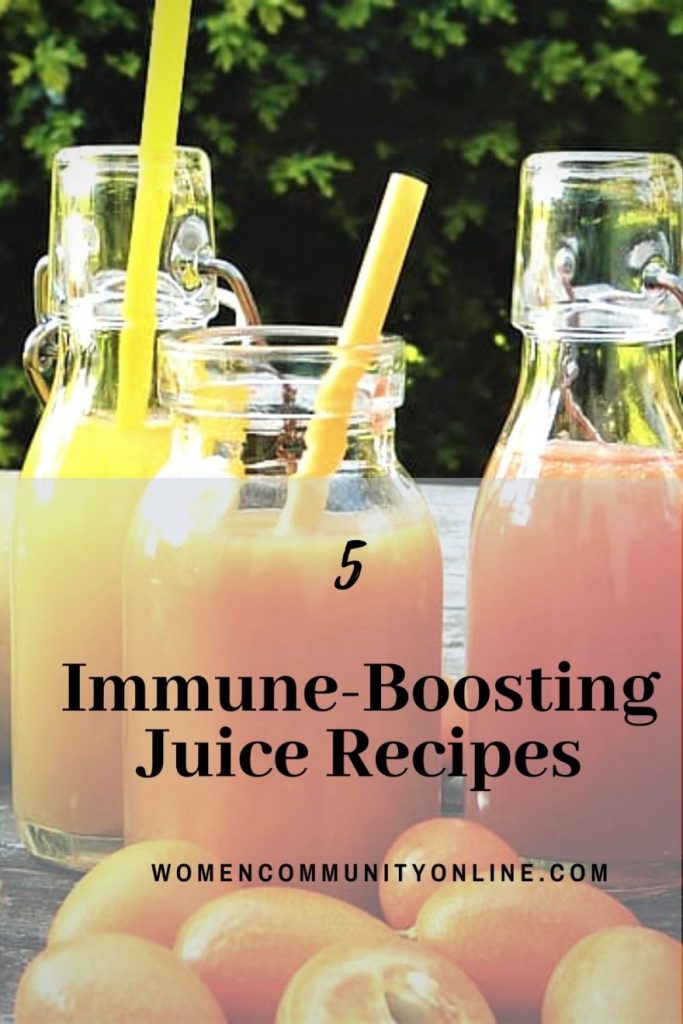 4. Beet, Orange, And Carrot Juice
Ingredients
1 Beetroot
1/2 cup Orange juice
1 carrot
1-inch ginger
4-5 mint leaves
1 Cucumber
1 Lemon
1/4 teaspoon black salt
Instructions
Blend all ingredients in a mixture and serve instantly. This Beet, Orange, and Carrot juice is not just refreshing but effective to boost your immunity system.
5. Watermelon Juice
Ingredients
1/2 cup chopped Watermelon
1/4 teaspoon Black salt
1/4 teaspoon Black pepper powder
Lemon juice as per taste
4 to 5 Holy basil leaves
5 to 6 Mint leaves
Instructions
Blend all the ingredients in a juicer blender. Pour the mixture in a glass and sprinkle black pepper and black salt with chopped fresh mint and holy basil leaves over it.
This Watermelon juice helps in lowering infection because of the high anti-inflammatory antioxidant lycopene and vitamin C content in Watermelon.
These are a few options listed above, you can use different ingredients and try out some other immune-boosting juice recipes. Apart from all these recipes to boost your Immune system, Water is necessary to keep your immune system strong. Drinking recommended 2 liters of water per day helps you stay hydrated and energetic giving you healthy glowing skin. Taking the required amount of water also assists in removing toxins from the body and strengthening the functioning of the immune system. So, drink water as much as possible and stay healthy and fresh.
You May Also Like