5 Indian Recipes To Make This Holi
The most awaited festival Holi has finally arrived and so I considered writing on my favorite Indian recipes for the festival. India is recognized for its vibrant culture, fantastic festivals, and Indian recipes. Every Indian festival is incomplete without traditional meals. Special recipes are prepared during festivals making the festival even more pleasant. I know a lot of Indian families wait for Holi to have sweets and savory snacks savory because these traditional Holi dishes are popular particularly in this season of the year. Holi is incomplete without Gujiya, Mathri, and Thandai. Besides, Holi is the perfect time to throw a Holi party and enjoy playful moments with adoring meals. So here I've listed 5 easy Holi recipes that you can prepare at home with no stress.
The legend behind celebrating Holi
Holi is a favorite Hindu festival of all Indians originating from the Indian subcontinent, widely known as the festival of colors and celebrated in the spring. According to the mythological stories, the word Holi originated from the Sanskrit word Holika. Holika was an evil sister of Hiranyakashipu who had a boon that fire can't harm her. Prahlad was a true devotee of Lord Vishnu. Being a powerful demon, Hiranyakashipu couldn't support his son Prahlad worshipping God. So he ordered his sister Holika to sit with Prahlad in the fire. As the fire was lit Prahlad started praying to Lord Vishnu. Prahlad's true devotion to Lord Vishnu burned Holika to her death and saved him. Thus Holi signifies the triumph of good over evil i.e. the victory of Lord Vishnu over demon Hiranyakashipu to save his devotee Prahlad.
A bonfire is burned on the eve of Holi implying the Holika Dahan i.e. the death of evil and the next day Dhuleti is celebrated with colors. It is believed that Lord Krishna used to play Holi with his friends in Vrindavan and Gokul with colors and so colors become part of Holi. Besides, Holi signifies the end of winters. In some regions of India, it is also celebrated with spring harvest. Therefore, Holi is rife amongst Farmers as their stores are refilled with new crops this season and thus bring happiness.
5 Indian Recipes To Make This Holi
1. Gujiya (Sweet deep-fried dumpling)
Gujiya is a deep-fried sweet dumpling prepared with semolina or refined wheat flour. A Gujiya is filled with a stuffing of sweetened Khoa, dry coconut and dried fruits. It is one of the traditional cuisines of North India, Gujarat, Madhya Pradesh, and Rajasthan.
Ingredients
2 1/2 cups refined wheat flour
4 cups Khoa
3 tablespoon raisins
1 cup of water
2 cups of sugar
200 gms chopped almonds
Oil for deep frying
Instructions
First, prepare dough for Gujiya. Add 5-6 tablespoons of oil in refined wheat flour and knead it into a soft dough with water using your fingers. Once the dough is ready cover it with a damp cloth and put it aside.
Next, you will need to prepare the stuffing. In a frying pan, add khoa and cook it until light brown. Add sugar into it and mix well. Now add chopped almonds and raisins and cook for 3 to 4 minutes. Mix well and turn off the flame. Put it aside and allow it to cool.
Take approximately 4 cm diameter dough and roll out into a small thicker chapati. Stuff half the chapati with the khoa filling and fold its edges and seal the edges spiraling inwards. Take care that the stuffing does not ooze out.
Similarly, make all Gujiya and deep fry them on a low flame till golden brown. Place them in a plate with a tissue paper to remove excess oil. Khoa Gujiya is ready to serve.
Note
You can replace Khoa with roasted semolina.
You can also bake them instead of deep-frying.
2. Vermicelli Kheer (Seviyan Kheer)
Vermicelli Kheer aka Seviyan kheer is a must on any festival. It is a traditional sweet pudding made by boiling wheat vermicelli in milk and sugar and enhanced its flavors with nutmeg, cardamom powder, dry fruits, and saffron.
Ingredients
1 cup Vermicelli
500ml of milk
1 tablespoon ghee
1/4 cup sugar
1/2 teaspoon cardamom powder
a pinch of saffron strands
1 tablespoon raisin
2 tablespoon chopped dry fruits
Instructions
Heat ghee in a deep frying pan and add broken Vermicelli and roast them on low flame for 2-3 minutes. Add raisins and chopped dry fruits and roast for 2 minutes. Add milk to the Vermicelli and bring it to a boil while continuously stirring to it.
Meanwhile, soak saffron in some milk in a small bowl and put it aside.
Add sugar and cook Vermicelli in milk mixture until it becomes soft and thicker. Add cardamom powder and soaked saffron milk to the mixture. Mix well and cook the mixture for 2 minutes.
Vermicelli Kheer is ready. Garnish with nuts on top and serve it hot.
3. Malpua ( Sweet Pancake)
Malpua is a North Indian sweet pancake dessert recipe originating from India and also popular in neighboring countries Nepal, and Bangladesh. It is a mouth-watering delicacy prepared with khoya, All-purpose flour, semolina, and sugar.
Ingredients
3 cups of wheat flour
1 cup semolina
2 cups of crushed organic Jaggery
2 tablespoons ghee
ghee for frying
1 tablespoon peppercorn
500 ml of milk
1 teaspoon fennel seeds
1 teaspoon green cardamom powder
250 ml of water
1 lemon (small)
1 tablespoon curd
Salt
a pinch of baking soda
saffron as required
2 tablespoon chopped nuts
Instructions
Mix wheat flour and the semolina with the milk, curds, jaggery and a pinch of salt in a flat-bottomed cooking pot. Beat the mixture for 5 to 7 minutes to make it light and fluffy. Crush the peppercorns, fennel seeds coarsely and add them to the mixture. Add cardamom powder and mix well. Heat ghee and pour it over the mixture, mix well and let the malpua mixture rest overnight or 8 hours.
After 8 hours you will notice that the mixture has risen. Add some milk to the mixture and bring it to pouring consistency. Add a pinch of baking soda and lemon juice to the mixture.
In a frying pan heat ghee. With the help of a pouring spatula pour the mixture in a frying pan and fry it till porous and crisp. Fry till golden brown on both sides. Take out on a plate with a tissue paper to drip out extra ghee.
Malpuas are ready. Serve them with saffron and chopped nuts on top.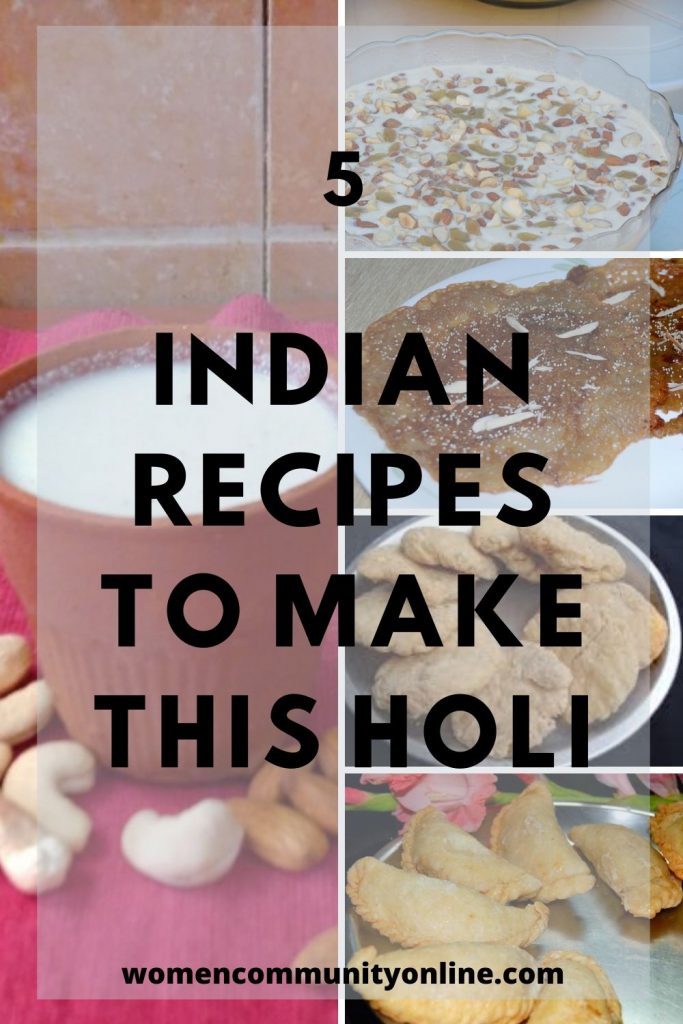 4. Mathri (Savory Flaky Biscuit )
Mathri is a traditional Rajasthani crispy flaky biscuits snack originated from north-west India. It is made from a firm dough prepared with semolina, refined wheat flour, carom seeds, and ghee.
Ingredients
3 cup whole wheat flour
2 tablespoon oil or ghee (for preparing dough)
2 teaspoon carom seeds
1 teaspoon cumin seeds
2 teaspoon roughly crushed black pepper
2 teaspoon dry fenugreek leaves
Water as required
salt as required
oil for deep frying
Instructions
First, prepare the dough for mathri. Take flour in a pan and add hot ghee or oil, carom seeds, cumin seeds, crushed black pepper, dry fenugreek leaves, salt and baking soda in it. Mix everything properly and knead the dough with water using your fingers. Knead the dough thoroughly to get a better texture of mathri. When the dough is ready cover it with a cloth. Allow it to rest for 30 minutes.
Heat oil in a frying pan. Take small balls from the dough and roll round to make small balls with the help of your palms. Likewise, roll all mathri. While rolling mathri cover the dough so it does not dry out.
Now with the help of a rolling pin, roll each ball to medium thickness. You can also roll a large section of dough and then cut mathri with a cookie cutter. Pierce each mathri with a fork.
Heat oil in a frying pan and fry all the mathri 3 at a time once the oil is ready to fry. Fry them in batches both sides on medium flame till crisp and golden brown. You can also bake them in a 180 degree preheated oven 20 minutes. Take out mathri on tissue paper to remove excess oil.
Mathri is ready to serve with tea or coffee.
5. Thandai (Refreshing Indian cold drink)
Thandai is a refreshing and delicious Indian cold drink relished on the festive time of Holi and Maha Shivratri. It is prepared with nuts, fennel seeds, saffron, almonds, rose water, cardamom, peppercorns, poppy seeds, milk, and sugar.
Ingredients
1-liter whole milk
1/2 cup sugar
40 almonds
20 whole black peppercorns
10 green cardamom pods
1 1/2 tablespoon fennel seeds
1 1/2 tablespoon poppy seeds
2 tablespoon watermelon seeds
2 tablespoons rose water
a pinch of saffron
chopped dry fruits
Instructions
Put raw almonds into the boiling water and boil them for 1 minute. Drain the water and transfer them into cold water to cool them. Press each almond and remove its peel. You can also soak them overnight to blanch them.
In a grinder, grind almonds with peppercorns, watermelon seeds, fennel seeds, poppy seeds, and green cardamom seeds in a blender. Grind them to a smooth paste and keep this almond paste aside.
In a heavy bottom pan, boil milk while stirring in between. Take 4 tablespoons of the hot milk from the pan in a small bowl and add crushed saffron strands to it. Once the milk is boiled, lower the flame and add the almond paste to it. Mix it all then add sugar and let it dissolved. Turn off the flame and add the saffron milk mixture to the pan and mix well.
Let the thandai rest for 20 to 30 minutes then add rose water and mix. Let the milk rest for an hour to absorb all the flavorings. After one hour, strain the milk mixture using a sieve and jug. Put the jug overnight into a refrigerator.
Pour thandai into serving glasses and serve chill. Garnish it with dry fruits and rose petals on top.
So these were 5 amazing Indian recipes that you must make this Holi. I hope you like this small collection of Holi recipes. So, while you get ready to enjoy Holi with singing, dancing, colors, and water guns, don't forget to try these Holi treats to make the festival of Holi amazing. I wish all our readers a Happy Holi. May the colors of Holi fill everyone's life with love and joy. Wishing all a Happy Holi and Dhuleti.
You May Also Like: