Holi Color Removing Tips: Best Way To Remove Holi Colors
Synthetic Holi colors are made with chemicals and such colors are very difficult to get rid of. These colors are harmful to animals, human health as well as very hazardous for the environment. It is advisable to use organic colors while playing Holi but today also some people use synthetic colors. Let us know some easy holi color removing tips and trick which will help you get rid of these nasty colors naturally but before that let me tell you a few things about the Holi Festival and Dhuleti.
Holi – 
The Festival Of Colors
Holi is an important Indian festival celebrated in the full moon of Hindu month Phalgun, which implies the victory of good over evil. The next day of Holi is followed by another festival called Dhuleti. Dhuleti is the festival of colors.
Story Behind The
Celebration Of
Holi Festival 
Many stories are associated with the festival of Holi. The most famous is Prahalad's. It is believed that, in ancient times, An extremely powerful demon named Hiranyakashipu conquered God's kingdom, Heaven. Prahlad was his son who was a very great devotee of Lord Vishnu. Hiranyakashipu had restricted the name of God in his kingdom and was also angry with his son's godly devotion. Hiranyakashipu ordered his sister Holika to take Prahlad and sit in the fire. Holika had a boon that fire cannot harm her. She followed her brother's orders and sat in the fire with Prahlad in her lap. Holika got burnt, but Prahalad got survived. It was his great devotion to Lord Vishnu, that deadly fire couldn't harm him. It is because of this reason Holika Dahan is done which signifies the triumph of good over evil.
How Is Holi Celebrated?
Holi celebrations begin with Holika Dahan. People gather and perform a ritual activity in front of the bonfire. It is that time of the festival when people forget their old bitterness. The second day of Holi is celebrated as Dhuleti. People throw colors at each other and celebrate Dhuleti. Some people, of course, I was one of them, do not play Holi with the fear that how will they get rid of the colors later and the color might damage their skin and hair. But there are some natural tips to easily get rid of Holi colors so that you can enjoy the festival without any fear.
But note that Holi is not the festival for animals. So being a pet Mom, it is my humble request to everyone, please do not throw colors on animals, because like us, colors are toxic to animals also. They can get nasal and skin infections, because of these colors which can be very harmful to them.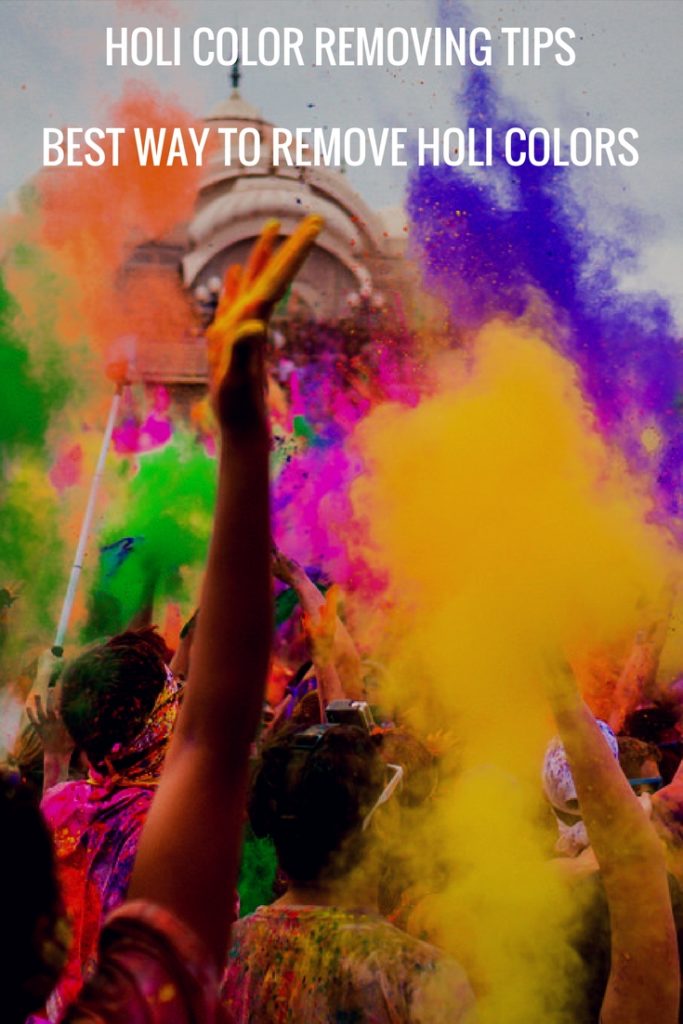 3 Essential Holi Color Removing Tips To Follow Before And After Playing Holi
The hardest thing after playing Holi is to get rid of the colors. And if they are not removed immediately, they can also harm your skin. Follow the following steps and Home Remedies to safely remove the Holi Colors from your skin and hair.
1. Basic Precautions To Take Care Of Before Playing Holi
We all have heard the phrase " Precaution is better than Cure". It is indeed true. Before playing Holi make sure to protect your skin and hairs. Apply a layer of coconut oil or almond oil to your hair and massage your scalp. Moisturize your skin, hands, nails, and legs. You can also apply coconut oil or almond oil to your skin, hands, nails, and legs. Apply a thick coat of nail polish on your nails before playing Holi so that if the color stains your nails it should come out easily with a nail polish remover.
2. Essential Holi Color Removing Tips For Skin After
Playing Holi
Use Gram-Flour (Besan), Curd and Lemon
Take one cup of besan, one cup curd, and one lemon juice. Mix it and make a paste. After playing Holi, moist your whole body with water and apply this paste on your face and body where the color is applied. Do not rub this paste on your body gently massage with this paste and let it dry completely and then moist this paste a bit with water and gently start scrubbing it. This will remove deep colors away from your skin. After doing this process take a shower.
Take 2-3 lemon and take its juices out in a bowl and apply it to areas where the color is applied. Gently rub lemon peel also along with the lemon juice. This will help you get rid of Holi Colors. Please note that lemon juice may have tingling sensations on the skin, so if you have sensitive skin avoid this method.
Fuller's Earth ( Multani Mitti )
Use Multani clay, water, and olive oil paste to remove Holi color from your body. Apply its paste and leave it for 30 minutes and then take a shower.
3. Holi Color Removing Tips For Hair
Use Lemon, Indian Gooseberry Powder, and Curry Leaves Powder
Mix two tablespoons of Indian Gooseberry powder and curry leaves powder in one lemon juice and apply it to your hairs. Let it stay in your hair for 45 minutes and then wash it with warm water.
Shampoo your hair first and then rinse your hair with vinegar and again wash them with a mild shampoo or a herbal shampoo followed by a conditioner.
Dos And Don'ts
Make sure colors don't get into your eyes.
Do not let the colors stay on your skin and hair for a longer time.
I always prefer to play Holi with natural colors.
After following these steps, you must moisturize your skin so there will be no chance of any further infection or irritation.
Do not use any objects to rub or scrape to remove Holi colors.
If you face any type of allergy due to the use of color, then immediately consult a specialist.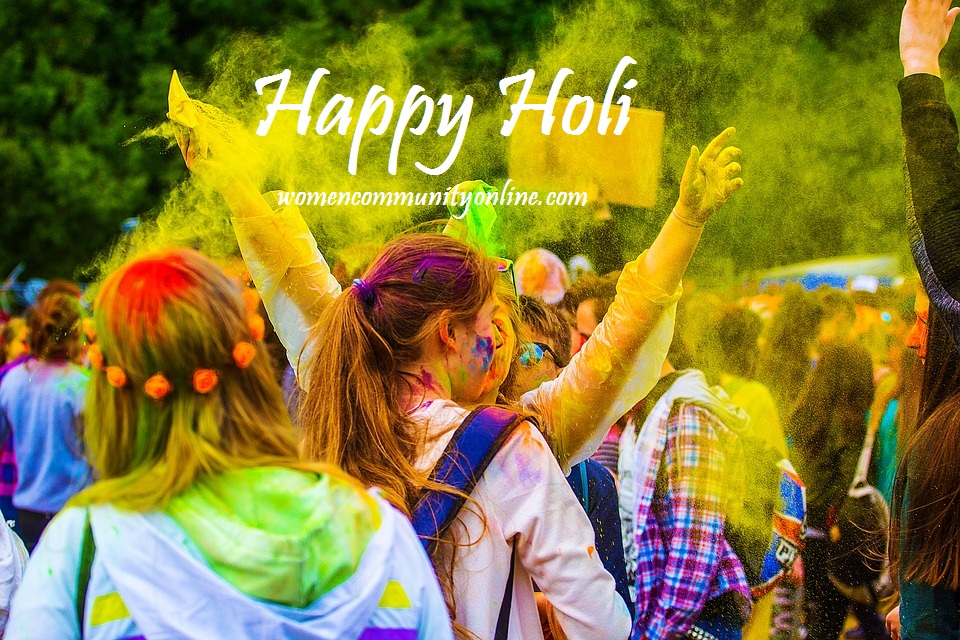 Have a Happy and Safe Holi and Dhuleti 🙂
From,
Amisha…
You May Also Like