Why is Dahi Handi celebrated on Janmashtami?
The next day of Janmashtami, Dahi Handi is celebrated. Janmashtami is an Indian festival celebrated on the Ashtami (the eighth day) of Shravan (Hindu Month). It's celebrated as the birthday of Shree Krishna. Janmashtami is also well known as Krishna Ashtami and Gokul Ashtami.
How Corona Has Affected Festivals
This time the Janmashtami festival is falling on 11 August. Due to the Corona period, all the programs in the temples have been canceled. Only priests will offer prayers in the temples and are not open to the public. Corona's fear hasn't ended. It's hard to go outside.
Festivals have faded in this epidemic. Festivals that were celebrated in large numbers aren't supposed to be celebrated the same way midst of this lockdown. Yet, we can celebrate any festival at home with our family with a little caution and do kirtan at home. It may be impossible for us to visit Shri Krishna temples due to corona, but, we can do live darshan sitting at home with the help of technology. The Corona epidemic has become a barrier between God and his devotees, but if you have faith, then God is everywhere.
The Significance of Shree Krishna's birth 
Lord Krishna is considered to be the eighth incarnation of Lord Vishnu. It's believed that he took birth in the darkness of jail around 5200 years ago in Mathura. His parents were arrested by his maternal uncle Kansa. Kansa was a merciless ruler of Mathura. Kansa knew that the son of Devaki and Vasudev will be the cause of his death. So, Kansa captured them and put them in jail. He killed all the six newborns of Devaki and Vasudev. It's believed that the Seventh kid of Devaki was miraculously shifted to Rohini's womb (the surrogate mother) through a divine spell. The Seventh child of Devaki was Shree Krishna's elder brother Balarama. Lord Krishna was born as the eighth son of Devaki and Vasudev. Since Krishna was the incarnation of Lord Vishnu, he had a purpose in his life so he too survived.
The night when Krishna was born, it's believed that all the guards of the jail slept. The jail was itself open and chains were broken automatically. Vasudev took Bal Gopal (baby Krishna) in a basket and headed towards Gokul. It rained heavily on that night, so the water in the river Yamuna was at a high level. But, river Yamuna, lowered its flow and allowed Vasudev to pass through her. It is also believed that Shesha Nag ( multi-headed snake) covered Vasudev and Krishna and guarded them against the heavy rain. This is how Vasudev managed to take Krishna to Gokul. Vasudev swapped little Krishna with Yashoda's newborn girl and came back to prison. Later Shree Krishna came back to Mathura and killed Kansa like it was predicted.
Even though Shree Krishna was born to Devaki and Vasudev, he was raised by his foster parents Nanda and Yashoda. So that their son could survive and fulfill his birth motive. It is because of this reason, our culture honors foster mother equal to a real mother.
Shree Krishna took birth to free the people of Mathura from the evil King Kansa and to play an important role in the epic battle of Mahabharata. The main aim of Shree Krishna's birth was to achieve victory over evil and free the earth from evil.
Janmashtami Festival Celebration
The Hindu month Shravan is the month of festivals. A few days back we celebrated the Raksha Bandhan festival and now Janmashtami is arriving. This year the auspicious day of Janmashtami is befalling on Sunday 2 September. Lord Krishna was born in midnight and this is why Janmashtami is celebrated at midnight. All the famous Krishna temples are crowded with devotees. Before midnight people start visiting temples and wait for Lord Krishna's birth. They decorate a small cradle with flowers and place the Bal Gopal form of Lord Krishna in it. Then at 12 in midnight they celebrate the birth of Lord Krishna with great joy.
Devotees perform a sacred bath of Shree Krishna's miniature form with Panchamrita and dress him in new clothes. ( Panchamrita is a mixture of milk, honey, sugar or liquid jaggery, ghee, and yogurt). Devotees also offer their prayers and bhog to Lord Krishna. Later, they do aarti and sing bhajans ( religious songs) and welcome Lord Krishna. Another common practice of the Janmashtami celebration is followed by Dahi Handi.
The Dahi Handi Celebrations
Dahi handi is occurring on Monday 3 September 2018. Amongst thousands of names of Lord Krishna, Makhan chor is the popular one. Shree Krishna is called Makhan chor means the one who steals the butter. According to Hindu mythology, Shree Krishna loved curd and butter in his childhood. So to save butter and curd from Krishna's reach, the people in Gokul used to hide butter and curd in an earthen pot and hung it to the ceiling of their house.  Krishna used to form a pyramid along with his friends to steal curd and butter. Like this, they were able to steal curd and butter by breaking the earthen pots hung to the ceilings of his own home and the houses of people in Gokul.
When caught, Yashoda Maiya used to punish little Krishna by tying him to the pillar of the house. But who can stop Krishna? He could manage to free himself soon. These were all cute Leelas of Lord Krishna.
So from here, the Dahi Handi celebrations had originated. Boys taking part in Dahi handi are often called Govinda. They gather to break Dahi handi (earthen pot) which is placed about 20 feet high from the ground. It is filled with yogurt, ghee, flowers, chocolates, nuts, and prizes. For this, they form a human pyramid in the huge open grounds and one among them climbs to the top and breaks the Dahi Handi. People standing around this pyramid throw water on the govindas and encourage them by singing songs and dancing.
People wait eagerly for the Dahi Handi celebration and celebrate it with great enthusiasm. It is largely celebrated in Vrindavan, Gokul, Mathura, Gujarat, and Maharastra. Dahi Handi celebration is organized by various mandals and groups in local areas. A lot of Safety measures are taken by the people for those participating in Dahi Handi. With several attempts, the Govinda manages to break the Dahi handi and they also win prizes from their organizers.
Women are not behind in the Dahi Handi celebration. These days even the Female Govindas have managed to preserve the rich Indian culture and tradition of Dahi Handi. Various groups also have female Govindas who celebrate the Dahi Handi festival forming only women pyramids.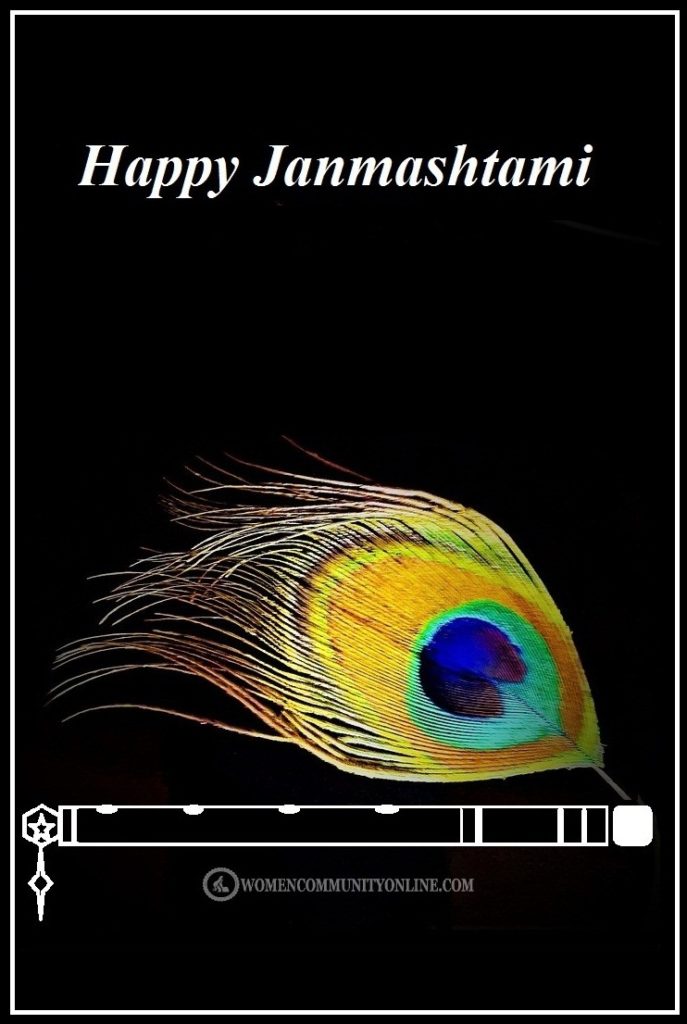 On this occasion of Janmashtami, we wish that Krishna's grace always remains on you and your whole family. An ecstatic Happy Krishna Janmashtami from Women Community Online. Also, don't forget to share this story of Lord Krishna's birth and the Dahi Handi celebration with your friends and family.
You May Also Like: