Instant Farali Recipes for Maha Shivratri
The significance of Maha Shivratri: To begin with, before my Instant Farali Recipes, I would like to explain in general what is Maha Shivratri and why it is celebrated. Maha Shivratri is a major festival of Hindus. It is celebrated every year particularly on the 13th night or the 14th day particularly in the Phalgun month according to the Hindu calendar. Maha Shivaratri is on Tuesday, the 13th of February 2018. People keep fast and worship Lord Shiva on this day. Women make a variety of farali recipes in their houses.
Farali Recipes are light food items that can be eaten on any fasting day. It is believed that belpatra leaf is very dear to Lord Shiva for this reason devotees offer belpatra leaf and water on Shiva Linga before breaking their fast.
Shivratri has special significance for women, especially unmarried girls. Unmarried women pray to Lord Shiva in the hope that they will get a husband like him. Married women pray for the purpose of goodwill for their husband and family. It is believed that on Maha Shivratri, Samudra Manthan ( Churning of Ocean) took place.  As a result, poison emerged out of the ocean. Under those circumstances, Lord Shiva consumed that poison in order to protect the entire universe. For this reason, he was called Nilkanth because of his blue throat which turned blue due to the poison he consumed. According to the Puranas, Maha Shivratri is the day when Lord Shiva got married to Goddess Parvati.
Today I am sharing two most common and Instant Farali Recipes which you can try this Maha Shivratri.
Instant Farali Recipes
Singhara Flour Halwa Recipe ( Water Chestnut Porridge )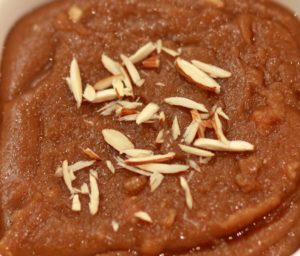 Ingredients
50 gram Ghee
1 cup Singhara flour (water chestnut flour )
250ml water
1 cup Sugar
1/2 cup dry fruits ( Almonds, Cashews, Raisins)
1 teaspoon Green Cardamom powder
Serving 8 people
Preparation Time 10-12 minutes
Method
Take a non-stick pan. Melt Ghee in it on a low flame.
As Ghee melts add Singhara flour in it. Roast singhara flour on medium flame till it turns golden brown. It will take around  5 to 6 minutes to roast completely.
Now add water to it and mix it thoroughly for 2-3 minutes. You can also use milk instead of water.
You will now notice that the flour is turning into a thick sticky dough. Once the Halwa is ready it will start leaving ghee on the edges of the pan.
Now add sugar, cardamom powder, and dry fruits to it and mix well.
Singhara Flour Halwa or Water Chestnut Porridge is ready to serve.
This recipe is not just simple and easy but very healthy too.
Sabudana Khichdi Recipe ( Sago Khichdi )

Ingredients
2 cups Sabudana( Sago )
4 tablespoons Oil
2 tablespoon chopped Peanuts
1 chopped Potato
2 chopped green chili
1/2 teaspoon black pepper powder
1 tablespoon coriander leaves
4 curry leaves
1/2 teaspoon Cumin seeds
1/2 tablespoon Rock Salt (Sendha namak )
Serving 8 People
Preparation Time 20 minutes
Method
Before making Sabudana (Sago) khichdi, you will have to soak sabudana overnight in water.
Take a pan. Add oil and heat it on medium flame. Add cumin seeds in the pan.
Now add diced potato and rock salt (sendha namak ) in it and cooked it until golden brown. Add green chilies and black pepper powder and peanuts roast them.
Add sabudana and mix well. Now turn the flame low and close the lid of the pan and cook sabudana on low flame for 5-6 minutes.
After 5 minutes check that sabudana has turned soft. Garnish with coriander leaves.
Sabudana Khichdi is ready to serve. Eat it hot will sweet curd.
Finally, A very Happy Mahashivratri to all the readers. And don't forget to share your instant farali recipes with us..!!
You May Also Like: