Farali Kheer Recipe – Barnyard Millet Pudding
Kheer is a popular Indian dessert made with boiling rice and sugar with milk. Farali Kheer recipe is made with Barnyard Millet or samo. It is also known as samvat, or vrat ke chawal. This is a simple and easy dessert made in  Indian homes during fasts.
Farali Kheer Recipe: Barnyard Millet Pudding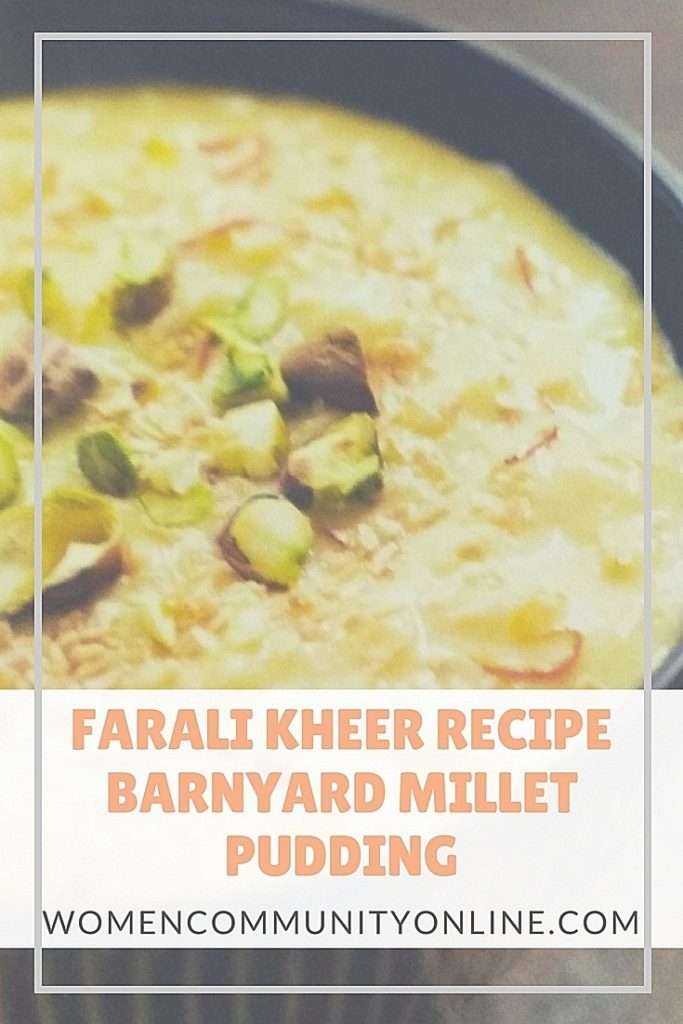 Ingredients
Milk – 500ml
Barnyard millet / Samo – 50 gm
sugar – 100 gm
cardamom powder – 1/2 teaspoon
Dry fruits – chopped and any of your choice ( almonds, pistachios, cashew, raisins )
Farali Kheer Recipe Insttructions
Clean the Barnyard millet in a bowl of clean water 2-3 times. Then soak it in water for one hour.

Put a round bottom pan on a medium flame and add milk to it. You can also use low-fat milk instead of full cream milk. If you are more health-conscious then you can also reduce the quantity of sugar and milk, and add some water to make this recipe.

Bring it to a boil on a medium flame, before adding barnyard millet to it.

Now slow down the flame and add barnyard millet to it.

Stir

and cook it on a low flame.

Keep stirring it every 2-3 minutes so it doesn't get burnt or stick to the bottom of the pan. 

When you notice that the barnyard millet has turned soft, add chopped dry fruits to it and mix it well.

Reduce it till you get a uniform kheer/pudding-like consistency.

Now add sugar to the kheer and mix it well.

Cook for 2 minutes then turn the flame off.

You can serve this recipe chilled or hot.

Take a garnishing bowl and pour kheer to it. Garnish it with dry fruits and cardamom powder on the top.

Farali kheer is ready. This recipe is a good source of calcium, proteins, and vitamins. Farali Kheer recipe is ideal for a fasting day.

You can also cook rice kheer/rice pudding in the same way.
You can also read our other farali recipes here: Farali Recipes
You May Also Like