Flower Show in Ahmedabad That You Shouldn't Miss
In this post, I would like to talk about the ongoing flower show in Ahmedabad. If you are from Ahmedabad or around the city then you must not miss the chance to attend it.
If you follow my blog you already know I am from Ahmedabad and how much I love to explore my city. Ahmedabad is the largest city and the former capital of Gujarat. It is located on the banks of the Sabarmati river and emerging as the heritage city and smart city. It is a popular travel destination and favorite shopping spot, also known for its culture, heritage, diamond cutting, cotton textiles, festivals, events, and street food.
Ahmedabad is also well known for marathons, trekking, cycling, camping, conferences, live concerts, Kankaria Carnival, International Kite flying festival, riverfront, college events, and other happening events in the city. Among them is the popular flower show at the riverfront park in Ahmedabad. This Flower Show is held by AMC ( Amdavad Municipal Corporation ). This year it is organized from 4th January to 19th January 2020 at Sabarmati Riverfront.
What is the Flower Show?
Like every year, the flower show is held in winter by Amdavad Municipal Corporation and this year (2020). It is going to be its 8th version this year. A flower show is an event to enjoy the excellence of nature that brings people and nature closer. Beautiful exotic and native flowers and plants are decorated in lawns and shaped in various sculptures and forms. This year also it was inaugurated by Chief Minister of Gujarat Vijay Rupani at the Sabarmati Riverfront.
Thousands of people visit the flower show every day to see various exotic and native species of plants and flowers like Tulips, English Rose, Aster, Shatavri, Hypoestes, Orchid, Gulmohar, Carnation Flower, etc., that are planted and maintained with utmost care.
What you will see in the Ahmedabad Flower show and the reasons why you shouldn't miss it?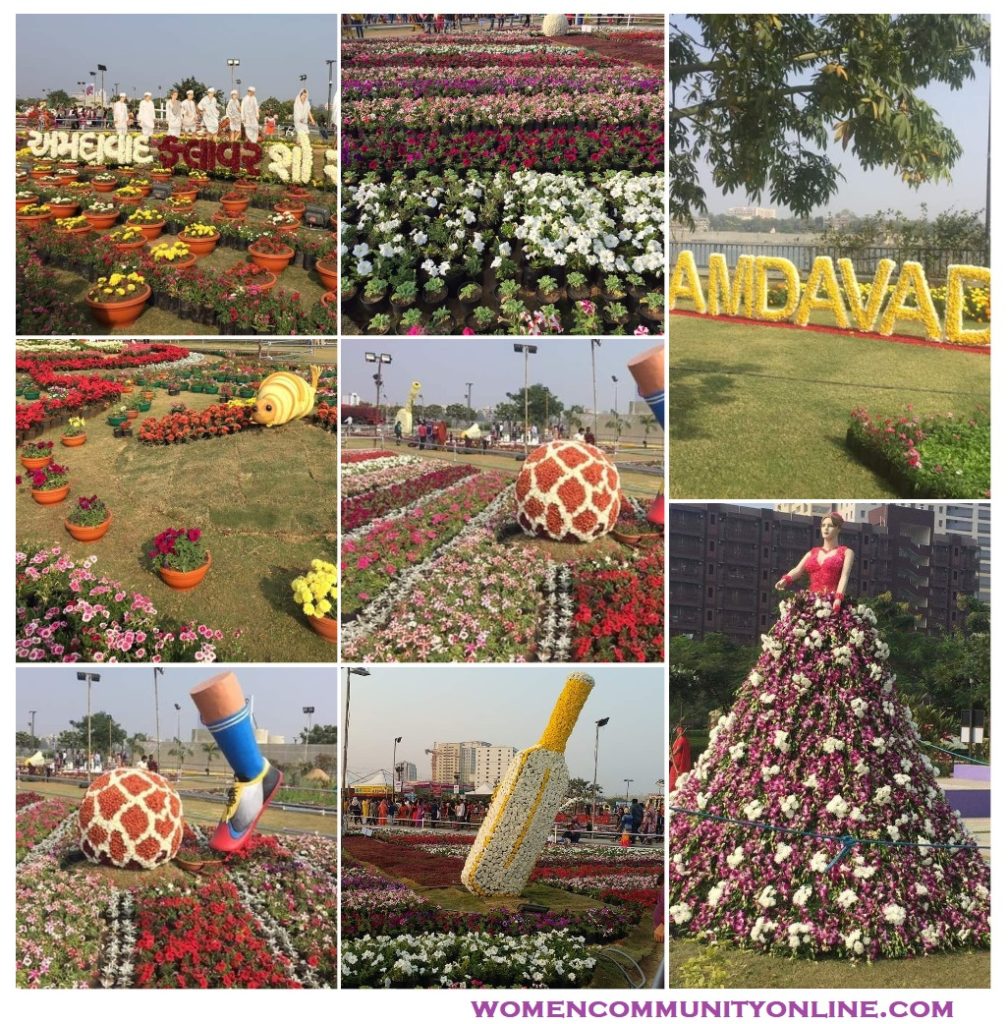 This year you will see a variety of flowers and plants including artistic sculptures of Mahatma Gandhi, his Charkha and three monkeys, salt satyagraha, Lord Hanuman's sanjivani incident sculpture from Ramayana, sculptures of Peacocks at the entrance, sports theme-based sculptures of hockey, ball-bat, badminton, chess, football, and tennis-ball, National Emblem of India, sculptures on Save Water Theme, Kalash, Fire & Emergency Services, no smoking sculpture, sculptures of Dengue Mosquito, Dolphins, Hippopotamus, Dinosaur, Mowgli, etc. You will also witness an Ayurvedic Theme Farm, Nursery Stalls, Food corner, along with a Selfie point.
Economical entry fees (Rupees 20 on weekdays and rupees 50 on weekend), free entry to senior citizens and children below 12 years, a mobile application for ticket booking & parking and free electric bus service are some other highlights of this flower show. Apart from the flower show, you can also enjoy a walk on the riverfront, do boating, cycling, trip to nearby places, enjoy the cool breeze or relish the beauty of the city, lights, and architecture around the Sabarmati Riverfront.
So Ahmedabad, don't miss out on this opportunity to visit this flower show with your friends and family. It is decorated beautifully and it's beyond awesome.
Dates: 4th January to 19th January 2020
Time: 10 AM to 9 PM
Location
You may also like my other posts about Ahmedabad