Dal Palak Recipe – Dhaba Style
Dal Palak recipe or Spinach Dal (cooked lentils spinach curry) is a simple, delicious, and easy Indian dish made with small alterations in every part of India. It is a protein-rich and lentil-based spinach curry usually served with jeera rice, plain rice, bhakhari, or chapati.
Dal Palak is usually served in all Indian restaurants as well as Dhabas. Dhaba style Dal Palak is not just accompanied by the nutritional value of lentils and spinach but also served with tempered ginger, garlic, onion, and tomatoes together with necessary Indian condiments. Dal Palak or Spinach Dal is one of the most healthy, economical, and easy to make nutritious recipes loaded with protein and fiber. Let's have a look at a step by step procedure of Dhaba style Dal Palak.
Dhaba Style Dal Palak Recipe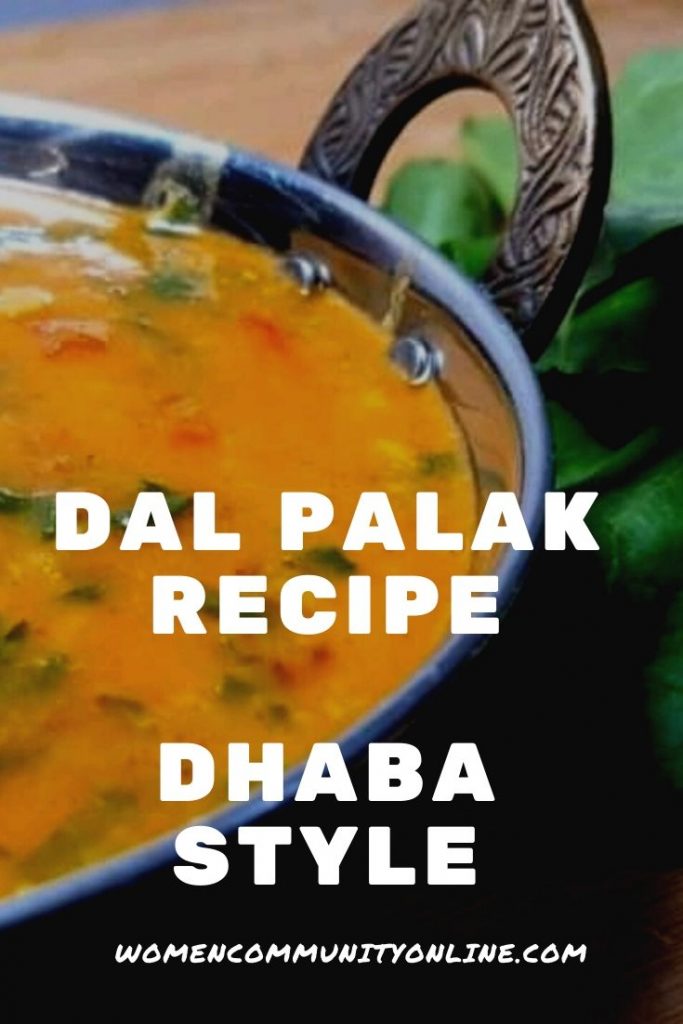 Ingredients required for Dal Palak recipe
1/2 cup split Red gram (tuvar dal)
1/2 cup split Green gram (yellow moong dal)
2 cup chopped spinach leaves
1 onion, medium size finely chopped
1 tomato, medium size finely chopped
2 to 3 dried red chilies
5 cloves of garlic
1 sliced green chili
2 roughly chopped garlic cloves
2 tablespoon of ghee/butter/oil
1 teaspoon ginger paste
1 teaspoon garlic paste
1/2 teaspoon mustard seeds
1 teaspoon cumin seeds
1/2 teaspoon turmeric powder
1/2 teaspoon red chili powder
Salt as per your taste
1/2 teaspoon garam masala
1/2 teaspoon kitchen king masala
a pinch of asafetida
4 cups of water
Preparation Time: 10 minutes
Cooking Time: 15 minutes
Total Time: 25 minutes
Servings – 2
Instructions
Wash lentils with plain water 2 to 3 times and soak them in water for about 10 minutes.
Pressure cook soaked lentils in 2 cups of water, 1/4th teaspoon salt, 1/4 teaspoon turmeric powder, and garlic cloves until mashy consistency or 2 whistles. It will probably take 10 to 12 minutes to achieve this texture.
Take chopped spinach leaves in a bowl and wash it with water. ( Make sure you had properly cleaned spinach leaves under running water three times before chopping it to remove all dirt ).
In a pan heat 1 tablespoon butter/oil/ghee and add cumin seeds. Once cumin seeds turn brown, saute ginger garlic paste in the pan.
Now add sliced green chili and finely chopped onions and cook until it turns slightly brown. Next, add chopped tomatoes and 1/4 teaspoon of salt, we will add salt at this stage so tomatoes turn soft quickly. If you see onion tomato paste is sticking to the pan you can add 1/2 cup of water at this step and mix well.
Now its time to add spinach leaves. Add spinach leaves and cook for 4 to 5 minutes or until spinach is thoroughly cooked. Once the spinach is cooked add all dry spices. Add red chili powder, turmeric powder, garam masala, kitchen king masala, and salt. Be careful while adding salt at this step because we have already added salt in lentil while boiling and also added while cooking spinach.
Now its time to add cooked lentils to cooked spinach. Add cooked lentils, mix well and cook for 5 minutes on low flame. If required add some water to maintain the consistency of Dal. It shouldn't be too thick or thin. Meanwhile, prepare the tempering.
In a tempering pan heat remaining ghee or oil. Add mustard seeds to splutters. Add cumin seeds, roughly chopped garlic cloves, dried red chilies, and asafetida and let it cook for few seconds or until tempering turn slightly brown in color then turn off then flame and pour it over top of the spinach-lentil mixture.
Allow the mixture to simmer for 2 to 3 minutes on low flame. Dal Palak is ready to serve hot with jeera rice, plain rice or chapati. Add ghee on top to enhance Dal Palak flavors.
Let us know in the comments, how you liked this Dhaba Style Dal Palak recipe and also check out our other Dhaba style healthy recipes, Restaurant Style Malai Kofta Curry Recipe and Restaurant Style Palak Paneer Recipe
Lastly Team Women Community Online wishes all its readers a very Happy and Prosperous New Year 2020. Thank you all our readers, followers, friends, family for their valuable feedback, contribution, and encouragement.
You may also like: