Fruit Kebobs With Dipping Sauce
Are you planning a house party for your kids and confused about what you should serve? Here's an easy and simple recipe for you. Fruit Kebobs with dipping sauce recipe, that can be served for Children's party. I am sure all kids will love it and gobble up everything.
Healthy eating for our children's good health, growth, and development are necessary right from childhood. Healthy eating means a healthy body, fewer chances of catching an infection, and chronic diseases. It also makes them feel healthy, looks good, and relish their life plentifully.
Fruits For Health
Fruits are a powerhouse of healthy minerals, carbohydrates, fiber, potassium, and vitamins. They are satisfying and loaded with high water content. They are excellent in boosting antioxidants, and flavonoids. Eating fruits can lessen your possibilities of acquiring heart disease, cancer, infection, and diabetes.
Fruits, if consumed in breakfast they can keep you energized for hours. Additionally, having fruits on an empty stomach in the morning or evening as snacks can also help detoxify your body, providing you ample energy and assist in weight loss.
Grilling fruits and vegetables is a fabulous method to eat healthily, as PAHs and HCAs don't surface on grilled fruits and vegetables. HCAs (Heterocyclic Amines) and PAHs (polycyclic aromatic hydrocarbons) surface on food items when amino acids, sugars, fat, and juices are roasted at high temperatures causing flares and smoke. Heterocyclic amines (HCAs) and polycyclic aromatic hydrocarbons (PAHs) have several health impacts. These chemical compounds when taken in excess are associated with a high risk of cancers.
Tips For Grilling Fruits For A Perfect Grilled Fruit Recipe
To keep fruit kebobs fresh brush them with lemon juice or citric acid. They will remain fresh without changing color and losing their taste and freshness.
Fruits or veggies that are firm and not overripe are best to grill.
Make sure as you grill, all the sides of each fruit or veggie. It may take approximately 5 to 15 minutes to grill depending on surfaces and size.
A gas grill is the healthiest griller over barbeque charcoal grill. A gas grill reduces the formation of HCAs and PAHs. However, you can also use a microwave with a grill function. It will cut down the grilling time without losing the essence of food. Make sure you don't overcook food items.
Grilling fruits and vegetables consume less oil and dissolve the fat from food. Grilling is one f the best healthy cooking technique that may inhibit cardiovascular diseases and other heart ailments. Cooking time also reduces in grilling, therefore, the nutrients and health benefits don't disappear while cooking they remain whole.
Grilling doesn't mean burning, so prevent overcooking the food, to prevent the risk of cancer. Grill on both sides, not more than 5 minutes until caramelized, for the fruit to taste excellent. While grilling the natural sugars in the fruit will caramelize over the flame and bring out the amazing flavor of the fruit. Let the fruit remain on the hot grill for a few minutes before flipping its side.
Fruit Kebobs With 3 Dipping Sauce Recipes For Children's Party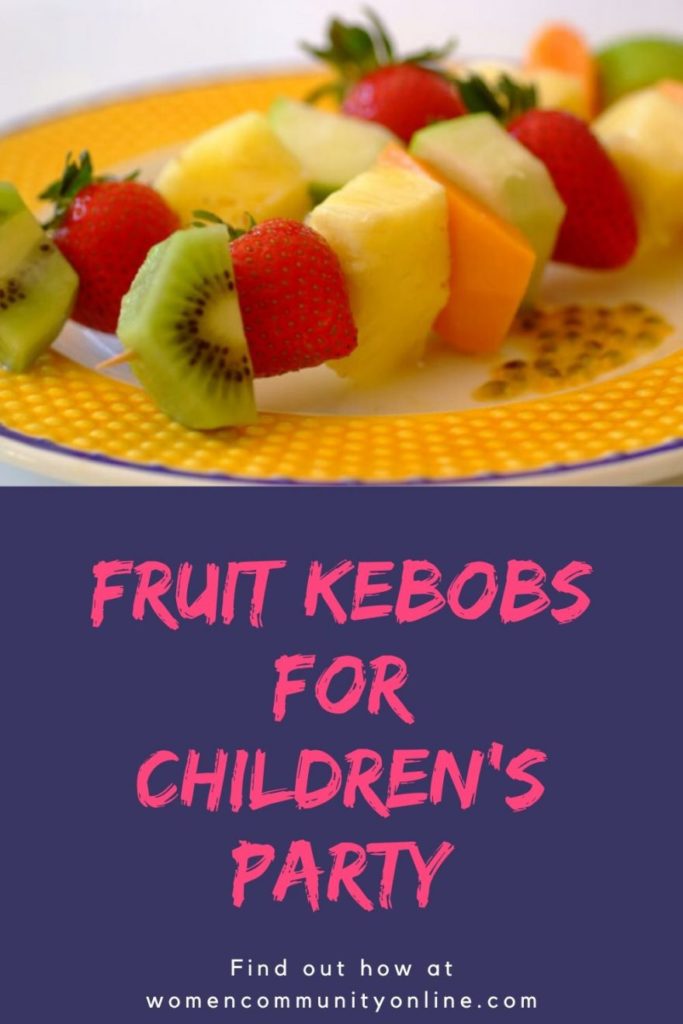 Ingredients
For Fruit Kebobs
Preparation Time – 5 minutes
Cook Time – 5 minutes
Servings – 6
2 oranges
two apples
2 bananas
4 kiwis
4 strawberries
10-12 fresh pineapple chunks
4 cubes fresh mango
4 tablespoon butter
2 tablespoon brown sugar
1 teaspoon cinnamon powder
1/2 tablespoon lemon juice (optional)
salt and pepper as per taste
For Yogurt Dip
Preparation Time – 5 minutes
Servings – 2
Shop For Related Products
4 tablespoon blue cheese
3/4 cup plain Greek yogurt
1 teaspoon organic honey
1/2 teaspoon all-natural bourbon vanilla extract
1/4 cup roasted nuts
For Chocolate Dip
Preparation Time – 5 minutes
Servings – 2
1 cup chopped dark chocolate chunks
1/2 cup fresh milk cream
grated milk chocolate for garnish
2 tablespoon roasted nuts
2 tablespoon choco chips
For Strawberry Dip
Preparation Time – 5 minutes
Servings – 2
1/2 cup fresh milk cream
1/2 cup finely chopped fresh strawberries
1 teaspoon organic honey
Instructions
Fruit Kebobs Recipe
Cut all fruits into thick slices and divide each piece.
In a microwave-safe bowl, add butter and microwave at 100% power for 30 seconds to dissolve it.
Add sugar, salt, pepper, lime juice, and cinnamon powder and microwave for 2 minutes at 100% power, then mix it.
Now set all fruits on the kebob stick and apply this sauce on cut fruits and grill for around 5-8 minutes till it gets brown.
You can also roast them on a Tawa. Make sure you grill each side.
Grilled fruit kebobs are ready, you can also serve it without grilling. Serve it with your favorite dip and enjoy it.
1. Yogurt Dip Recipe
Combine all the ingredients except roasted nuts in a mixing bowl and with the help of a hand mixer to whisk the mixture until creamy and soft.
Garnish with roasted nuts on top before serving.
Cool and serve this delicious yogurt dip with fruit kabobs.
2. Chocolate Dip Recipe
In a saucepan melt dark chocolate.
Once the chocolate melts, add fresh cream and blend well until smooth.
Pour into a serving bowl and serve immediately.
Garnish with grated milk chocolate, choco chips, and nuts.
3. Strawberry Dip Recipe
In a mixing bowl, mix fresh cream, honey, and strawberries.
Blend it in an electric blender until smooth and creamy.
Refrigerate for 20 minutes or serve immediately with fruit kebobs.
Quick and healthy fruit kebobs with dipping sauce for children's party is ready to serve. Serve immediately with any of these three delicious and healthy dip.
You May Also Like