Healthy Sprouts Chat Recipe
Healthy Sprouts Chat Recipe – Sprouts are very nutritious and beneficial. They are a good source of protein, vitamin C, vitamin K, folate, phosphorus, manganese, and magnesium. Mung bean sprouts, alfalfa sprouts are the most popular sprouts easy to sprout, and wholesome. Some other finest sprouts to eat are red clover, pumpkin, lentil, radish mustard, adzuki, sunflower, etc. Besides, there are several benefits to eating sprouts.
Including sprouts in diet can be healthy for your heart as it fights agents responsible for heart disease, high blood cholesterol levels. They may help in digestion as they are high in the content of living enzymes. They promote blood circulation, assist in weight loss, restores the immune system, enhances eyesight, decrease acidity, halt early aging. The best time to consume sprouts is breakfast.
Healthy Sprouts Chat Recipe
How To Make Sprouts At Home 
Sprouting is a process in which you can germinate new leaves or buds from seeds. Sprouting grains enhance their nutritional content. Sprouts are rich in nutrients, protein, vitamins, and essential minerals. Mung bean sprouts, wheatgrass, fenugreek sprouts, alfalfa sprouts, broccoli sprouts, onion sprouts, radish sprouts, etc., are some of the popular variety of sprouts in the world.
Growing sprouts at home are simple. Select over healthy beans that are easy and quick to sprout, like mung beans (green gram) and lentils. Wash beans and with water. Take a bowl and fill it with clean water. Take beans in a clean cloth, cover them, and tie them to form a bundle. Soak overnight at room temperature water. It is recommended to keep them for at least 2-4 days. Drain the beans and keep them nourished with some water, but not soaked.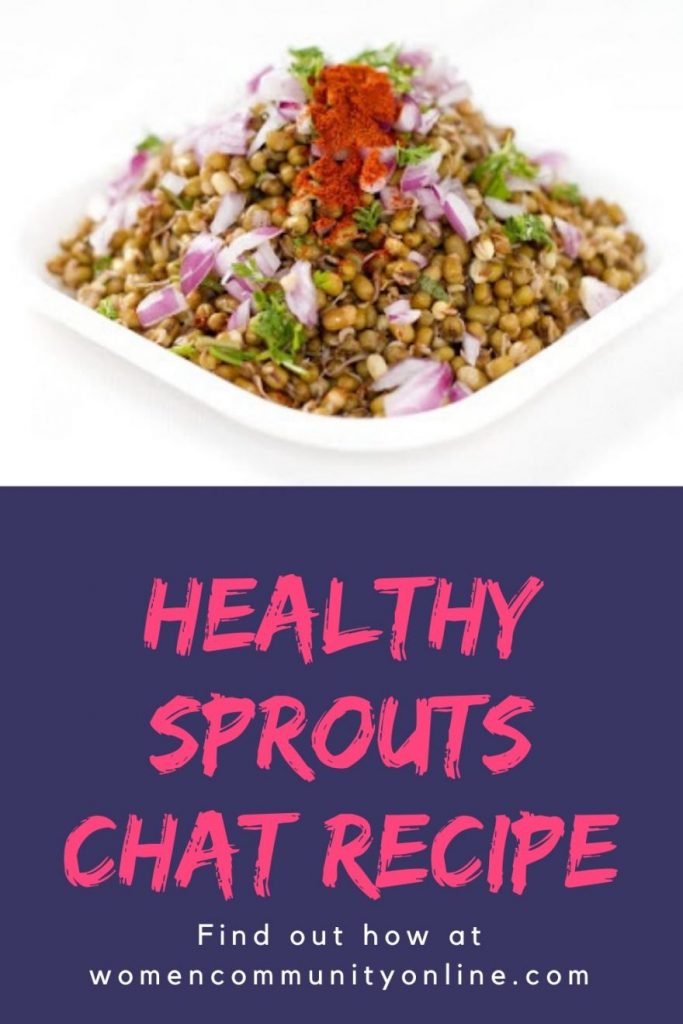 Ingredients
200 gm sprouted moong dal
100 sprouted black channa
1 chopped potato (optional)
1 chopped tomato
2 chopped green chilies
1/2 chopped cucumber
1 teaspoon chat masala powder
1 tablespoon lemon juice
salt to taste
pepper or dry red chilies powder according to taste.
chopped cilantro leaves and sev for the desired garnishing.
Healthy Sprouts Chat Recipe
Wash and puncture the potato with the fork and keep on the glass tray and microwave for 4-5 minutes at 100% power.
A standing time of 2-3 minutes is given. Then peel and cut into small pieces.
Place the sprouts in a microwave-safe bowl and add 1/4 cup of water and salt.
Microwave covered at 100% power for 5-6 minutes.
Allow standing for 2-3 minutes.
Mix sprouts and chopped vegetables and add salt, chat masala, lemon juice, and mix well.
Healthy Sprouts Chat is ready to serve. Garnish with chopped cilantro, sev, and onions and serve immediately.
You May Also Like