6 Healthy Refreshing Summer Drinks Recipes
Due to excessive sweating during summer, there is a loss of water from our bodies. This results in dehydration. Dehydration causes problems like dizziness, headache, nausea, and dry skin. So it becomes very important to drink enough fluids during summer and stay hydrated. Here are some Healthy Refreshing Summer Drinks which you should take to stay hydrated in summer.
6. Healthy Refreshing Summer Drinks Recipes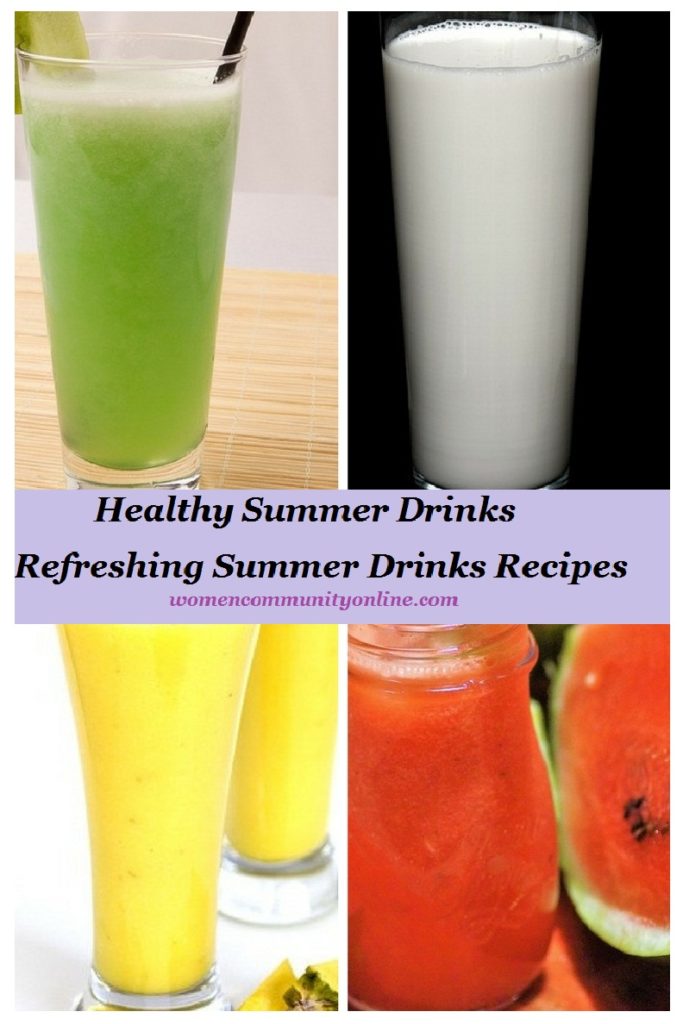 1. Lemonade
Lemonade is one of the most simple and easy healthy refreshing summer drinks which is loved by everyone. It is a sweet and sour spicy drink that everyone likes. It is rich in Vitamin C. Lemonade protects you from water loss in summer. Lemonade is good for weight loss and digestion. It also improves your skin.
Ingredients
lemon – 1
water- 1 glass
salt- as per your taste
honey- 1 tablespoon
jal-jeera powder- 1/2teaspoonn
ice cube- 1-2
Procedure
Squeeze a lemon into a small bowl and add honey, jal-jeera powder, salt and mix well.
Now take a mocktail glass and put an ice cube in it. Add lemon mixture and water to the glass and stir well.
Lemonade is ready.
2. Watermelon Juice
Seasonal Watermelon is the best fruit to beat the heat. It consists of about 92% of water. Watermelon is a rich source of vitamin A, and C and Vitamin B6. It is rich in body essentials like potassium, carbohydrates, amino acids, and antioxidants.
Ingredients
Watermelon 

Mint Leaves – 3,4

Lemon juice – 1/2 teaspoon

Sugar or honey- depending on the sweetness of the watermelon

Salt – As per taste
Ice cubes – 1-2
Procedure
First, you need to blend 3-4 cups of chopped watermelon in the mixer to make its pulp.
After grinding sieve it.
Now take watermelon juice in a glass and add ice cubes, mint leaves crush, salt, honey, and lemon juice.
Mix it well. Garnish with mint leaves on top.
The watermelon juice with a freshness of mint leaves is ready.
3. Cucumber Juice
Cucumber is popular with its cooling and soothing properties. It is beneficial for health and skin as well because it gives great relief from the heat. Cucumber acts as an antioxidant that helps our immune system. Cucumber juice is rich in Vitamins, fiber, potassium. Daily consumption of Cucumber juice reduces acne and helps in other skin problems. It also controls body weight.
Ingredients
Water – 2 glass

Cucumber – 2
lemon juice- 1 tablespoon
Mint Leaves -3,4
cumin powder – 1/2 teaspoon
sugar or honey – 1 tablespoon
Salt – as per taste
Ice cube – 1-2
Procedure
First wash, peel and cut the cucumber into pieces. 

Take a grinding jar and add cucumber, lemon juice, mint leaves, salt, and honey. Grind it very well, cucumber pieces shouldn't remain.
Now sieve it in a glass.
Put ice cubes, cumin powder, and mint leaves on top.
Healthy cucumber juice is ready.
4. Pomegranate juice
Pomegranate juice is very beneficial for health. It is also rich in vitamins and antioxidants. Pomegranate juice is very beneficial for skin also. It also protects against many diseases.
Ingredients
Pomegranate – 1
Lemon juice -1 teaspoon
Water 1/2 cup
Ice cubes 1-2
Sugar – 1 tablespoon
Salt as per taste
Procedure
Peel the pomegranate and remove the pomegranate seeds in a bowl.

Put the pomegranate seeds in a mixer jar and blend it. Now add water, salt, lemon juice, and sugar to pomegranate paste and again blend it till it becomes thin.

Sieve it into a glass and add ice cubes on top.

Pomegranate juice is ready.
5. Butter Milk
Buttermilk is very beneficial for health. It is a good probiotic which has a cooling effect and helps indigestion. Buttermilk is a very effective natural remedy to fight dehydration and stomach disorders. It is good to take it after a meal in the summer. This one of the best Healthy Summer Drinks.
Ingredients
Fresh Yogurt – 1 cup

Water- 1/2 cup

Mint leaves -2-3

cumin powder – 1/2 teaspoon

Black pepper powder – 1/2 teaspoon

ice cubes 2-3
Salt – according to taste
Procedure
Take a blender jar and add mint leaves, yogurt, water, and salt. Grind it well.
Now remove it in a glass. Put mint leaves, ice cubes, cumin powder and black pepper powder on top.
Spicy and healthy Buttermilk is ready.
6. Mango Shake
Mango is a seasonal fruit found only in the summer season. It's said to be the king of fruits. Mango shake is a very healthy and refreshing summer drink. Made with less number of ingredients, it is simple and very easy.
Ingredients
Ripe Mango – 1

Milk 1 glass
Sugar2-3 tablespoons
Vanilla Ice Cream – 2 tablespoon
Dry fruits- 2 tablespoons chopped
Procedure
Take a mixer jar and add mango slices and blend them into the pulp. 

Now add milk and sugar to the pulp and blend it well.
Take it out in a glass and serve with vanilla ice cream and dry fruits on top.

Tasty Mango Shake is ready.
These were few Healthy Refreshing Summer Drinks, which everyone in my house is fond of. How do you stay hydrated in Summers? Don't forget to share your ideas and Healthy Summer Drinks Recipes with us in the comments down below.
You may also like: