Homemade Face Mask & Hand Sanitizer
In this post, you will know how to make DIY Homemade Face Mask & Hand Sanitizer. These days the cases of coronavirus COVID-19 being recorded worldwide. Millions of people have fallen prey to this deadly virus that arose in Wuhan, China, and has knocked 145 countries and regions across the world. (Read What is coronavirus? Causes, Symptoms & Treatment).
World Health Organization (WHO) & Global Governments are bringing awareness and helping their citizens in all the ways to fight this epidemic. Tips are being given to people so that they do not fall prey to this fatal virus. Because of which, fear is being born in the mind of people globally. Every individual is working to keep themselves and their families safer and decontaminated.
There's a 10x growth in need for face masks and hand sanitizers from the last few months leading to a shortage of face masks and hand sanitizers from medical and online pharmacy stores. As a result, even if they're available in the market their prices have touched the sky. In such a situation, the easiest way to prepare yourself from the deadly spread of COVID-19 is to know how to make DIY Homemade Face Mask & Hand Sanitizer. (Also, Read: Running updates on COVID-19)
Why there is an extensive shortage of face mask and hand sanitizer?
People are demanding face masks and hand sanitizers in large numbers and hence they are becoming hard to be available easily. If you are not able to get your facemask and hand sanitizer available from the market, then you can make them at home following the below steps. Keep reading this article to the end to learn DIY Homemade Face Mask & Hand Sanitizer.
The virus spreads from person-to-person and it has not been proven that Face Mask is a guaranteed way to prevent it but hysteria has led to bulk-buying and shortage of it. However, wear a surgical mask if you are already affected. Facemasks should be used by people who have fever, cough, cold, or show symptoms of COVID-19 to help prevent the spread of the disease to others. Facemasks are important for health officers and people taking care of someone with infection at home or health center.
However, a regular mask isn't that effective as daily precautionary measures are, like cleaning and avoiding contact with a person who might be infected with it. It is vital to keep yourself and your family clean to evade the COVID-19. Therefore, you must certainly use a sanitizer. Remember Prevention is better than cure. Make sure to properly sanitize your hands after coming home, while using public facilities, before and after eating, etc. Take a few drops of hand sanitizer in your palms and then massage and spread it over.
Easy DIY Homemade Face Mask & Hand Sanitizer to prepare yourself during the spread of COVID-19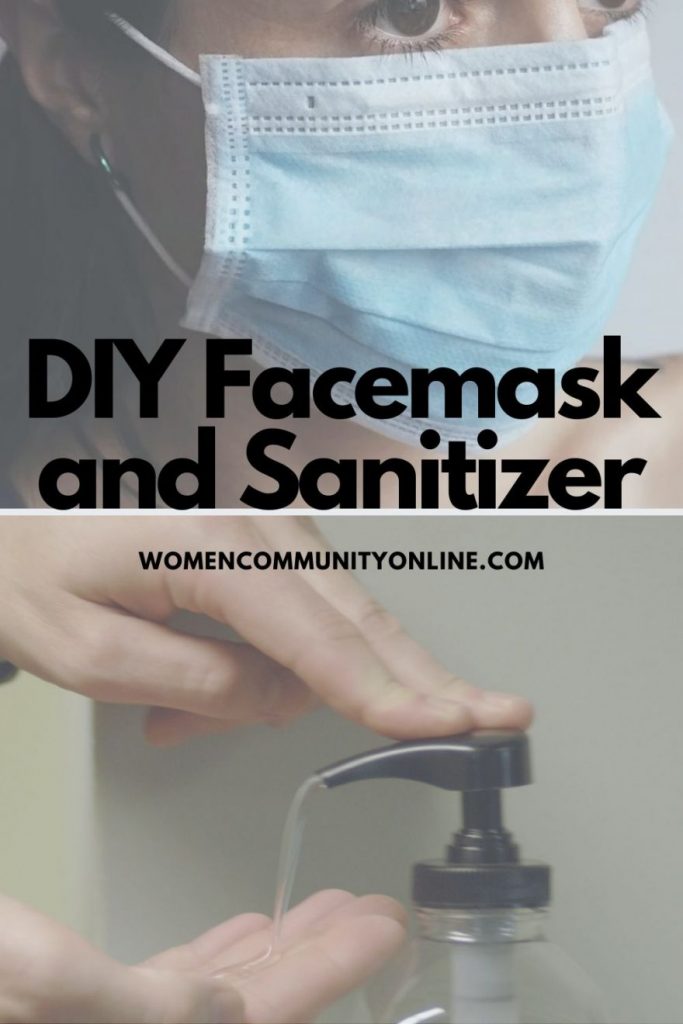 How to make Homemade Face Mask
Things You Will Need
Towel Paper Roll ( You can also use cloth )
Tissue Paper Roll
Elastic rope
Plastic coated double core wire for surgical Face Mask
Thread and needle or Glue
Paper hole puncher
Scissors
Method
Take 2 sheets from towel paper roll and place them one over the other to double it. You can also use a cloth or carry bag cloth. Now take one sheet from tissue paper roll and set the third layer over the top of the paper towel.
With the help of a scissor, cut all the layers in such a way that they form a rectangle (just like a rectangular face mask ).
Adjust dimensions according to your face and requirements, cut 9×6 if making for Adults and 8 x 5 if you're making it for children.
Make 2-3 pleats in the middle on both the side horizontally so that the area around the nose is well ventilated.
Seal the ends of the rectangle. Use a thread and needle or sew it if you are using a cloth and use glue for towel paper.
Make four holes on each end (four sides) to pass an elastic rope through the ends of the cloth or paper towel. You can also sew the elastic rope. Adjust the knots as such that it fits around your ear.
You can stitch the elastic along with the two parallel top corners of the rectangle if you are using cloth for a face mask. The DIY facemask is ready.
Homemade Hand Sanitizer Recipe
Things You Will Need
20ml – Rubbing alcohol aka Isopropyl alcohol or surgical spirit
2 teaspoon – Aloe vera gel
1ml approx 20  drops – Lemon essential oil
1 teaspoon – Vitamin E oil
2 cups – Distilled Water
Flip lid bottle, Pump bottle or Squeeze bottle for storing
Shop For Related Products
Method
One by one add this liquid into distilled water and mix all these liquids thoroughly.
Once your DIY Homemade Hand Sanitizer is ready, fill it in a flip lid bottle, pump bottle or squeeze bottle so that it is easy to carry and use easily anywhere and anytime.
Make this homemade hand sanitizer at home in batches for yourself, your family, and friends.
Additionally, there's also an important update coming from the government of India. The Indian government on Friday 13th, 2020 has declared an important notification for face masks, hand sanitizers, gloves, and medical products following the hype in the price of masks, hand sanitizers, etc. amidst the fear of the Coronavirus. The Indian government under the Essential Commodity Act-1955 has announced surgical masks, hand sanitizers, gloves, etc. as life-saving essential products till June end and the prices of these goods cannot be raised indiscriminately. Hence the prices of these stocks will be now under control across the country.
I hope you found this post about Homemade Face Mask & Hand Sanitizer informative and helpful. If it was useful, don't forget to share it with everybody. Please don't get influenced by rumors and myths and let's stand united to fight against the novel coronavirus outbreak. Also, check out – Coronavirus | COVID-19 | Short Film by Ministry of Health, Saudi Arabia.
Liked this post? Please Pin This Before You Leave 🙂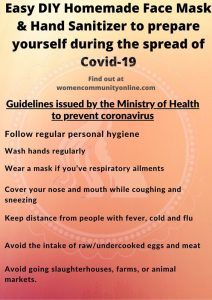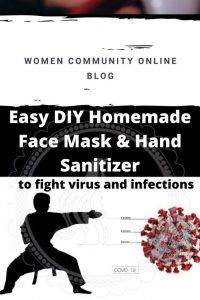 You May Also Like