How To Get Flawless Skin With Rice Flour
Who in the world wouldn't want to look beautiful? But we are also afraid of using more cosmetics on our skin. This fear is so obvious. We all love our skin, don't we? But, you can always adopt easy home remedies. And things that are available in your kitchen to fight skin problems and look beautiful. One of those kitchen ingredients is rice flour. Do you know, rice flour is so beneficial for your skin? This simple yet effective kitchen ingredient is very helpful to treat many skin problems. Read below and let's find out how you can get flawless skin with rice flour.
How to get Flawless Skin with Rice Flour?
Rice is the main ingredient in the diet.  But it can also give you flawless younger looking beautiful skin. Rice flour is easily available online and in stores. You can also grind the required quantity of whole rice in a mixer grinder to get rice powder. The biggest advantage of home remedies is that they do not have any side effects. Rice flour is also a similar remedy. Its use is the most effective home remedy to end many skin problems.
Properties of Rice Flour for Skin
Rice flour is used for ages as a skin-friendly natural remedy to treat skin ailments by Asian women. It provides moisture, nourishment, and relaxation to your skin. Rice flour powder contains healing properties that soothe any kind of skin inflammation. It also treats sunburned skin. Rice flour is a natural oil-absorbing, anti-aging, and skin lightening agent. It also has antiseptic properties that fight bacterias causing acne and pimples.
If cosmetics do not suit your skin, then rice flour is an effective and safe option for you.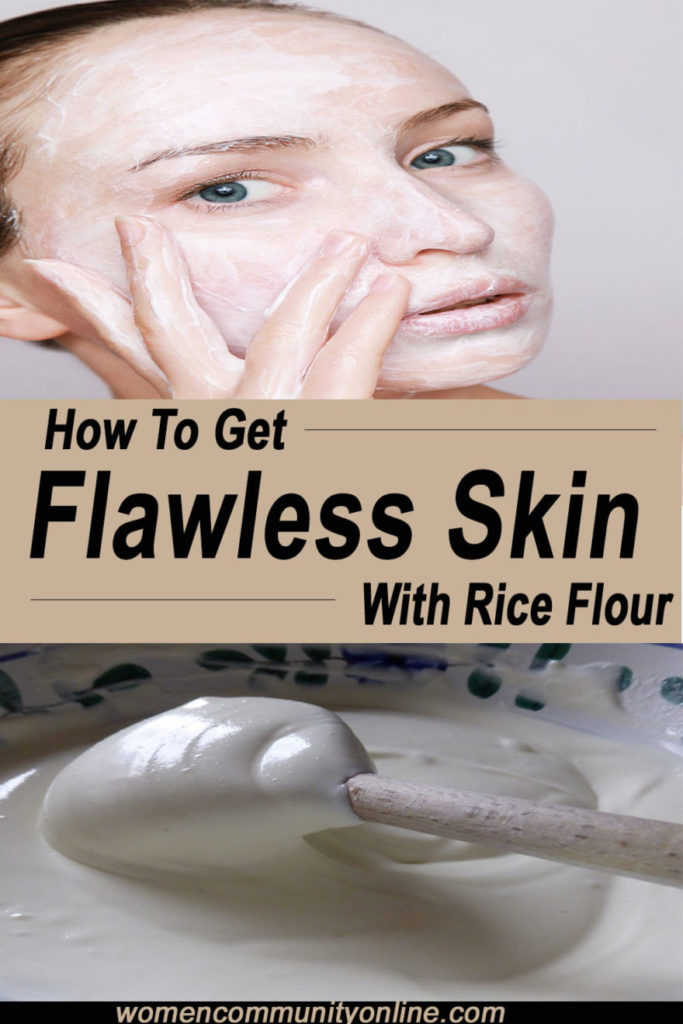 7 Beauty Benefits of Rice Flour to get Flawless Skin
1. Rice Flour as a Face Cleanser
How to Use
To use rice powder for face cleansing, mix one tablespoon of rice flour in two tablespoons of raw milk or yogurt.
Prepare a paste and apply it on your face massaging it gently in an upward round direction. Let it rest on your face for half an hour then wash it with plain water slowly scrubbing it off your face.
Benefits
This homemade rice cleanser will remove the facial dirt, clean large pores, and provide a natural glow to your face.
The lactic acid content in milk and yogurt hydrates your skin and heals acne, dry skin, and sunburn. It also reduces scars, dark spots, and pigmentation. Also, yogurt is rich in probiotics that nourish and moisturizes your skin.
Repeat this remedy daily and notice the change on your face.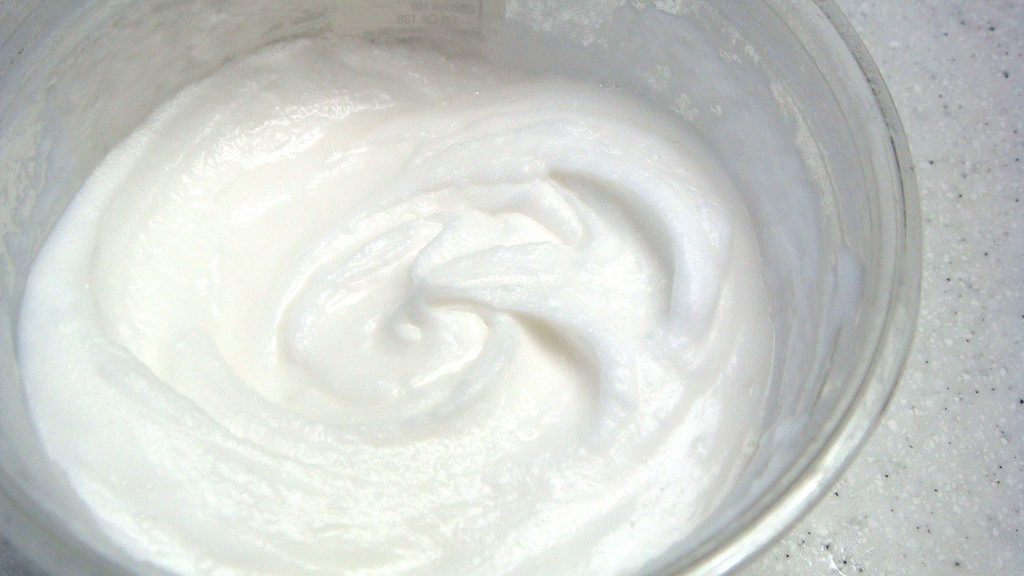 Image Courtesy: Flickr by ecokarenlee
2. Rice Flour as a Homemade Scrub
How to Use
Mix honey, coconut oil, or olive oil in one cup rice flour powder to make a fine paste.
Use this paste to exfoliate your face, hands, neck, and body.
Do this at least twice a week before bathing.
Benefits of Rice Scrub
Rice flour is an excellent organic scrub. The tiny particles of rice flour treat dry, dull, and pigmented skin. It also cleanses the dirt from your skin. Homemade rice scrub keeps your skin glowing and young.
Coconut oil has antibacterial properties. It cures any kind of skin irritation and also moisturizes your skin while olive oil is rich in antioxidants and vitamins. It protects your skin from pollutants and harmful sun rays.
Use the rice flour scrub twice a week and you will feel the difference in your skin.
3. Rice flour as a Skin Toner
How to Use
Mix one tablespoon of rice flour in one teaspoon of lemon juice and one teaspoon of water to make a fine paste.
Apply this paste on your whole face and let it stay until dry. Later, wash your face with cold water.
By using this remedy twice a week your skin will also find improvement in your skin tone.
Benefits
Rice powder is a boon for people with oily skin and acne-prone skin.
Its soothing and toning properties improves your skin tone and tighten your skin pores.
It lightens the facial scars and blemishes and controls excess sebum production.
4. Rice flour to remove Suntan
How to use
Mix two tablespoons of rice flour powder in raw milk and make a paste. Apply this mixture to your face and let it stay for half an hour. Afterward, wash your face with water.
Or, mix one tablespoon of rice flour, one teaspoon cucumber juice, and few drops of lemon juice to make a paste. Apply this paste on your face until it dries then wash your face with lukewarm water followed by cold water.
Benefits
Rice flour repairs the damaged skin cells and replaces them with new cells resulting in glowing skin. Raw milk works wonder for tanned skin. It has lactic acid and enzymes which have tan repairing properties. Using rice flour with raw milk eliminates tanning, and it also reduces skin sensitivity.
Lemon with its bleaching properties helps to lighten your skin and fade scars.
Cucumbers are full of antioxidants. It is also a natural coolant with high water content in it. Therefore, it soothes your tanned skin and reduces inflammation.
5. Rice Flour for Acne and Pimples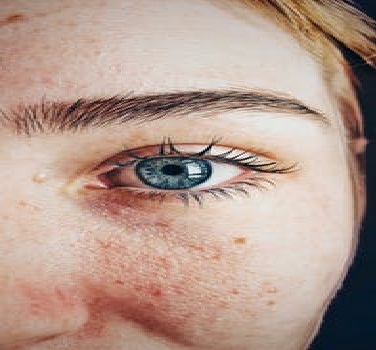 How to use
Prepare a fine paste by mixing one tablespoon of rice flour, one teaspoon of raw honey, and one teaspoon of aloe vera gel. Apply this mixture to your face and leave it for half an hour. After 30 minutes you can wash your face with water.
Or, Make a paste with one tablespoon of rice flour and one tablespoon of Multani clay or Fuller's Earth in a bowl in two tablespoons of raw milk. By applying this, all the facial scars start reducing. Use these remedies daily to get flawless skin with rice flour.
Benefits
The rice flour face pack is very effective in reducing skin inflammation, acne scars, and dark spots. Rice flour has natural antiseptic properties that eliminate microbial activity on your skin causing acne and pimples.
Raw honey kills the bacteria causing acne and pimples with its antibacterial properties. It also heals pimples and reduces acne scars.
Aloe Vera gel also has natural antibacterial properties. It effectively treats acne and pimples and also reduces redness and irritation on your skin.
Multani clay fights acne and prevents skin breakouts. It also lightens pigmentation and facial scars.
6. Rice Flour for Dark circles
How to use
In a small bowl add one tablespoon rice flour, half teaspoon of castor oil, and one tablespoon of ripe banana mash. Apply this paste on your dark circles, under-eye bags, or puffy eyes for 30 minutes and then wash it.
Or, mix one teaspoon rice flour with one teaspoon fresh milk cream and apply it to your dark circles. Let it stay until dry and then wash off.
Benefits
Rice flour powder is one of the best home remedies for under eye bags, puffy eyes, and dark circles.
Castor oil and banana contain moisturizing properties that reduce dryness of skin and help to treat dark circles and puffy eyes. They also lighten the skin around your eyes and reduces wrinkles under the eyes.
Use these remedies every day for at least a month. It will reduce your dark circles and puffy eyes problem.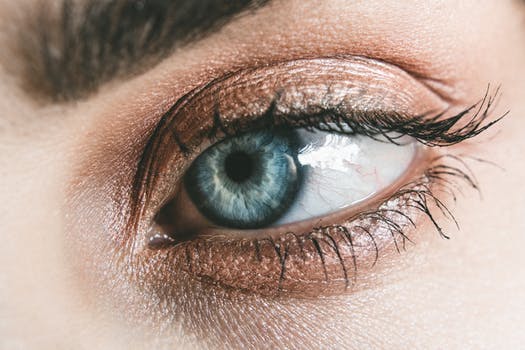 7. Rice flour for wrinkles
How to use
Mix 1 teaspoon of rice powder and one teaspoon of cornflour with one tablespoon of rosewater and a few drops of glycerine to make a fine paste. Apply it all over all your face and after drying, wash your face with lukewarm water first then followed with cold water.
This is an effective anti-aging face mask. It removes fine lines and facial wrinkles from the face. It also moisturizes your skin making it smooth.
Benefits
Rice flour is a natural anti-aging agent. It removes dryness from the skin and provides moisture to the skin. Corn flour prevents premature aging.
Rosewater and glycerin have hydrating properties. They rejuvenate skin and reduces the appearance of fine lines and wrinkles on your face.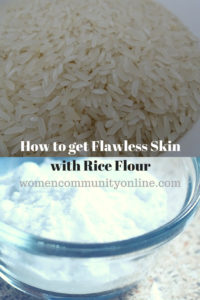 You May Also Like: