Shakti Peeth Ambaji Temple Gujarat
The Shakti Peeth, Ambaji Temple Gujarat, is one of the significant Shakti Peeths in India. It signifies the heart of Devi Sati. Devi Sati, the incarnation of Adi Para Shakti, was the first wife of Lord Shiva. Both Devi Sati and Goddess Parvati are the forms of the Adi Shakti. Goddess Parvati was the reincarnation of Sati.
The universal supreme power, Adi Shakti
Devi Shakti or Adi Para Shakti can conquer all the evil powers. According to Hindu mythology, there was a buffalo-headed demon, Mahishasur. He gained a boon from Lord Bhrama, that no man could kill him. Once, in the battle between the gods and the demons, Mahishasur defeated all the Gods. To maintain a balance in the universe and conquer evil powers, there was a need to defeat evil powers. So, to kill Mahishasur, all the divine energies of Gods combined into Goddess Parvati to form Goddess Durga.
Goddess Durga, armed with ten different weapons, one in each hand and riding on a lion, began a fierce battle against Mahishasur. Even though she was a woman, nothing could stop her, and eventually, Maa Durga killed Mahishasur. This is how Maa Durga got identified as Mahishasur Mardini. The nine-day battle between Maa Durga and Mahishasur also signifies the Navratri festival and is celebrated as Navratri, the victory of good over evil.
Adi Para Shakti is the universal supreme power, the feminine form of deity. Shakti, Adi Para Shakti, Param Shakti, Adi Shakti, Adya Shakti, Maha Shakti, and Maha Devi are her other names. Devi Shakti is the divine universal power, who is present at Ambaji Temple Gujarat, as Maa Amba.
What is Shakti Peeth?
Devi Sati was an incarnation of Adi Shakti. It was in her destiny to become Lord Shiva's wife. King Daksha the father of Sati, didn't want Sati to marry Lord Shiva. So, he dis-approved Devi Sati and Lord Shiva's marriage. After marriage, Devi Sati started living her married life at Mount Kailash with Lord Shiva. Daksha got enraged, he felt very insulted and so, he decided to take revenge.
Soon after Sati's marriage, Daksha Prajapati organized a yagna. Except, Lord Shiva, he invited all Gods. Sati was very unhappy to know about this. She decided to visit her father and confront him. Lord Shiva, attempted to stop her, but she requested him to allow her to go. Devi Sati, on arrival at her father's house, was not welcomed affectionately by her father. He even started insulting Lord Shiva in the yagna ritual. Sati was so enraged by her father's behavior, that she couldn't tolerate those insulting words for her husband. She then sacrificed herself in the yagna fire. As a result of this, the sacred Yagna became unholy.
Lord Shiva became very furious after knowing about Sati's death. Lord Shiva created Veera Bhadra from his hair strand. Veera Bhadra cut off Daksha's head and threw it in the same Yagna fire. However, a sacred yagna can't be left incomplete. So, Daksha was brought back to life, by placing a goat's head in place of his head.
Lord Shiva, kept Sati's body on his shoulder and started wandering in the whole Universe. All Gods were very concerned seeing Lord Shiva neglecting his celestial duties. So, they requested Lord Vishnu to stop Lord Shiva and restore the balance in the Universe. At that point, Lord Vishnu with his Sudarshan chakra cut Sati's body into 52 pieces, of which 51 dropped on the earth at 51 different places, which became holy 51 Shakti peeth. At each Shakti Peeth, there is a Maha Kali or Maa Shakti temple and a Kaal Bhairav temple. Kaal Bhairav is a fierce form of Lord Shiva, who guards each Shakti Peeth. This is how shakti peethas were formed and the Ambaji temple of Gujarat is one of them. It's believed that Devi Sati's heart fell at this place.
Shakti Peeth Ambaji Temple Gujarat
The original Shakti Peeth temple is at Gujarat and Rajasthan border, on the peak of the Gabbar hill, in the Aravali hill ranges. Devotees either take steps or a ropeway ride to reach the hilltop. Maa Amba and Batuk Bhairav are worshipped here. Maa Amba is worshipped here as the Arasuri Ambaji. There is an Akhand deep but no statue of Goddess here. Maa Amba is worshipped in the form of a Gold plated Yantra, which isn't visible with the naked eyes.
Around 6 to 7 km away from the Gabbar hill is the Ambaji temple. Here, on the auspicious full moon day of Hindu month Bhadarva, a large fair is also held. Many devotees from across the country visit here to worship Maa Shakti. Ambaji temple Gujarat is the best place to visit during Navratri. In Navratri, a large number of people visit Ambaji. They also perform Garba there. On Maha Ashtami, the eighth day of Navratri, Maha Yagna is also performed in the Ambaji Temple.
Ambaji temple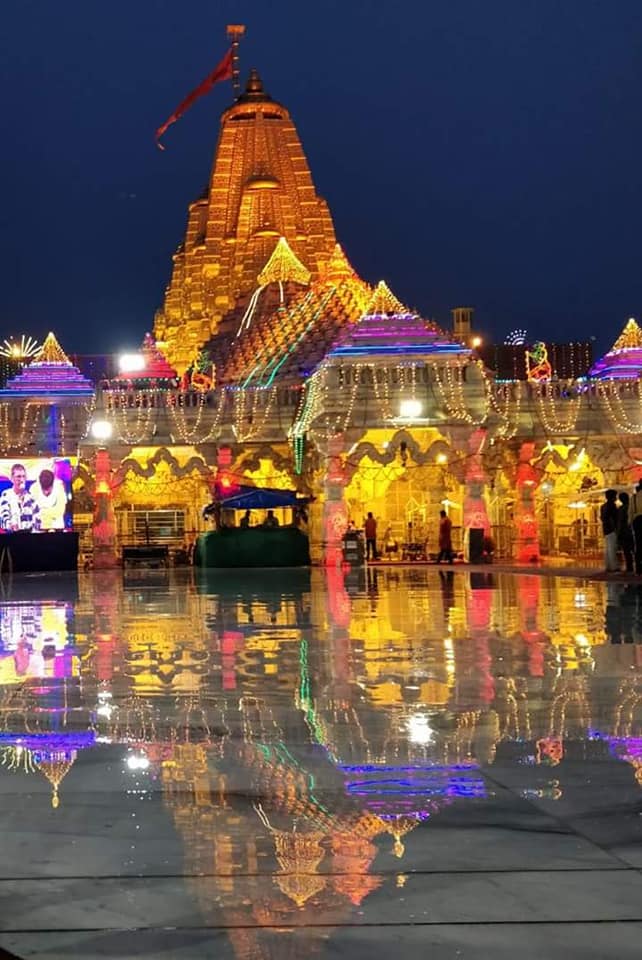 Location
The Temple is located in the Banaskantha district of Gujarat. One can reach here either by road, by rail or by air. It is approximately 50 km away from Mount Abu,70 km from Palanpur city, and about 180 km from Ahmedabad. The nearest Railway station is in Abu which connects all the major cities. It is approximately 20 km away from Ambaji and another one is in Palanpur which is located 60 km from Ambaji. The nearest airport is located in Ahmedabad and Udaipur both approximately 180 km away from Ambaji.
Visit this holy Shakti Peeth Ambaji Temple of Gujarat once, you will feel blessed to worship this divine, feminine form of Maa Amba.
Nearby places to visit in Ambaji
Kumbhariya Jain temple is located around 2 km away from Ambaji Town. It has a historical Jain Shwetambar temple of Neminath Bhagwan, which is one of the heritage sites of Gujarat.
Kamakshi Devi Temple is near Kumbhariya Jain Temple on the Khedbrahma National Highway. The temple has all 51 shakti peeth and various incarnations of Maa Adhya Shakti.
Shri Koteshwar Mahadev is located 8 km away from the Ambaji temple near the river Saraswati. Here, you will see a Mahadev temple, a holy kind, and a carved gaumukh sculpture from which the water of the river Saraswati flows.
Kailash Tekari is a pilgrimage place nearly 2km away from Ambaji on the Khedbrahma Highway. A stone gate Mahadev Temple is located on the top of Kailash tekari.
Maan Sarovar is located behind the main Ambaji temple, where the devotees take a holy bath.
Mount Abu is a very famous hill station located in the Aravalli mountain range in the Sirohi district of Rajasthan, near the Gujarat border. It is a place with a very soothing climate where you will see waterfalls, lakes, rivers, and forests.
References:
You May Also Like