Sui Dhaaga – Made In India Movie Review
Sui Dhaaga – Made In India
Cast – Anushka Sharma, Varun Dhawan, Raghuvir Yadav, Abha Parmar
Writer-Director – Sharat Katariya
Producer – Maneesh Sharma
Genres – Hindi, Comedy, Drama, Family, Romance
Release Date – 28 September 2018
Duration – 2 hrs 02 minutes
Sui Dhaaga means a needle and a thread. The movie Sui Dhaaga – Made in India depicts the journey of an ordinary craftsman, who rises from all odds with modesty to become a renowned businessperson. A tale of a simple couple with self-respect, determination, hard work, and confidence. The film features actor Varun Dhawan and actress Anushka Sharma in the lead roles. Sui Dhaaga movie carries forward the "Made in India" message very effectively.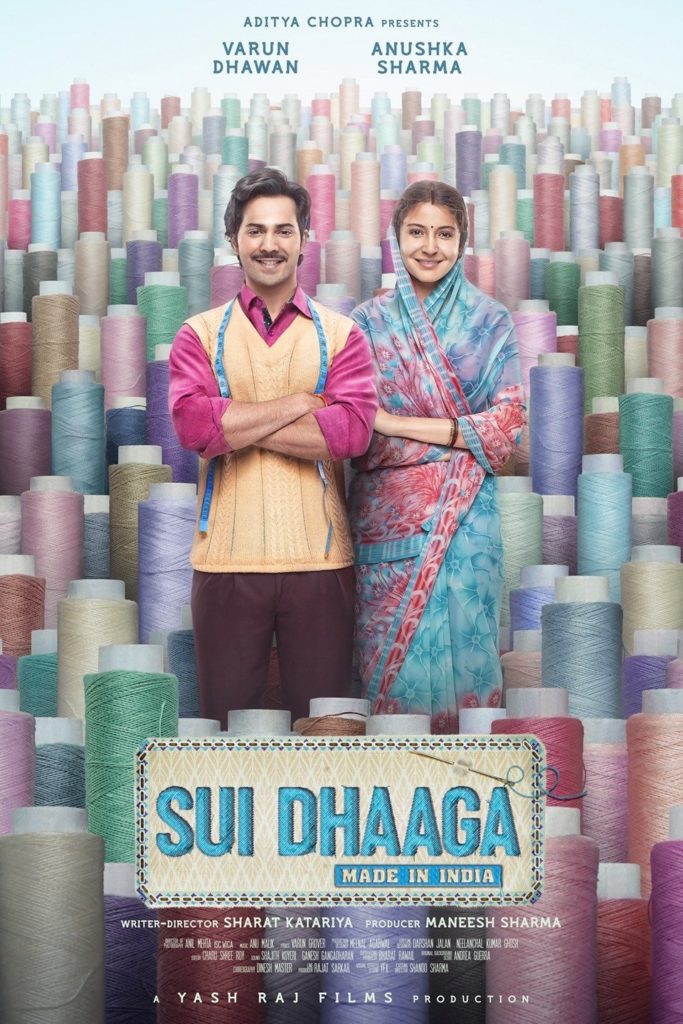 Sui Dhaaga – Made In India Story
Mamta (Anushka Sharma) is the wife of a tailor Mauji (Varun Dhawan). She is always busy in her household chore so, she is unable to give time to her husband. Mauji is a master in sewing and embroidery work. He works in a shop to earn his living, where he always faces some difficulties and a troublesome boss, which his wife doesn't like. So, Mamta tells Mauji to leave his job and start his own business. Mamta is a woman with strong willpower, who encourages her husband to start his work.
In his journey to become a successful businessman from an ordinary craftsman, Mauji faces a lot of problems. Still, he is always positive and determined by his hard work. The movie also shows how a woman holds her husband's back and supports him to achieve his big dream. To find out how they both work together, to open their own company under the tag "Made in India", without any kind of support and money in hand, you will need to watch the movie.
Characters and Acting
The Writer-Director Sharat Katariya right from the start has very well established the characters of the movie. It is very easy for the audience to relate and identify with them. Performance-wise both Varun Dhawan and Anushka Sharma have delivered their best performance. Anushka Sharma looks very beautiful in her de-glam avatar. Raghuvir Yadav who is playing Varun Dhawan's unhappy and unsatisfied father has also done justice with his character. There are many funny lines in the movie, which he has very well delivered. Abha Parmar as Mauji's mother has also done an excellent job.
Direction
The movie is very simple which moves forward in a very logical manner. The direction and screenplay also flow precisely. Both, Varun Dhawan and Anushka Sharma look like the actual character they are playing in the movie. The first half of the movie is full of comedy and drama. Some people may find the second half stretched long very melodramatically. But, when an ordinary person like Mauji dream to become successful, his life will be full of emotions, ups and downs, and drama. The movie undoubtedly has more to watch than what we see in the movie promos. The Producer-Director duo Maneesh Sharma-Sharat Katariya, who presented the National Film Award-winning movie "Dum Laga Ke Haisha", has successfully tried to keep this movie very real.
My Review 
For me, Sui Dhaaga – Made In India is a good family movie. You can definitely watch it this weekend with your family and friends.
You May Also Like