Wet Corn Chivda And Green Chutney Recipe
Wet Corn Chivda And Green Chutney Recipe – Corn Chevda, also known as Makai no chevdo in Gujarati, is a savory, fulfilling, and easy to make instant Indian meal, that is ideal as healthy lunch or snack. The sweet taste of corn Chivda is balanced with tangy and spicy Indian condiments, green chutney also known as Hari chutney in Hindi. A worth trying a recipe for the rainy season.
Wet Corn Chivda Recipe | Gujarati Makai No Chevdo
This corn chivda is made from freshly grated corn. It is not a dry tea-time snack made from corn flakes. Its rich and delicious healthy meal liked by all. Corn is a good source of high protein and fiber. It contains low-fat complex carbohydrates and phytochemicals namely lutein and zeaxanthin that are good for vision. Corn is also considered good for digestion and weight loss.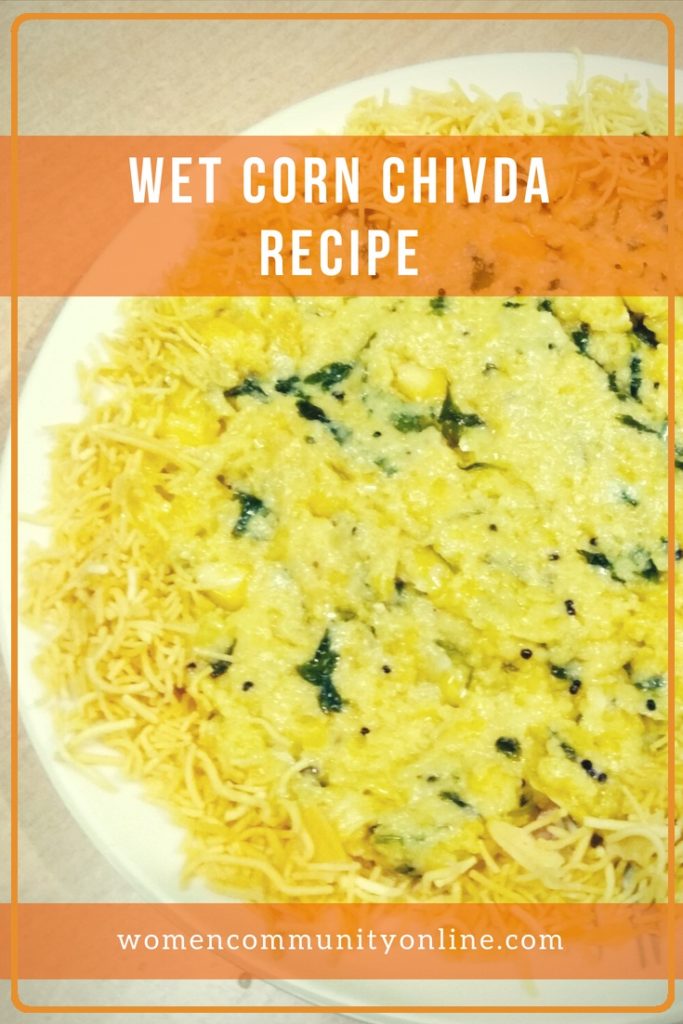 Ingredients
1 bowl grated Sweet Corn
1 tablespoon Milk powder
2 cups of water
1 chopped Green Chili
A pinch of Asafetida (Hing)
1 tablespoon of Oil
¼ teaspoon Turmeric
½ teaspoon Mustard Seeds
2 tablespoons of Chopped Coriander
2 to 3 curry leaves
½ teaspoon Lemon Juice
2 tablespoon sev (Indian savory noodles)
½ teaspoon of Salt
Preparation Time: 5 minutes
Cooking Time: 15 minutes
Servings: 2
Instructions
In a non-stick cooking pan, heat oil on a medium flame. Add mustard seeds to the oil and let them crackle. Add green Chilies, curry leaves, asafetida, salt, turmeric powder, mix well and cook for 2 minutes.
Now it's time to add grated corn. Add corn and stir it continuously to prevent sticking. Turn the flame to low and cook for 2 minutes under the closed lid.
Uncover and add water and milk powder and cook until the oil starts leaving from the sides. Turn off the flame. Add lemon juice and coriander leaves and mix it well.
Wet corn chivda is ready to garnish with sev. Serve it hot with spicy green chutney.
Note that this recipe can also be made with milk instead of milk powder. You can take about 1/2 cup milk and add water if required. Also, add about 1 teaspoon of sugar when using milk.
Green Chutney Recipe | Hari Chutney Recipe
Green chutney is a puree of coriander, mint, chilies, lemon juice, and various spices. It is the best appetizer rich in essential nutrients, minerals like iron, calcium, magnesium, and vitamins A, B, C & E. Additionally, green chutney also aids in the secretion of various digestive juices making the digestion process very easy.  Once made, this green chutney you can store for a week in a sealed airtight container in the refrigerator.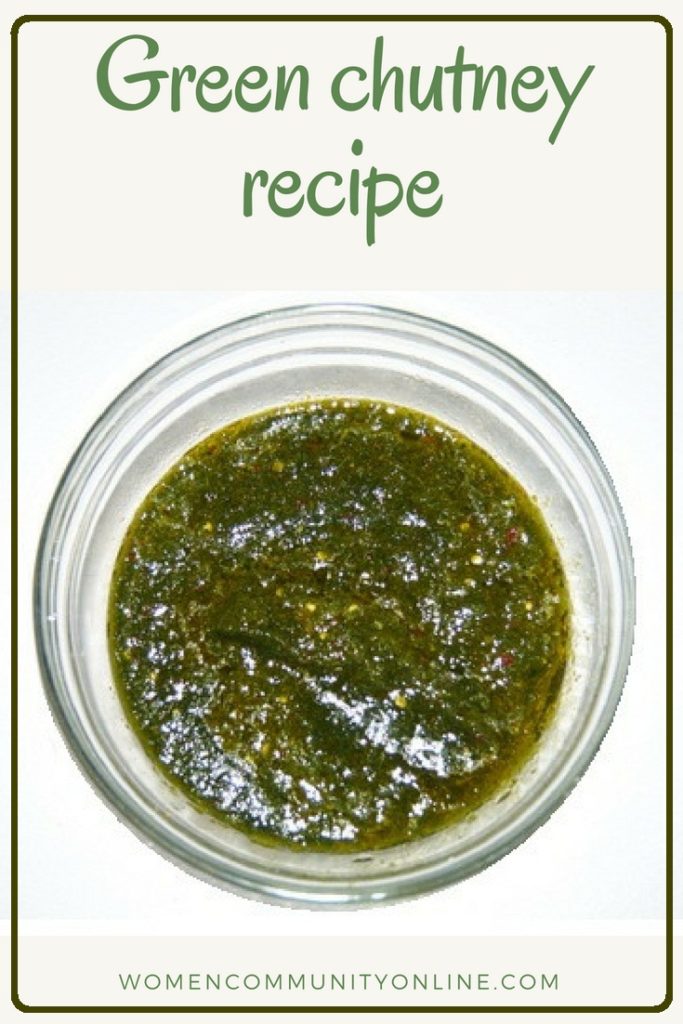 Ingredients
1 bunch of Coriander
1/2 cup Mint leaves
2 green chilies
1 inch chopped ginger
2 tablespoons of Lemon juice
1 teaspoon salt
1/2 teaspoon roasted cumin seeds
1 tablespoon grated coconut
1 tablespoon roasted peanuts
1/4 cup water
Preparation Time: 5 minutes 
Cooking Time: 3 minutes 
Servings: 4
Instructions
Clean the coriander leaves and mint leaves and wash them in clean water. Put the coriander, mint leaves, green chilies, ginger, roasted cumin seeds, peanuts, grated coconut in a blender, and grind it into a thick paste.
Add lemon juice, salt, and water and again blend it into smooth paste.
The spicy green chutney is ready. Enjoy it with sweet corn Chivda or any of your favorite appetizers.
This green chutney will last for at least one week in the fridge if stored in an airtight container.
Pin Wet Corn Chivda and Green chutney recipe for Later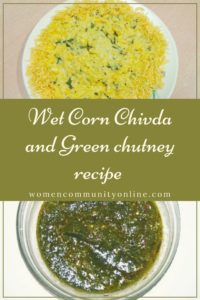 You May Also Like