Brave Women freedom fighters of India
Lets us know about brave Women freedom fighters of India who contributed to the freedom struggle of India.
Each year India celebrates Independence Day on the 15th of August. Without Independence, It was difficult for India to become a Republic nation. It's a day to remember the freedom fighters who participated in the freedom movement.
Great patriotic songs and freedom fighters stories give goosebumps to every Indian. Even after the 72 years of independence. People of all caste & religion forget their differences and come together to celebrate. They hold in hands national flags and chant Jai Hind and Vande Mataram slogans. Independence day is celebrated in schools, colleges, government offices, Malls, & streets. It's celebrated with a flag hoisting ceremony. Later, the ceremony ends with a speech by chief guests. Everyone gathered salutes the Indian National Flag. They altogether sing the National song and National Anthem.
People, with wet eyes and all respect in hearts, remember the brave freedom fighters. Freedom fighters who lost their lives for the sake of our country. Lala Lala Lajpat Rai, Mahatma Gandhi, Shaheed Bhagat Singh, Sardar Vallabh Bhai Patel, Subhash Chandra Bose, & many more. They fought bravely and contributed to achieving great independence. These brave heroes can never be forgotten. Their names will always be written in golden letters in our Indian history.
But, history has also seen many powerful women freedom fighters of India in her era. These women walked together with men and showed the world their brainpower and bravery.
Brave Women freedom fighters of India
Let us today know about such heroic women. Women freedom fighters who fought heroically for the Independence of India. These women are truly a motivation for women and all.
Queen Velu Nachiyar
(Born: 3 January 1730 Ramanathapuram – Died: 25 December 1796, Sivaganga)
Queen Velu Nachiyar ruled the Sivaganga estate in South India. She became the first women fighter who fought against the British imposing power. She got recognized as the first person to apply the human bomb. Velu Nachiyar was born in Tamil Nadu. She was the only child in the family of Raja Chellamuthu Vijayaragunatha Sethupathy. Her parents raised and trained her as a boy in horse riding, Silambam, archery, and in martial arts. She also mastered many languages, including English, French, and Urdu. Rani Velu Nachiyar was married at the age of 16 to Muthuvadugananthur Udaiyathevar. Muthuvadugananthur Udaiyathevar was the son of King of Sivagangai. They had a daughter named Vellachi.
In 1772, the East India Company and the son of the Nawab of Arcot invaded Sivagangai. Her husband was killed in the Kalaiyar Koil war with Colonel Smith. After the death of her husband, she left for Virupachi near Dindigul with her daughter. She stayed for eight years under Palayakaarar Kopaala Naayakkar's security. She built an influential defense force to fight against the Britishers. Queen Velu Nachiyar was encouraged by Sultan Hyder Ali & Gopala Nayaker. The Sultan supported her in her movement to get back her empire. In 1780, she fought with the British and became the first queen to fight for freedom against the British.
Kittur Rani Chennamma
(23 October 1778, Belgaum – Died: 21 February 1829, Bailhongal )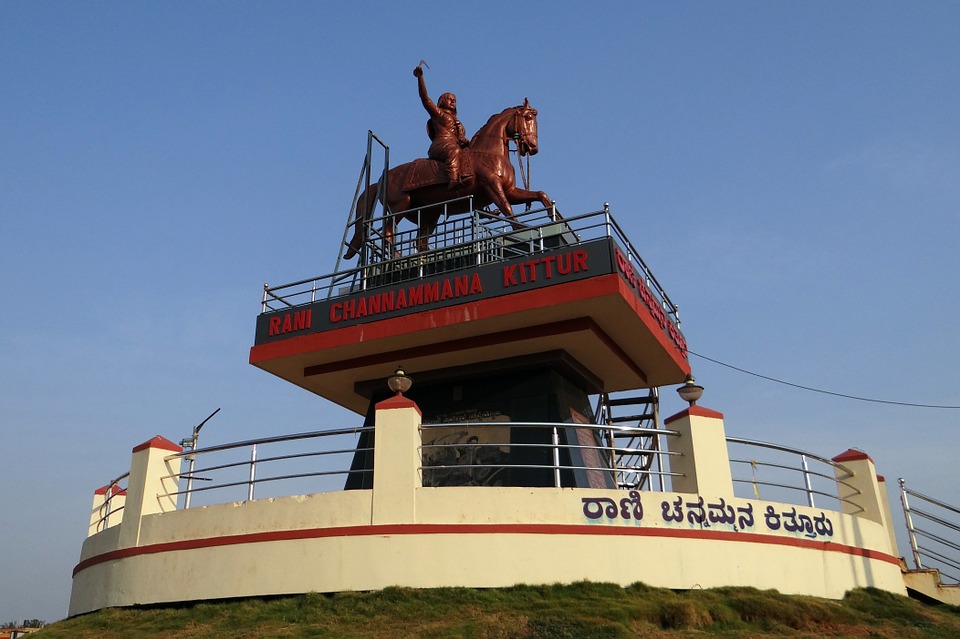 Kittur Rani Chennamma was the Queen of Kittur state in Karnataka. She was born in a small village of Karnataka. Right from childhood, she mastered in horse riding, sword fighting, and archery.
At the age of 15, She married King Mallasarja and has a son. After the death of her husband and son in 1824, she adopted Shivalingappa. She declared him the heir of Kittur, to save it from the British. At the age of 33, She bravely led a revolutionary defense force against the British. She fought to retort the Doctrine of lapse founded by Lord Dalhousie and lost her life in the battle.
Begum Hazrat Mahal
(Born: 1820, Faizabad – Died: 7 April 1879, Kathmandu, Nepal)
Begum Hazrat Mahal, also well known as the Begum of Awadh. She was an influential woman who fought against the British East India Company in 1857.
Begum Hazrat Mahal inspired the people of the country to rise up against British rule. She succeeded in removing the Britishers from Awadh. After her husband died, she took the command of Awadh and even captured Lucknow. During the struggle, she declared her son, Bijris Qadra as the ruler. But, soon the East India Company recaptured it. Begum had to live in exile to Calcutta. Later, she had to hide in Nepal, where she died.
Rani Lakshmi Bai 
(19 November 1828, Varanasi – 18 June 1858, Gwalior)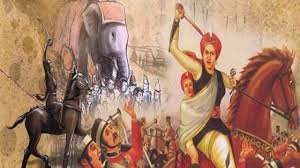 Lakshmibai was an Indian warrior and a queen of Jhansi. Jhansi, the present district of Uttar Pradesh in India. She was born in a Marathi family at Varanasi. She was known as Manikarnika until she got married to Gangadhar Rao. After marriage, she became Lakshmibai and the queen of Jhansi. Rani Laxmi Bai was one of the freedom fighters of the Indian revolution of 1857. She fought against the British East India Company for Jhansi.
After the death of their own son, Raja Gangadhar Rao and Rani Laxmibai adopted Damodar Rao. After Gangadhar Rao 's death, Lord Dalhousie refused to let her adopted her son become the king. Jhansi at that time was under British rule. For this reason, Laxmi Bai fought against Britisher for Jhansi. She died at the age of 29 on the 18th of June. She was fighting against Sir Hugh Rose's army at Gwalior in Kotah ki Serai.
Madam Bhikaiji Cama
(Born: 24th September 1861, Mumbai – Died: 13th August 1936, Mumbai)
Coming from a Parsi family, Madam Bhikaiji Cama was a great social worker of her time. Madam Cama was one of the active Women freedom fighters of India. She also took part in the Independence struggle movement of India.
Under the supervision of Dadabhai Naoroji, she supported Shyamji Krishna Verma's in creating the Indian Home Rule Society. She always dreamt of an Independent India. Madam Cama created a tricolor flag of green, saffron, and red stripes. She also became the first woman who hoisted the first version of Indian Independence in 1907 in Germany. Madam Cama raised her voice for human rights and gender equality in India. She donated her personal property to an orphanage for girls. She was sent to exile in Europe until 1935. Madam Cama was given permission to return to India after 34 years. She came to Mumbai and died on the 13th of August 1936.
Kasturba Mohandas Gandhi
(Born: 11 April 1869, Porbandar – Died: 22 February 1944, Aga Khan Palace, Pune)
Kasturba was well known as the wife of Mohandas Karamchand Gandhi. Kasturba accompanied her husband in the fight again the British rule. She was born in Porbandar. She married Mohandas Karamchand Gandhi in 1883.
Kasturba with Gandhiji, fought against Britisher demanding civil rights and Indian independence. She followed her husband in all protests and movements. She even took his place in his absence. Kasturba played an important role in making people understand the value of education. She taught Indians to exercise basic hygiene, discipline, reading, and writing. Kasturba died of a heart attack at the age of 74 in 1944.
Matangini Hazra
(Born: 19 October 1870, Tamluk Died: 29 September 1942, Tamluk)
Matangini Hazra was born in the small village of Hogi. She did not receive a proper education because her father was a poor farmer. Matangini Hazra got married at a very early age. She became widowed at the age of 18 with no child.
Matangini Hazra played an important role as Gandhian in the Quit India movement. Hazra became an inspiration for all women. She also played an essential part in the Non-cooperation movement. Matangini Hazra didn't back-off even after she was shot during a parade. She marched forth with the national flag, repeating "Vande Mataram." She was shot dead by the British Indian police at the Tamluk Police Station.
Sarojini Naidu
(Born: 13 February 1879, Hyderabad – Died: 2 March 1949, Lucknow)

Sarojini Naidu was popularly known as the nightingale of India. She was a freedom fighter and an Indian poet. She was born in Hyderabad.
Sarojini Naidu was the first woman who became the governor of an Indian state. In 1925, she became the second woman to become the president of the Indian National Congress. In 1905, She joined politics and offered her contribution in the freedom struggle. She went places to address and invoke women to take part in social welfare and freedom struggle. In 1917, Sarojini Naidu also supported to set the Women's Indian Association. She participated in her revolutionary movements of the Civil Disobedience & the Quit India. She was also jailed for her participation. Sarojini Naidu died of a heart attack in Lucknow on 2 March 1949.
Kamala Kaul Nehru
(Born: 1 August 1899, Delhi – Died: 28 February 1936, Lausanne, Switzerland)
Kamala Kaul Nehru was one of the women freedom fighters of India. She was the wife of the first prime minister of India, Jawaharlal Nehru.
She was born and brought up in a middle-class Kashmiri Brahmin family. At the age of 17, she married to Jawaharlal Nehru. Kamala Nehru also participated in the national movements along with her husband. She also became very popular with women's groups all over the country. When her husband was arrested, performing the duty of a wife. She also went to read out the speeches in the place of her husband. She died of tuberculosis in Switzerland on 28 February 1936.
Kamaladevi Chattopadhyay
(Born: 3 April 1903, Mangalore  – Died: 29 October 1988, Mumbai )
Kamaladevi, a theater actress, freedom fighter, and an Indian social reformer.  She also played a major part in the independence of India.
Kamladevi worked towards the development and welfare of women. She was an important person in the international socialist feminist movement. Kamladevi supported many causes and was a great author too. Kamaladevi was very motivated by Gandhi's views & ideas of non-violence. She supported Gandhiji in the Salt Satyagraha. But she strongly disagreed with his decision of excluding women in the march. Kamaladevi was charged for violating the salt laws and sent to jail. Kamla Devi died at the age of 85 on 29 October 1988.
Sucheta Kriplani
(Born: 25 June 1908, Ambala – Died: 1 December 1974, New Delhi)

Sucheta Kriplani was a freedom fighter and a politician. She worked with Mahatma Gandhi during the Partition riots in India.
Sucheta Kriplani encouraged women to join the freedom movement. She also contributed a major role in Indian politics. She joined the Indian National Congress party. Sucheta Kriplani was selected as a member of the drafting committee of the Constituent Assembly. At the time of establishing the Indian constitution. On 15 August 1947, in the Constituent Assembly, she sang Vande Mataram. She was the first woman to become the Chief Minister of Uttar Pradesh after independence. In her later life, she died of a heart attack at the age of 67 years.
Durgabai Deshmukh
(Born: 15 July 1909, Kakinada – Died: 9 May 1981 )

Durgabai was a follower of Mahatma Gandhi. She participated in the Satyagraha movement.
Durgabai Deshmukh married to C. D. Deshmukh at the young age of eight years. She even left her family to pursue her education. She was a lawyer, a social activist, and an Indian politician. Durgabai was also elected a member of Lok Sabha & of Planning Commission of India. She became the first female criminal lawyer in India. Durgabai encouraged people to ignite their nationality in them. She worked for the betterment of women, children, handicap and the needy people. She was also awarded Padma Vibhushan.
Aruna Asaf Ali
(Born: 16 July 1909, Kalka – Died: 29 July 1996, New Delhi)

Born as Aruna Ganguly, Aruna Asaf Ali, A Bharat Ratna of India, and a brave women freedom fighter of India. She went on a hunger strike in Tihar jail to protest against the mistreatment of prisoners.
Being a social activist, she participated in the Salt Satyagraha movement. She also became a member of the Indian National Congress party. Her protest landed her in jail, but it didn't stop her. Aruna continued her protests inside the jail. It later resulted in the improvement of the condition of prisoners in Tihar Jail. She became more popular after she hoisted an Indian flag during Quit India Movement in 1942, at Gowalia Tank Maidan in Mumbai. She died in New Delhi at age 87 on 29 July 1996.
Usha Mehta Savitribai Phule
(25th March 1920- 11th August 2000)
Born in Saras village near Surat in Gujarat, Usha was a follower of Mahatma Gandhi and a freedom fighter. She first saw Gandhi on a visit to Gandhi Ashram in Ahmedabad. Afterward, she actively started participated and attending sessions doing the spinning.
Usha Mehta Savitribai Phule was one of those who hoisted the tricolor at Gowalia Tank Ground. Later, Gowalia Tank Ground became well-known as the August Kranti Maidan. Savitribai Phule was a social reformer. She founded India's first girls' school at Bhide Wada in Pune. She always fought against caste and gender discrimination. In 2015, the Chief Minister of Maharashtra, Devendra Fadnavis awarded Savitribai with Bharat Ratna. On her 186th birth anniversary, Google also honored her with a doodle for contribution in a challenging society.
All these women freedom fighters of India have not only contributed to the Indian freedom struggle but are a source of inspiration for all. This is a great day for every Indian, to pay homage to all those who sacrificed their lives for the sake of our country. Today we are living in an Independent and Republic nation. It is only because of the sacrifices given by our great freedom fighters and soldiers.
PIN FOR LATER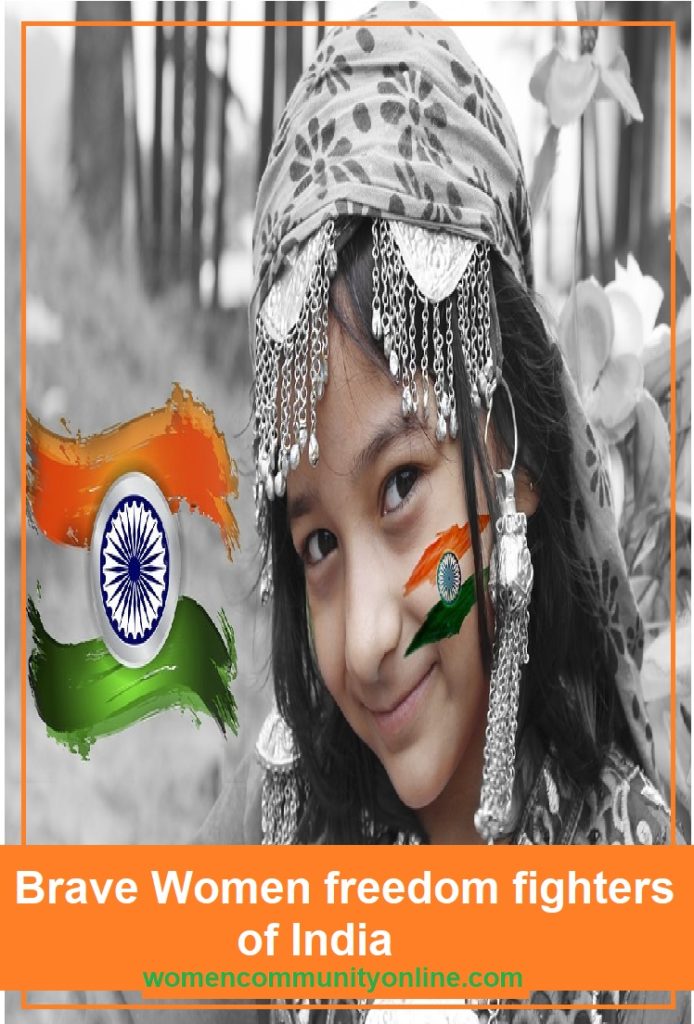 You May Also Like: