Diwali – The Festival Of Lights
India, a country known for its diverse festivals. One of the well-known and most important festivals in India is Diwali – the festival of lights. Diwali is India's biggest and most significant festival celebrated every year. Diwali celebration begins from the 15th day of Krishna Paksha. The celebration commences in the Kartik month of the Hindu lunar calendar. It falls in October or November approximately after the 20 days of the festival of Dussehra. In this post, I'll share amazing facts and the significance of the festival of lights.
Why Is Diwali Called The Festival Of Lights?
Diwali festival is also known as Deepavali in Sanskrit. Deepavali means the row of diyas or earthen lamps. Thus, this festival of diyas is famous as the festival of lights. People light groups of earthen lamps, to express the joy of triumph of light over darkness. That is the victory of good over evil, and light over darkness. Diwali signifies the victory of good over evil.
Know Why Diwali Is Celebrated
There are several religious texts and stories associated with the celebration of Diwali. Some of them include as below,
Lord Ram Returned To Ayodhya
According to religious texts, the demon Ravana kidnapped Lord Rama's wife Mata Sita. He in the disguise of a sadhu came during their exile and took her to his Kingdom Lanka. Lord Rama to bring her back, fought a battle with Ravana and defeated him.
It's believed that on this day, Lord Rama came back to his kingdom Ayodhya after defeating Ravana and completing his 14 years of exile. In their welcome, the people of Ayodhya showed their joy and happiness by lighting the earthen lamps in the whole kingdom. It is because of this reason Diwali is well known as the Festival of Lights. Earthen lamps were lit in every home during the Diwali festival.
Incarnation Of Goddess Lakshmi
During the Samudra Manthan(churning of the ocean), Goddess Lakshmi emerged from the ocean. She took incarnation on Amavasya or the new moon day of Kartik month. Goddess Lakshmi is the deity of wealth and prosperity. Thus, Goddess Lakshi is worship on this day. This is one of the main reasons for celebrating Diwali.
Narakasura Vadha
Narakasura was an asura king who terrified gods and prisoned 16 thousand women and saints. Shaken by the tyranny of Narakasura, the deity and saints went to Lord Krishna and prayed for protection from him. According to religious texts, in a fight with Narakasura, Lord Krishna became unconscious. Observing this, Satyabhama (an avatar of Bhudevi and mother of narkasura) became furious and in retaliation kills him. It was on the new moon day of Kartik month. Since then, the festival of Narak Chaturdashi came into permanence.
Pandavas Returned To Hastinapur
According to Mahabharata, the Kauravas defeated the Pandavas with the skills of their wicked uncle, Shakuni Mama, in the game of dice. As a result, the Pandavas had to leave their kingdom and go on exile for 12 years. It was the day of Kartik Amavasya or new moon day when Pandavas returned to Hastinapur from a 12-year exile. The people of Hastinapura celebrated the joy of their return by lighting them.
Diwali also symbolizes the welcoming of Lakshmi Mata – The Goddess Of Wealth. It's believed by people that buying new things during these days would bring home the Lakshmi.
How Diwali Is Celebrated?
Diwali celebrations last for five days and celebrated with joy and happiness. Everyone decorates their homes with various Diwali decorations, lamps, draw Diwali rangoli, and distributes gifts, dry fruits, and sweets. Each day of Diwali has its own cultural values and beliefs. The five days of Diwali celebrations include the celebration of Dhanteras, Kali Chaudas or Chhoti Diwali, Diwali or Badi Diwali, Hindu New Year or Govardhan Puja and Bhai Dooj.
Dhanteras
The first day marks as Dhanteras by worshiping the Goddess Lakshmi. Dhan means wealth and the word, teras means the 13th day of the Krishna Paksha(fortnight or a lunar phase in the Hindu lunar calendar). Dhanteras is also known as Dhanatrayodashi and Dhanvantari Trayodashi.
During the churning of the ocean (Samudra manthan), Lord Dhanvantari appeared on the Triodash Tithi of Kartik month with a nectar (amrut) pot. Lord Dhanvantari is the God of Ayurveda. People worship Goddess Lakshmi and Kubera to bring good luck and happiness in their life. They shop silver, gold, kitchenware, or electronics on this day as it considered auspicious to buy them on this day.
Kali Chaudas or Chhoti Diwali
The second-day marks as celebrated as the Naraka Chaturdashi, Kali Chaudas, or Chhoti Diwali. This was the day when Narakasura lost his life in a battle with Lord Krishna. In some regions of India, on this day people worship the Mahakali form of Maa Shakti, to remove darkness and negativity from their lives.
Diwali or Badi Diwali
People decorate houses, religious places, and market like a bride for this day. Everyplace illuminates with colorful light lamps, lanterns, and beautiful rangoli designs, coupled with distributing sweets. Then people do Lakshmi Puja. They worship Goddess Lakshmi, the goddess of wealth, and Lord Ganesh, the God of knowledge. People pray to them to take away all the obstacles in their way and bless them with a healthy life.
Hindu New Year or Govardhan Puja
The fourth-day marks the Hindu New Year day – the beginning of a new year. People visit the temple to seek blessings from God and then visit their relatives and friend to wish a happy new year. They seek blessing from elders for a new beginning in a brand new start of a new year. In some regions, people celebrate this day as Annakut or Govardhan Puja, which worships the nature created by Lord Krishna. People offer a large variety of vegetarian food to Lord Krishna and worship him.
Bhai Dooj 
The fifth-day begins celebrations by brothers and sisters, so it's named  Bhai Dooj. Sisters invite their brothers to their homes to celebrate Bhai Dooj. Sisters apply tilak on their brother's forehead and do aarti. They pray for a long and prosperous life for their brothers, and brothers give gifts to their sisters.
According to legends, on the day of Kartik Shukla Dwitiya, Yamuna received a boon from her brother Yama. Yamraj and Yami (Yamuna) are the siblings and children of Surya Dev (Sun) and Chhaya. One day Yamraj went to the banks of the river Yamuna, to meet his sister. His sister was very happy to meet him and fed him sweets to welcome him. her brother, feed him dessert. The day was the second day of the Kartik Shukla Paksha. Yami asked her brother Yamraj to meet her, every year on this day. Since then, Bhai dooj came into existence. It's believed that whoever takes a bath in the Yamuna river on this day, will not have to go to Yamlok after death.
People of India and Nepal observe Diwali with high eminence. There are different reasons for celebrating Diwali in different states of India. Orissa and Bengal celebrate Diwali by worshipping Maa Kali, as Goddess Shakti took the form of Mahakali on this day. Diwali holds great significance in Punjab as the foundation of the Golden Temple, in Amritsar, set on this special day in 1577. In Tamil Nadu, Andhra Pradesh people celebrate Diwali by worshiping Lord Krishna in the delight of killing the demon Narakasura.
Diwali Celebrations In India
The festival of Diwali delivers happiness to everyone. Everyone celebrates the Diwali festival with great enthusiasm. People clean their houses before Diwali arrives. Wear new clothes, eat sweets, lamps, firecrackers, and worship Goddess Lakshmi and Lord-Ganesh and welcome the new year. Diwali Festival is also the start of the new year for businessmen. Businessmen worship their accounts book on this day and start their new accounts. By Diwali, they settle all the old transactions.
People do whitewash and clean up their houses, offices, and shops before Diwali. Besides, they decorate their houses by lighting earthen lamps and tiny electric lights. People also make beautiful Diwali rangoli designs in their house courtyard to welcome their relatives and guests. On New Year in the early morning, People visit temples and pray to God for their happy and prosperous life. They wear new clothes, eat delicious food, sweets, and share gifts with each other. People wish each other a happy Diwali and happy new year and distribute sweets. They forget all the bitterness and miseries of the past and hug each other.
Diwali Is A Festival Of Lights And Purity
According to me, Diwali is a festival of lights and purity, not the festival of firecrackers. It is the festival of joy, not sorrow. The use of noisy high pitch sound crackers causes noise pollution. The smoke produced by burning these crackers also causes many skin and health problems. We should celebrate this festival without causing any harm to nature as well as birds and animals.
The sound of firecrackers terrifies many animals and birds. Apart from this, elders and people with illnesses can also suffer from serious disturbance due to these high pitch sounds. Moreover, firecrackers also increase air pollution that can harm all beings. Thus, we need to celebrate a safe, happy, and eco-friendly Diwali festival without firecrackers. Yet, lighting cracker is a personal choice.
The whole country celebrates the festival of lights and welcomes the New Year. It is a festival of unity amongst the people of different cultures and religions in India. Every festival in India has its own mythology and religious importance. People forget all their differences and celebrate these festivals with togetherness and joy.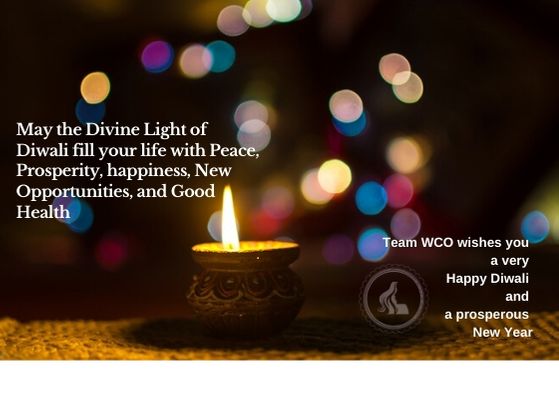 Diwali is a festival of light and happiness. Let us together bring happiness in everyone's life. This Diwali, pledge to support small businesses and buy eco-friendly Diwali items to support the nation and save the environment. Everything linked with Diwali proffers us glorifying. At last, Team WCO would like to wish all our readers A very happy and prosperous Diwali. May the divine light of Diwali diyas bring love, peace, prosperity, happiness, and good health in everyone's life. We wish you all a very happy and safe Diwali.
You May Also Like