Potato Cheese Balls Recipe
Potato cheese balls recipe is a delicious treat for everyone. It's made with boiled potatoes filled with the stuffing of grated cheese and vegetables, boiled peas, and spices. I am sure this recipe will become your kid's favorite snack. This recipe is also perfect for a party snack or starter. Every bite of potato cheese balls with the filling of cheese at the center will make you crave it more. Check out its easy recipe below.
Easy Potato Cheese Balls Recipe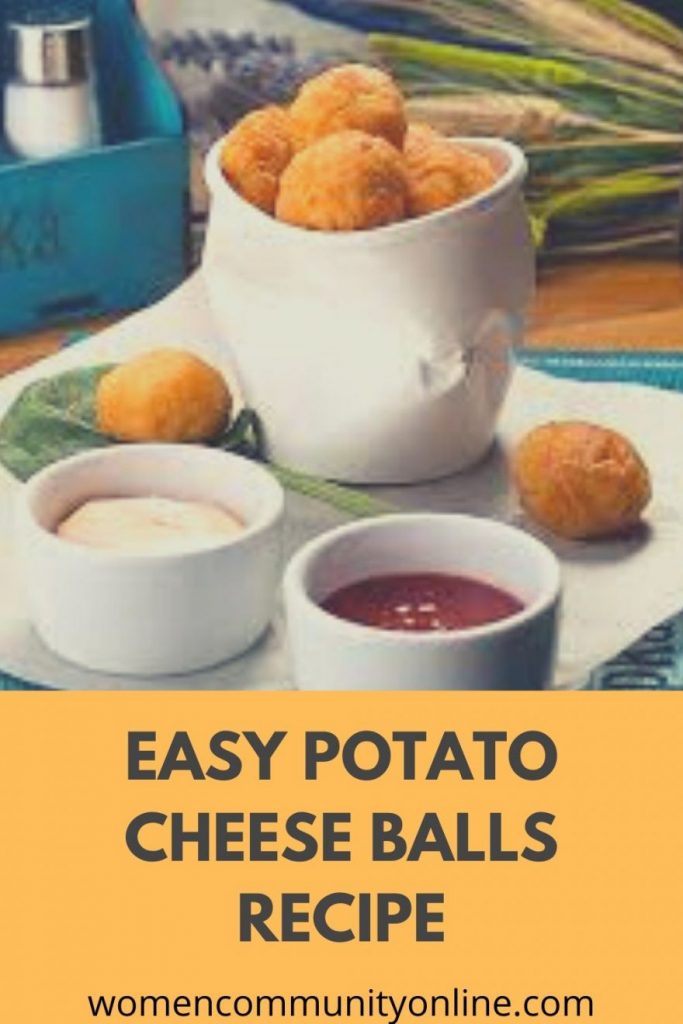 Ingredients
4 boiled and Mashed Potatoes 

1/2 cup Boiled peas
1 Cup Grated Cheese

1

finely

chopped Capsicum 

1/2 cup grated Carrot
1

finely

chopped Onion 

1 teaspoon of Ginger Garlic Paste
2 Tablespoon

finely

chopped Coriander leaves 

3-4 tablespoons gram flour
1 tablespoon of breadcrumbs
1/4 teaspoon of Turmeric powder
1/2 teaspoon of Black pepper powder
1 Tablespoon of Red Chili Powder
Salt – according to your taste
Oil to fry
Preparation time: 10 to 15 minutes
Cooking Time: 15 minutes
Servings: 8 people
Instructions
Take mashed-boiled potatoes in a bowl. Now add boiled peas, chopped capsicum, carrot, and mix them. Add ginger-garlic paste, turmeric powder, red chili powder, coriander leaves and mix them. After that mix breadcrumbs, gram flour, black pepper powder, and salt in it.
Mix all these ingredients in the bowl and keep the bowl aside.
Heat the frying pan and add oil to it.
Meanwhile, start preparing the potato cheese balls. Divide the potato-vegetable mixture into small equal balls. Grease your palms and take potato mixture and start making round balls of it. Likewise, prepare all the potato balls.
Now, take one potato ball and make a small hole into its center and start stuffing grated cheese in it. Close the cheese ball carefully in such a way that cheese is completely hidden in between. In the same way, fill cheese in the remaining potato balls and keep them aside.
Now, the oil is also heated properly and is ready to fry. Now reduce the flame to medium and drop 2-3 cheese balls in the hot oil.
Fry the cheese ball for approximately 2-4 minutes and don't forget to flip their sides.
It's necessary to fry potato cheese balls on a medium flame, to allow the potato coating to cook properly and enjoy the melted cheese inside it.
Take the potato cheese balls out when the balls turn golden brown in color. Put them on a plate with tissue paper to drain out the excess oil.
You can also bake the potato cheese ball in the oven for 10-12 minutes at 450 degrees F if you don't want to deep fry them.
Potato balls filled with cheese are ready. Serve them as a party snack or a starter with your favorite dips and sauces.  Or simply enjoy them on your weekends with tea or coffee.
You may also like: