Seven Vows in Indian Wedding Ceremony
Marriage is the most important part of our life. It's said in Hinduism that marriage is an unbreakable bond of many births. It's a sacred bond in which two hearts, two people, and two families merge into one another. They follow all the different customs and rituals before uniting into this bond. In marriage, the bride and the groom take seven rounds or saat pheras. With holy mantras by Pandit(Hindu Priest), the bride and groom take seven rounds of the holy fire. With every round, both the bride and the groom make different promises to each other. After this, the two start their married life with the blessings of their families. Let's know why are the Seven Vows in Indian Wedding Ceremony important and what they signify.
Importance of Seven Vows in Indian Wedding Ceremony
If you're married, you already know how much saat pheras and the vows associated with them are important. Fire, earth, water, air, and sky are the five elements that are believed to be the origin of the world. Hence, they're considered to be very sacred. In Hinduism, a wedding is incomplete without taking seven rounds around the holy fire. These seven rounds are also called saptapadi, mangal phera, or saat pheras which tie their relationship for seven births. The bride and groom offer aahuti in the holy fire. The holy fire and aahuti offered in the yagna are also considered the witness of their marriage.
The significance of Seven Vows in Indian Wedding Ceremony
On the day of the wedding, the bride and the groom sit under a Mandap or canopy and perform all this ritual. They first sit opposite to each other until they take seven vows. They put a flower garland or Varmala around each other's neck. Then one of the ends of the groom's garment or uttariya and the bride's saree are tied together by the pandit. They're then asked to stand up and take the seven vows with seven pheras around the holy fire. The bride and the groom take different vows or promises with each round. These vows are generally accepted by them as the dos and don'ts for happy and long-lasting married life. They promise each other to stay together in every thick and thin of their life till death separates them.
Marriage rites are one of the 16 sanskars (sacraments of life) in Hindu culture. They're performed with many rituals and they have their religious importance. The seven rounds taken in marriage are also one of them. However, it also believed that according to the Vedic rules, there are only four rounds or phera at the time of marriage. The bride moves forward to her groom in the first three rounds, while the fourth round the groom is ahead. While in saptapadi, the groom is ahead for the first four pheras.
Let us now know the meaning of the seven rounds taken during a Hindu Wedding.
First Vow
In the first vow, the groom promises his bride that he will be helpful, and always care and protect her. He'll provide all the happiness to her and their children. In return, the bride vows to take care of his household, family, and financial responsibilities. In short, both the bride and groom promise each other to fulfill their various roles in their new life. Also, they both together pray to God to provide them nourishment with food.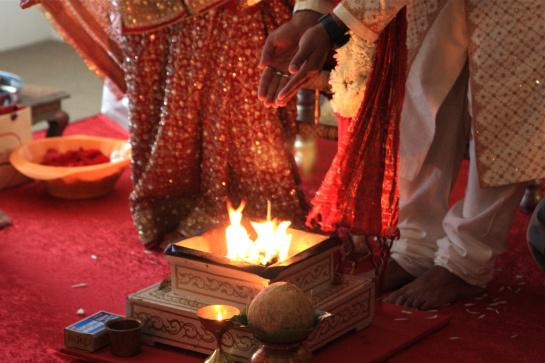 Second Vow
In the second vow, the bride asks her groom to respect her parents as he respects his parents. With this promise, she also accepts to be his better half. Both the bride and groom promise to be each other's strength in protecting their families and children. Also, the bride and groom promise to grow together mentally, physically, and spiritually.
Third Vow
Through the third vow, the bride asks for a promise to nurture her and their family in all the three stages of life. And she promises to love him for the rest of her, as her husband. The Groom promises her bride for a prosperous life ahead. He also vows to provide a good education for their children along with good health. The bride and the groom also promise to stay faithful to each other and share their happiness and pains.
Fourth Vow
In the fourth vow of marriage, the bride makes his groom realize his family responsibilities. And she will aim to please him in every way. To this, the Groom states that she has completed him and made his life worthy. They also vow to take care of their families together.
Fifth Vow
In the fifth vow, the bride tells her groom to consider her thoughts and advice on every financial and house expense. She promises to be part of his sorrows and happiness and she will always trust him. To this, the Groom vows he will always consider her, his best friend, and a well-wisher and she has equal rights to make decisions.
Sixth Vow
Through the sixth vow, the bride asks her groom to never insult her in front of her friends or family. She also asks him to stay away from all bad habits and bad company. And she promises to be always his side. To this, the Groom asks that since she has taken six steps with him, she has filled his heart with happiness. And asks her to fill his heart with happiness like this for the rest of their life. The couple promises each other to live a peaceful and long life together.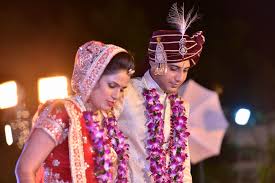 Seventh Vow
For the Seventh vow, the bride tells her groom that he will consider every other woman like his mother or sister. And She will always love him. To this, the groom says that they both are not two but one now. They are husband and wife and that she belongs to him and he is her's forever. He promises to cherish all moments of life with each other forever.
After taking seven rounds and seven vows the groom puts sindoor (red vermilion powder) in the upper middle forehead of his bride. He also puts a Magalsutra around his bride's neck and then they both are officially declared as husband and wife. Family and friends shower flowers and confetti on the newly wedded couple and congratulate them and bless them for their new journey of life. So this how Seven Vows in Indian Wedding Ceremony is taken.
You  May Also Like