Why Do Indian Women Celebrate Karva Chauth?
This time, Karva Chauth, the festival of women, is befalling on 17 October Thursday. Indian women celebrate Karva Chauth with family and friends with full mirth.
India is a country that celebrates a variety of festivals from Holi to Navratri and from Karva Chauth to Diwali. Like every Indian festival, Karva Chauth is beautifully celebrated with joy. Its the biggest day for married women, because they fast for a whole day for good health, longevity, and well-being of their husbands.
This unique Karwa Chauth fasting day falls on the fourth day of the Karthik month of the Hindu calendar. Karwa means an earthen pot and Chauth means the fourth day. It means, giving Argya ( offerings to God) to the moon, on the fourth day of Karthik, using an earthen pot for peace and prosperity in life. In Indian culture, this day is very important for a married woman. Women fast all day from sunrise to moonrise, without drinking water and eating food, for their husbands.
Reasons why women celebrate Karva Chauth and Karva Chauth Story and History
Even after 24 years of iconic Bollywood movie Dilwale Dulhaniya Le Jayenge, we still remember Raj and Simran celebrating Karva Chauth in the movie. The unforgettable scene when Raj reveals he was also fasting for Simran.
We all have seen the grand style celebration of Karva Chauth in the movies. But, let's know how Karva Chauth celebration really began from?
The Karva Chauth festival is believed to have begun during the Mughal rule, particularly in the north-west regions of India. It was celebrated by Hindu wives for the protection of their husbands who were protecting our country from the Mughal attackers. However, many other stories are also associated with this festival. Let's have a look at them in short.
The story of Veervati
There was a queen Veervati, who was the only sister among seven brothers. Once in the Karwa Chauth festival, she held a strict fast at her parent's residence. She began fasting from sunrise and in the evening she impatiently waited for the moonrise. She was in agony from thirst and hunger. Her seven dear brothers, couldn't tolerate her condition. So, they tricked her by creating a moonlike figure from a mirror, in the peepal tree (sacred fig) which exactly looked like the moon.
Assuming it a moonrise Veervati broke the fast a bit early. The moment she broke the fast, news arrived at her that her husband died. Sad with this news, Veervati started to seek forgiveness from God. Goddess Parvati appeared and revealed that Veervati was tricked by her brothers. Moreover, Goddess Parvati advised Veervati to reform her mistake and fast again with full devotion. She kept the fast again and seeing her commitment, the God of death Yama, returned her husband's life.
The story of Draupadi
It's believed that Draupadi also fasted on the Karwa Chauth day. Once to perform a strict penance, Arjun went in the Nilgiri mountains. Because of this, his brothers were facing many difficulties. When they didn't find Arjun, Draupadi remembered Shree Krishna. Lord Krishna was not only a God but also Draupadi's good friend. So, Draupadi asked Lord Krishna for a solution in this situation. She prayed Lord Krishna to resolve all their difficulties faced without Arjun. Lord Krishna appeared and told Draupadi the story of Goddess Parvati, wherein Goddess Parvati was told about the story of queen Veervati and the Karwa Chauth rituals by Lord Shiva. So, Draupadi decided to fast and follow all the Karwa Chauth rituals, for the well-being of her husband and to resolve their problems.
The story of Karva
Karva was very devoted to her husband. Once while her husband was bathing in the river, a crocodile caught him. Instantly Karva saw this and tied the crocodile with a cotton cloth and prayed Lord Yama to send the crocodile to hell. Yama – the God of death, refused to do so, consequently, Karva threatened Yama to curse and destroy him. Yama, scared of being cursed by a devoted wife, at once sent the crocodile to the hell and granted Karva's husband a long life. Later, Karva and her husband enjoyed a very happy married life for many years. This is why till today Karva Chauth is celebrated with full faith and devotion.
Karva Chauth Celebration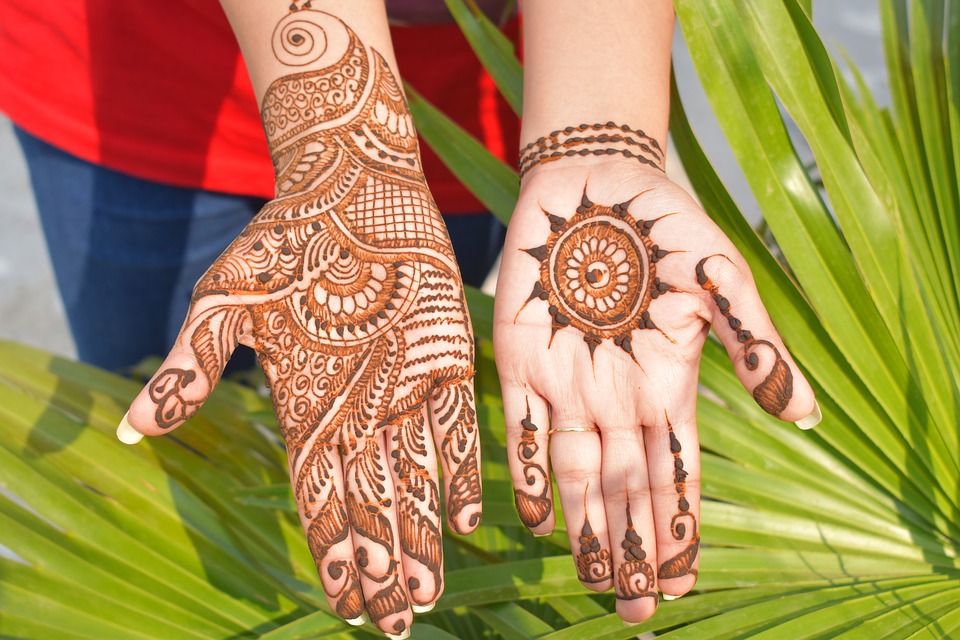 Karvachauth is widely celebrated in North-West India. Similarly, Chhath, Hariyali Teej, Vat Savitri are also largely celebrated in the same manner in the northern-west regions of India. These festivals comprise of a whole day fast by married women, for the longevity of their husbands. Unmarried girls also keep this fast to get a loving and caring life partner.
The prep for the Karwa Chauth starts at least one week before the festival. A day earlier, women apply lovely henna designs and decorate their hands. On the day, Married women dress in a beautiful red-colored traditional outfit. The red color is considered very auspicious for a married woman. They adorn themselves like a bride, with bridal makeup and ornaments. Throughout the day, they also follow a series of significant rituals during the festival with family and friends.
Karva Chauth Rituals
Baya and Sargi are the essential traditional gifting items, without which Karva Chauth is incomplete. Women receive their traditional sargi and baya as a token of love from their mother-in-law. Baya is a plate containing gift items like suhag shringar kit, clothes, bangles, cosmetics, sindur, exchanged by the women in the family. It also includes earthen pots containing nuts, fruits, Indian sweets and snacks, and kheer. Sargi is usually a sweet that is consumed early in the morning before the Karva Chauth fast. Sargi provides the strength needed for the fasting day until the moon-rise.
Throughout the day women offer prayers to God. In the evening, they together perform pooja, listen to Karwa Chauth stories, and worship Goddess Parvati. Then, women sit in a circle and transfer their pooja thali to each other and sing their religious songs. Then, after moonrise, they all gather on the terrace to see and worship the moon.
The Karva Chauth moon is believed to be a form of Lord Shiva and Lord Ganesha. After the moonrise, everyone gathers to break the fast. Women place diya, sieve, and Karwa (earthen pot) on their pooja-thali. They fill their earthen pot with water.
First, they see the moon through the sieve and offer water to the moon. Then, they look at their husbands through it. They pray for their husband's long life. Then, the husband gives water to his wife and feeds her a morsel of food with his hands. He breaks her fast and also give her gifts. After they all break their fasts, the whole family assemble to enjoy a delicious meal.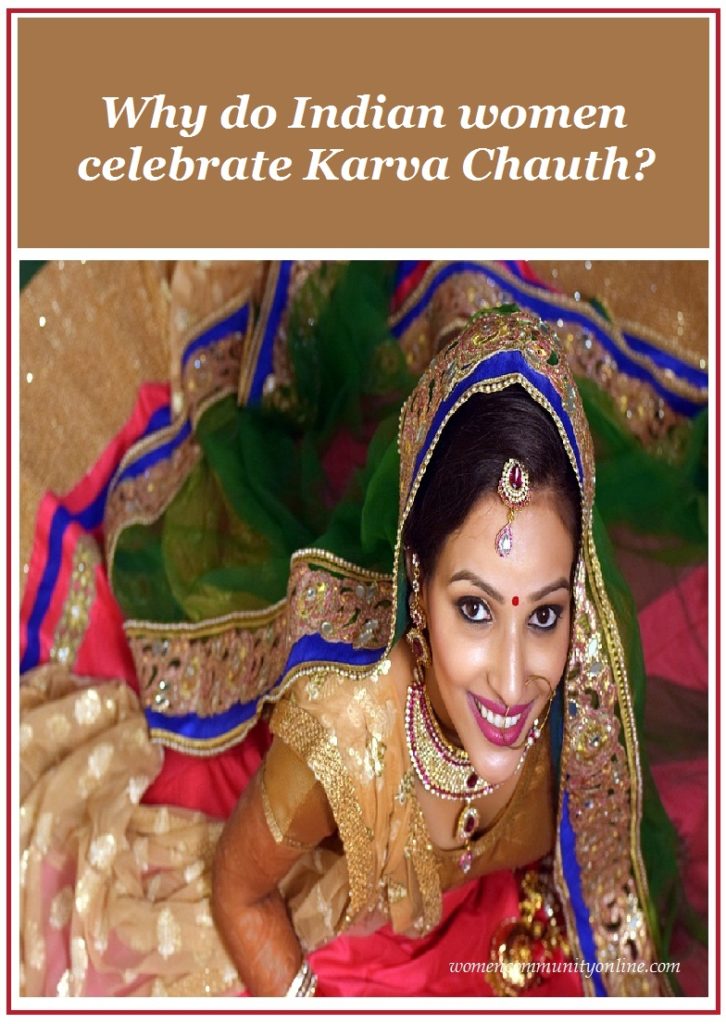 These days women work like a superwoman playing her roles as a daughter, wife, and a mother, keeping a balance between her family and house. She also has a career and holds a spot in the outside world as well. She has become independent. Many Indian families, support their daughters-in-law to work after marriage. So, in such a case, they are flexible and don't require them to follow every strict traditional rituals and customs for their family. Then why Indian women celebrate Karva Chauth?
It is because they value their family and culture. They are more selfless, supportive, and understanding. Because, career doesn't mean giving up their faith, so many Indian women celebrate Karva Chauth with full faith and devotion.
Happy Karva Chauth.
Reference:
You May Also Like