Gujarati Laapsi Recipe
Laapsi in Gujarati, Gur ka Dalia in Hindi, and Broken Wheat Porridge With Jaggery in English. Since I'm a Gujarati, Today I'm gonna share one Gujarati recipe called Laapsi or Lapsi. Gujarati laapsi recipe is cooked in our homes on all auspicious occasions and festivals. It is considered a sign of good luck to serve it on special occasions.
What Is Laapsi?
Laapsi is a delicious Gujarati meal that presents the nutritiousness of oatmeal, dry fruits, jaggery, and the rich aroma of nutmeg and cardamom. It is a popular course in Gujarati families but, you might not know that it is a specialty of Rajasthan too. Lapsi is particularly cooked in Rajasthan and Gujarat, as an offering to God on special occasions. But, you can cook and eat lapsi for breakfast too.
Lapsi is made from porridge, and we all know how beneficial porridge is for our health. If you eat a bowl of porridge in your breakfast daily, then you can remain energetic throughout the day. You can make porridge in different ways, sweet with jaggery or sugar, or without sugar and jaggery. Sweet porridge contains sugar or jaggery while savory porridge has loads of vegetables in it to enhance its nutritional content. Vegetable-rich porridge is ideal to eat in breakfast and to feed kids, as it is very beneficial for health.

Whole grains are made by grinding porridge. Porridge is a form of grains, it does not separate any part of the grain, it is made of whole grains, so it is easy to make. Porridge is eaten both sweet and plain. The vitamins, calcium, fiber, iron, magnesium, and protein present in porridge make it a better option as a nutritious diet. Besides, porridge is low in calorie and high fiber content. The intake of which not only gives you energy but also saves you from many diseases. Wheat porridge is used in most parts of India for babies who have just been introduced to solids. It is thin and easy to digest. Let's know what are the benefits of eating porridge.
Porridge is easy on your digestive system so can be consumed when suffering from stomach disorders. Iron is found in abundance in oatmeal. A bowl full of porridge intake daily can prevent iron deficiency in the body and aids in weight loss, controls diabetes, strengthens the bones, diminish joint pain, reduces cholesterol deposits, and can also lower the chances of breast cancer and type 2 diabetes. Usually, sick people are served porridge, but it can be given to all.
Gujarati Laapsi Recipe
Ingredients
1 cup broken wheat (dalia)
1/2 cup desi ghee (purified butter)
1 cup organic jaggery
2 tablespoon raisins
2 tablespoon cashew, roughly crushed
1/2 tablespoon cardamom powder
1/4 teaspoon nutmeg powder
water as required
Preparation Time – 5 minutes
Cooking Time – 15 minutes
Serves – 4
Instructions
Lapsi is best cooked using a pressure cooker.
Wash and soak the broken wheat in water for 10 minutes.
Transfer the broken wheat in a pressure cooker along with crushed organic jaggery and water.
You can also directly fry the broken wheat in ghee till aromatic, then add jaggery and water.
Let it boil until the whole jaggery dissolves.
Pressure cook the mixture for 2 whistles on high flame and over a slow flame for 5 to 7 minutes.
Once the steam is released remove the vessel, lightly mash the mixture with a spoon.
If you find that the mixture is dry, then add some water to it.
Take out the cooked lapsi in a large bowl.
In another pan heat pure ghee and add cardamom powder, nutmeg powder, raisins, and cashew, and roll over the cooked lapsi mixture.
Stir and mix well.
Garnish with raisins and cashew on top.
Laapsi is ready. Serve it hot and enjoy its taste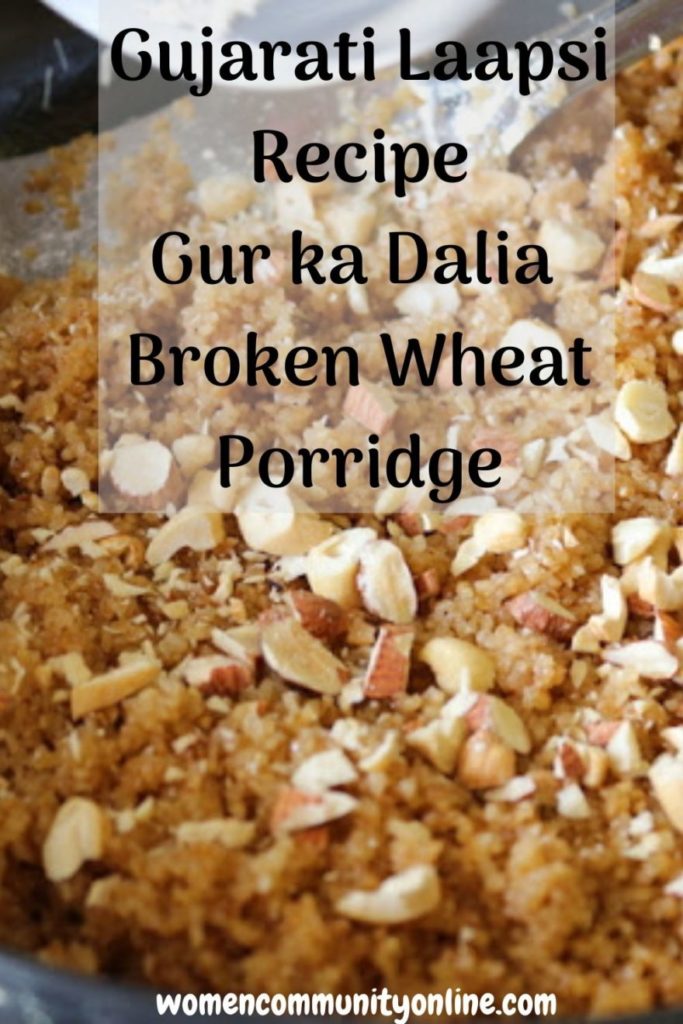 You May Also Like