7 DIY Homemade Face Masks For Winter
Try these DIY homemade face masks for winter, to change your skincare routine, and prepare your skin for winter. Pleasant winter has arrived, bringing along a ray of delightful sunshine, to walk under the warm sun and enjoy outdoors. But, it also carries harsh winds with it that harm your skin, especially your face. Consequently, it's time to ditch your summer skincare routine, it won't help you in the winter. Winters lead to dry out your skin making it feel rough and stretchy. So, with changing weather you need to change your skincare regime as well.
All your skin need is deep nourishment in winter, to hydrate your skin and preserve the inner moisture. If you live in places with very low temperatures during the winter, your skin requires an exclusive look after. Hard and cold winter weather can take a toll on your delicate skin, making it arid and uneven. Beauty products like cleansers, face scrub, toners, and moisturizers definitely help to keep your skin healthy, but face masks are also necessary to nourish your skin.
Even in the early eras, women used to apply homemade face masks to keep their skin flawless and rout the adverse climate. I usually prefer natural remedies to combat my skin problems. If you too are a big fan of natural remedies and beauty products, then you can make your own face mask with natural ingredients available in your kitchen and fight various skin problems.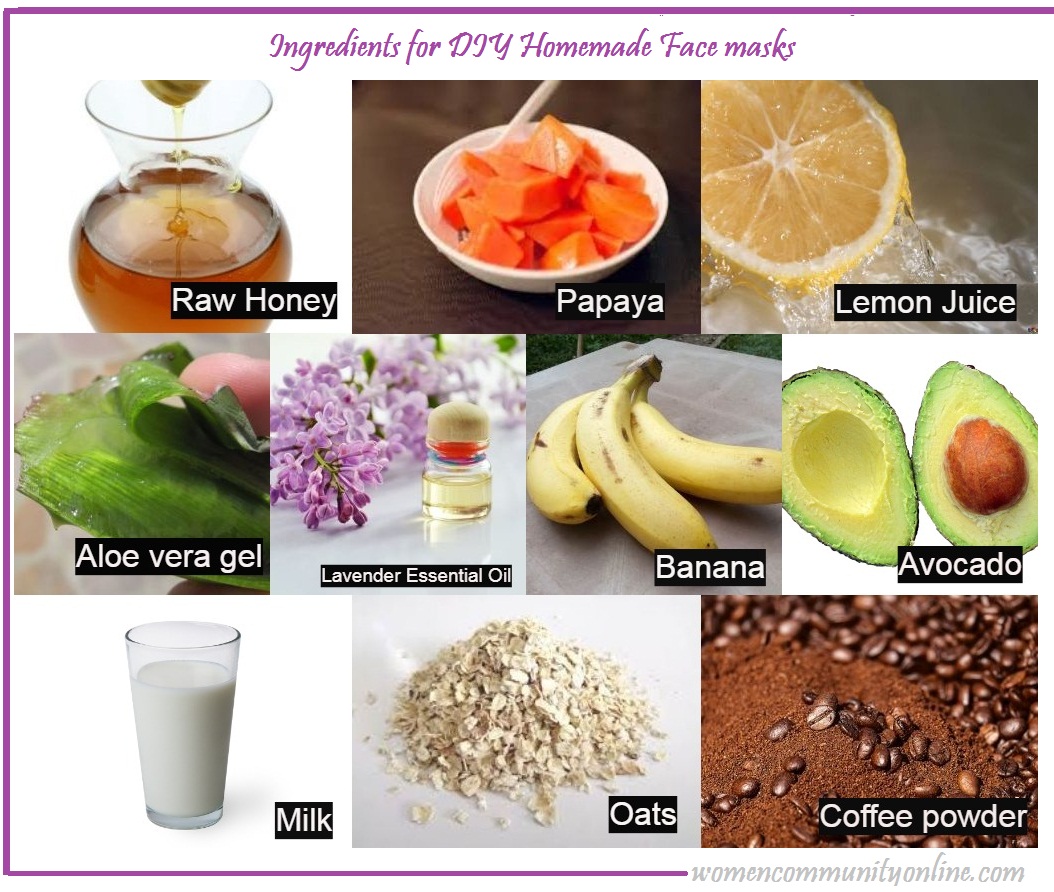 7 DIY Homemade Face Masks For Winter
Homemade Facemasks are mild on the skin and free from chemicals. A face mask is a proper method of pampering yourself and rejuvenate dry skin. Homemade face packs are much cheaper than available store products and also very efficient. Here I am sharing some of the best DIY face mask recipes, to nourish your skin in winter. You can use your preferred face mask once or twice a week, depending on the sensitivity of your skin, throughout winter for good results.
1.Oatmeal Face Mask
Ingredients
Oats Powder-  2 tablespoons
Milk – 2 teaspoons
Raw Honey – 2 teaspoons
Lavender essential oil to massage
Instructions
In a small bowl combine oats powder, milk, and organic raw honey to make a thick paste.
Mix all ingredients well.
With the help of a face brush, apply this mixture on your face and neck and let it rest for about 20 to 25 minutes.
Later, wash it off with lukewarm water.
Next, gently massage with lavender essential oil on your face and neck to secure the moisture in your skin.
If you have extremely dry skin, you can use this face mask thrice a week to get good results.
Benefits
Powdered oats have soothing and anti-inflammatory properties, that aids dry skin and soothe sensitive skin. It exfoliates and purifies dry skin. Also, the amino acids present in oats help repair and heal dry skin.
Milk is loaded with many essential nutrients that help rejuvenate your skin. It acts as a natural cleanser and moisturizer.
Raw honey is a natural source of antioxidants loaded with antibacterial and antifungal properties. It treats and prevents acne, dryness in the skin, premature aging. It also boosts the complexion of the skin and retains its essential moisture, leaving a radiant glow on your skin.
Overall, this face mask functions as a natural scrub and moisturizer. It eliminates dead skin cells and makes your skin radiant and moisturized.
2. Avocado Face Mask
Ingredients
Avocado – Half
Milk – 1 tablespoon
Raw honey – 1 teaspoon
Banana mash – 1 tablespoon
Instructions
Crush a half avocado and add milk, banana mash, and honey to it to form a cream-like paste. Once the mixture is ready, apply it on your face and let it stay for 15 to 20 minutes then wash off with warm water.
Benefits
Avocado is rich in essential nutrients like vitamin E, fatty acids, potassium, and lecithin, which have many beauty benefits. It is a natural source of antioxidants that can repair flaky and dry skin and also nourish and moisturize your skin.
This powerful Avacado facemask including banana, milk, and honey is a rich source of antioxidants and vitamins. It acts as a powerful anti-aging face mask and nurtures your skin and keeps it healthy and glowing.
3. Banana Face Mask
Ingredients
Ripe Banana mash – 2 tablespoon
Milk – 1 tablespoon
Honey – 1 teaspoon
Instructions
Combine ripe banana mash, milk, and honey in a small bowl to form a creamy blend.
Apply this blend on your face and neck and leave it for 20 to 25 minutes. Later wash it off with lukewarm water.
Make sure about the density of the mixture. It shouldn't be too thin otherwise it can get a little messy while the application, so, put milk as per requirement.
Benefits
This is a face mask that I use and also recommend. Banana is highly beneficial not only for health but also for your skin and hair. It is rich in potassium, vitamins C & E, and essential minerals, that act as a natural skin moisturizer, making your skin soft and flexible.
Additionally, this face mask also tackles skin problems like dark spots, wrinkles, and acne. It deeply nourishes your skin, enhances the complexion, and revives your skin, and keeps it well-hydrated.
4. Aloe Vera Face Mask
Ingredients
Aloe vera gel – 2 tablespoons
Lemon juice – 1 teaspoon
Honey – 1 teaspoon
Instructions
In a bowl mix aloe vera gel, lemon juice, and honey to make a DIY face mask for your skin. Apply this blend on your face and let it rest for 20 to 25 minutes.
Later wash it off with lukewarm water and pat dry your skin. Likewise, you can use aloe vera gel daily to rejuvenate your dry and damaged skin.
Benefits
Aloe vera is well known for its widespread use in Ayurveda and medicinal healing because of its antibacterial and soothing properties. It moisturizes your skin without making it greasy, so it's preferred by many people.
Combined with lemon juice and honey, this Aloe vera face mask acts as a natural moisturizer for your skin. Its regular use cleans clogged skin pores and prevents skin drying, infection, and skin damage.
Besides, Aloe vera gel can also heal minor skin injuries and can also lessen sunburns, acne, and blemishes.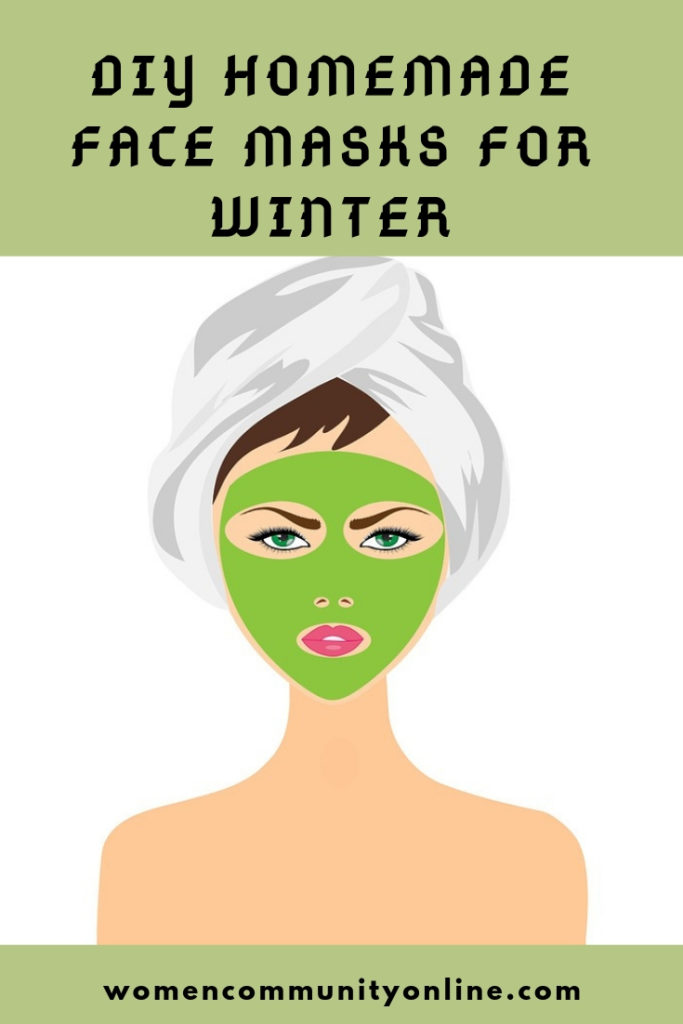 5.
Coffee Face Mask
Ingredients
Coffee Powder – 1 tablespoon
Raw honey – 1 teaspoon
Milk – 2 teaspoon
Instructions
Mix coffee powder, milk, and honey to form a smooth paste. Apply it on your face and neck and leave it 20 to 25 minutes, then wash it off with warm water.
Benefits
While many people can't start their day without a coffee, putting it on your skin also gives great results.
Coffee is a good source of antioxidants. It also has antimicrobial properties in it that can prevent acne and clean the clogged pores.
Besides, it lightens your complexion, lessens wrinkles, and minimizes dark circles and puffiness.
Simply apply this face mask in a circular massage motion, the caffeine in coffee also stimulates blood flow that can help fade facial marks and stretch marks.
6.
Papaya Face Mask
Ingredients
Ripe papaya pulp – 2 tablespoon
Honey – 1 teaspoon
Milk – 1 teaspoon
Instructions
Mix papaya pulp, milk, and honey to form a smooth paste. Apply this paste on your face and neck and let it rest for 20 minutes. Later, clean it with lukewarm water.
Benefits
Papaya is excellent for your skin. It is a reservoir of vitamins A & C. It contains an enzyme named papain that minimizes scars.
Papaya is a potent exfoliator, skin moisturizer, and skin whitening agent. The alpha-hydroxy acids and papain content in papaya can clear dead skin cells, skin impurities reduce wrinkles, treats melasma and pigmentation on your face, and remove suntan.
This face mask will improve your complexion and make your skin softer.
7. Yogurt Face Mask 
Ingredients
Yogurt – 2 tablespoons
Olive oil – 1 teaspoon
Honey – 2 teaspoon
Instructions
Combine regular yogurt, olive oil, and honey to make this DIY face mask. Apply this thin layer mixture to your face and neck and let it sit for about 20 minutes. Then, wash it off.
Benefits
Yogurt contains lactic acid and zinc, which is extremely good for raising healthy skin.
Yogurt can effectively reduce fine lines and wrinkles, remove dead skin cells, tighten skin pores, and can hydrate your dry and patchy skin.
Olive oil is known for its antibacterial and moisturizing properties. It is rich in fat-soluble vitamins A, D, E, and K, which are beneficial for the skin. It can also prevent premature aging on the skin.
Use this face mask to get radiant and glowing skin.
The Best Way Of Applying Homemade Face Masks
The first step you need to do while preparing your own face mask is to be aware of how your skin reacts to a particular kitchen ingredient. This step is very essential before putting anything on your face. So, do a patch test first on your arm. If you notice red or inflamed skin, refrain from using those ingredients. So, you won't end up hurting your skin with an allergic reaction.
Always use a spatula and small bowl to combine the ingredients. Use a brush to apply a facemask to the face. Tie and secure your hair with a hairband and hair clip, to keep them away from your face. Apply these homemade facemasks before a shower or before bed while covering your clothes with a towel or cloth. Stand over your bathroom floor, to avoid spoiling your floorings. This is the best way of applying a face mask.
Shop For Adjustable Facial Headbands
Once your face mask dries off, then avoid washing it straight away instead, moist it first, and then wipe it off gently with lukewarm water. In winters, do not use hot water to wash your face or for a shower, use only lukewarm water.
Pat-dry your face and apply any mild moisturizer or gently massage your face and neck with hydrating oils to secure the moisture in your skin. Besides face masks, you can also nurture your skin with a face and body massage before going to bed. Use hydrating oils like coconut oil, almond oil, jojoba oil, and olive oil to massage your skin. They are very effective natural moisturizers that will hydrate your skin and maintain its elasticity.
Besides taking care of your skin, make sure to commence a healthy lifestyle to make your skin healthy from within. Include fresh fruits, green leafy vegetables, healthy soups in your diet. Don't forget to warm up with a few exercises and walks, to stay healthy and look happy.
These winter face masks are great to resist dry skin in winters. With these natural and effective homemade face masks say goodbye to dull and dry skin this winter and give your skin a spa-like treatment at home.
You May Also Like: