Secret Santa Gift Ideas For Coworkers
Surprise your office co-workers this Christmas with our awesome pick of Secret Santa gift ideas ( under $20).
You spend plenty of time with your co-workers in the office, see them six days a week from morning to evening. You chat with them, eat together, and sometimes even vent out your frustrations with them. Your co-workers are almost your second family. While you may not do anything about the number of hours you spend at work, you can do something to make it more positive and prolific. You can make your workplace more like a home to stay motivated and happier too by building a strong relationship with your co-workers, executives, and office staff. Secret Santa office parties are extremely in vogue in the United States. It has become more and more popular in Indian organizations as well. It arrives as a savior to our routine office work.
Secret Santa is a Western Christmas culture, in which a group of friends or colleagues randomly select a person by drawing, to whom they give a gift. Typically gift costing is not more than a fixed amount. The identity of the gift giver is kept secret until the gift is opened. Whenever Christmas arrives, setting gifting goals for office Secret Santa, becomes a bit difficult.
What Should You Gift Your Coworkers?
Gift Guide For Coworkers – Your professional relationship is more important and should never be influenced by any kind of gift you choose or accept. Regardless of how close you are with your coworkers, you need to choose your gift wisely, especially when they are gonna open it in front of others. You should neither obligate the receivers nor make him/her feel uncomfortable with your gift. Consider the appropriateness of the gift based on your company environment and choose a gift accordingly. Inappropriate gifts and personal kinds of stuff like perfumes and cosmetics may seem too personal and may give the receiver an unpleasant presentiment. Never feel obligated to buy a gift for somebody and never expect someone to reciprocate particularly in a professional environment.
Best Secret Santa Gift Ideas For Coworkers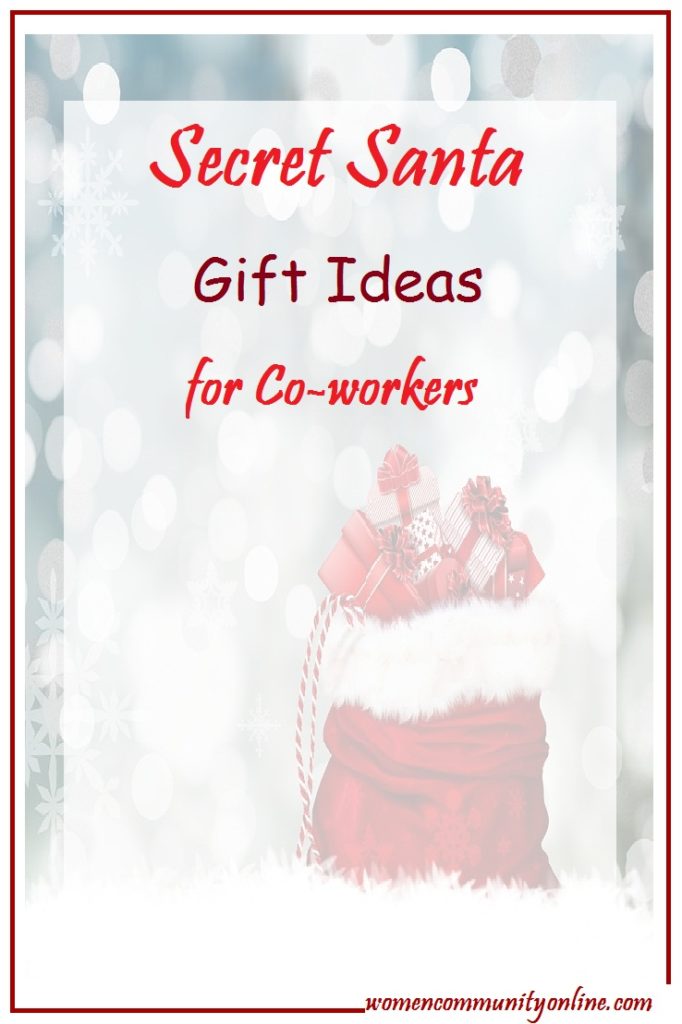 Below are unique secret Santa gift ideas for your co-worker, they are suitable for gifting in the office, are also low-priced, and can easily be bought from Amazon.
1. Inspiring Art Frames For The Office Desk
Inspiring, sophisticated, and stylish textured Art Frame typography, to brighten up your office desk. An ideal gifting option for friends, and office co-workers.
2. Wooden Desk Organizer
Crafted Desk organizer made with Laser cutting technology, to give a personalized look to the office desk. Certainly a unique gift idea for co-workers, business partners, friends, or family. It is Made in India and eco-friendly. You can comfortably secure your small necessary things like pens, pencils, paperclips, and other desktop tools. It is the best gift for those who love to stay organized at their workplace.
3. Coffee Cup Set
The unique and sophisticated Ctrl+Alt+Del Keyboard cup sets for tea and coffee lovers, to append your tea breaks. You can also use this refreshing cup for ice-creams. Great gifting option for a co-worker.
4. Desk Calendar
Crafted wooden calendar with pencil and cardholder, for the office desk, to give a traditional look to your desk.
5. Christmas Bell Hanging Ornaments For Home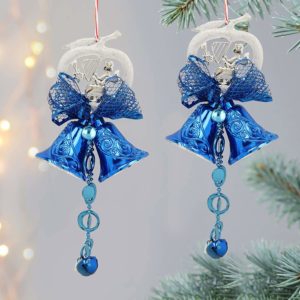 These ribbons tied with tiny vibrant jingle bells will decorate your walls, door, offices, and windows. It will give your home a perfect festive look and cheer up all day with the tender sound of jingle bells.
6. Office Desk Clip Holder
Convenient and Multi-functioning holder clip to secure water bottle, beverages, mobile phones, a cup, on the edge of your desk.
7. Desktop Glass Planter 
Beautiful, eye-catching desktop planter bulb shape vase with a wooden stand. Ideal to place on your desk to provide it a classic and mini garden look and to keep your desk refreshed. You can plant a money plant or other water plants, put flowers, and also decorate it with artificial plants in it. Perfect gift for someone who loves to see green plants around.
8. Star String Lights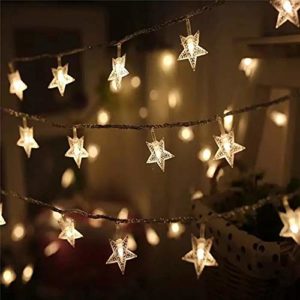 Buy these luminous star string lights as a secret Santa gift for your coworker. These radiant string lights will brighten up all festive seasons, and enhance the appearance of your house, office, or balcony and create a serene vicinity.
9. Mouse Pad
Beautiful and soft Mouse Pad with a written motivational quote on its surface, that will provide you with a smooth surface to slide smoothly and precisely for your mouse.
10. Notepad/Memo Book
A diary-style notepad with a pen and clip holder, to note and record important notes and memos at one place and keep your desk organized.
11. Office Desk Organizer
Handmade, unique, mobile phone deck with wallet, keys, and watch holder. This desk organizer is the best gifting option for a co-worker, to keep all essential and daily items well-organized and easy to find.
12. Business Card Holder 
Elegant and Inspiring business card holder, to secure your business cards and to keep you motivated every time you see it.
13. Christmas Decorations Gift Combo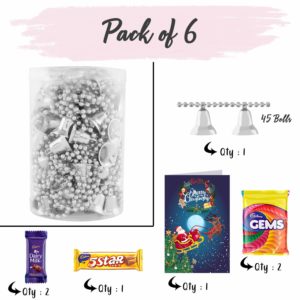 This amazing combo pack of Christmas bells ornaments including chocolates and a Christmas card will surely bring a smile to your colleague's face. This combo pack is an ideal home and office decoration for a festive season.
14. Christmas Reindeer Tealight Holder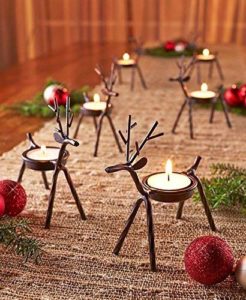 This beautiful-looking Reindeer Tea Light Holder when set on the table, fireplace, or near the Christmas tree will add up beauty to every corner of your office or house and increase the ambiance of Christmas.
15. Women's Clutch With Perfume & Watch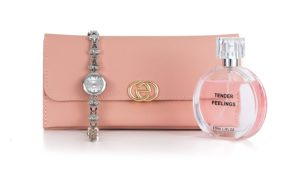 Buy an elegant and stylish clutch combo including a watch and perfume for your female coworker. This wallet combo includes essential items for a stylish woman that will go perfectly with her outfit and glorify her personality.
Besides, you can also create Secret Santa poems, catchy quotes, and sayings with these secret Santa gift ideas and keep everyone smiling. Whether you have picked the name of your favorite buddy, or the name of a person you usually don't spend a lot of time with, these secret Santa gifts will surely bring a smile to their face.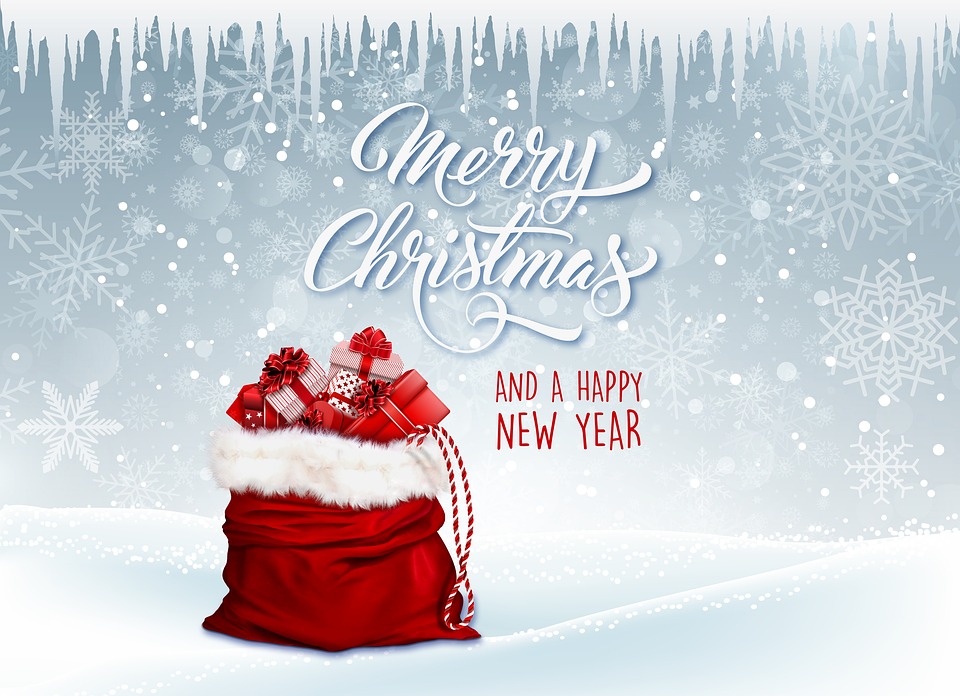 Affiliate links: Amazon. in
You May Also Like: