Face Clean Up Steps At Home With Home Remedies
Face clean-up or face cleansing is one way that meets every woman's desire to get beautiful clear skin. Face clean-up is an easy and quick method to get naturally glowing skin. It helps to maintain your skin's natural beauty by removing dust, dirt, and dead skin from your skin.
Face clean-up is needed when your skin lacks natural oil content and nutrition in the skin. Many things in the kitchen can help you keep your skin beautiful and soft. All this depends on how you take care of your skin. Giving your face a good clean-up removes all the dirt and cleans all the open pores of your skin. That is why face clean-up is advisable to do at least twice a month.
DIY Face Clean-Up Steps At Home Naturally With Home Remedies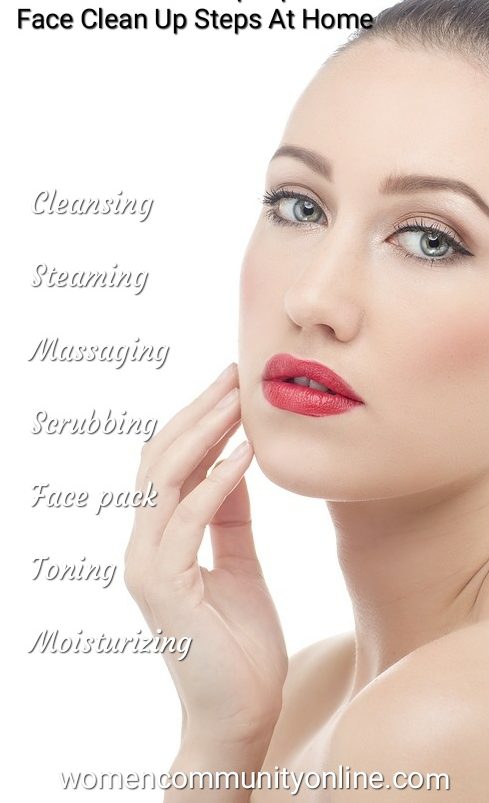 Cleansing
Steaming
Massaging
Scrubbing
Face pack
Toning
Moisturizing
Due to dust, dirt, and pollution, our skin gets damaged. And very few people can clean up your face every day due to their other responsibilities. Many people go to the parlor once a month and get a facial done but it makes your skin appear clean for some time. But if you want your skin to look more beautiful and bright every day, then you can try these natural face clean-up tips at home. Regular cleaning will also reduce your pimples and marks. So let us know the face clean-up steps at home.
1.Cleansing
The first step of Face clean-up is to clean the skin with a mild face wash or cleanser. After this, wipe the skin with a clean towel.
For Cleansing your face, use good quality cleansing milk and clean the skin using cotton. This will clear the dirt from the skin and open pores.
Alternatively, you can also use milk and lemon mixture as a natural cleanser for your face clean-up.
Give daily 15 minutes in cleansing your skin in the morning and evening to make your skin healthy and refreshed.
One advantage of cleansing is that it clears dust and open pores so that your skin gets proper nourishment and oxygen.
Face Cleansing Tips
Clean your face at least twice a day. Wash your face before sleeping so that any kind of facial problem can be relieved. When choosing a cleanser, keep in mind that it suits your face. Do not use soap because it makes your skin hard and rigid.
Use a cleanser that does not damage or disfigures your skin. For dry skin, choose a cleanser that contains natural oil and natural herbs. Oily skin can use a cleanser made of such herbs that prevent excess oil formation from your skin. Individuals with sensitive skin should use a cleanser, which is mild and free from the aroma that does not cause a burning sensation on your skin.
Use plain water or lukewarm water to clean your face. Using hot water can damage the skin.
Wash your hands well before cleansing the skin, otherwise, the dirt in your hands will transmit on your face. Likewise, check the skin wiping clothes also it needs to be clean before using.
2. Steaming
Provide the steam for 8 to 10 minutes. After this, wipe your face with tissue paper.
Steaming opens the skin pores.
Don't steam your face for more than 10 minutes, especially if you have pimples and acne.
Steaming causes your face to swell so be careful while giving your face steam.
3. Massaging
Take a piece of ice and wrap it in cotton clothes.
Now massage your face with this in round circular upwards movements on your face.
With this massage, your open pores will start contracting which became wide on steaming.
And this will also bring the temperature of your skin back to normal.
4. Scrubbing
Take a sufficient amount of face scrub and rub it on your face for 5 to 10 minutes in circular upward movements to exfoliate your skin.
To make a scrub at home, take 2 teaspoons of sugar and 2 teaspoons of coconut oil, and mix it. Scrub it on your face with a light hand for 5 minutes. After this, allow the mixture to remain on your face for some time and after 15 minutes, wash your face with water.
Put a little honey on your face after scrubbing. Massage your face with honey and wash after a few minutes. Anti-bacterial properties present in honey protect your skin from dirt and its moisture properties provide a natural glow to your face.
Read more about scrubbing here Natural Homemade Face Scrub: DIY Exfoliating Scrub
5. Apply A Face Pack
Choose a face pack you like and put it on your face.
Keep it on your face until it is dry.
Wash your face and wipe your face with the help of cotton dipped in rose water.
DIY Face Pack For All Skin Types
Mix 2 pinch turmeric powder in 1 teaspoon gram flour, add raw milk and rose water in it.
Mix all of this and make a face pack.
Keep, this pack on your face for 15 to 20 minutes.
After this wash your face with lukewarm or cold water.
This pack works as a great cleaner. Even if your skin is sensitive you can still use this pack.
Honey Banana Face Pack
The face pack of banana and honey is very good for dry skin.
Take a ripe banana and make a paste by mixing it well with 1 teaspoon of honey.
Apply this face mask for half an hour on your face and wash it off after drying.
This face mask gives the skin brightness and will tighten your skin.
Diy Egg Mask For Face
Take egg white and add little honey and half teaspoon lemon juice to it.
Mix it well and apply it to your face and let it dry.
The unique feature of this face pack made from eggs is that it eliminates the pimples on your face and nourishes your skin as well.
Use Cucumber For Your Skin
Cut a thick piece of cucumber and rub it on your face in a circular upward motion.
There is no need to remove the cucumber peel.
Use this for 15 minutes and then let it dry on your skin.
This is a fairly healthy treatment and natural astringent for your skin.
It lightens your skin and cleans your skin pores.
Milk
Milk is a Great Skin Healer. The use of milk is very beneficial for your skin.
Take 1 teaspoon of boiled milk and apply it to your face using a cotton ball.
Continue this process in a circular upward motion on your face and neck.
Once done, leave the milk on your face for 15 minutes and let it dry well. Wash it off after 15 minutes.
Sandalwood Face Mask
Take the powder of sandalwood and mix the rose water in it and prepare a thick paste. Now apply this paste to your face and keep it for 20 minutes.
Wash it off with cold water later on. This pack is very effective for dry skin.
Multani Mitti- Fuller Earth Face Pack
If your skin is oily use this face pack.
Make a paste of Multani clay also known as fuller's earth in rose water and apply it on your face and neck then wash it with cold water after drying.
6. Toning
Toning is essential to maintain the PH level of your skin. It is also done to remove the makeup. Wipe your face and apply the toner of your choice. After this, apply moisturizer on the face and use an Under-Eye Cream.
Rosewater is the best natural toner, which should be applied to your skin using a cotton ball and leaving the eyes and lips area. Leave it like this for 5 minutes and then move to the next step.
Alternatively, you can also use a mixture of cucumber juice and rose water for toning your skin.
7. Moisturizing
Moisturizing maintains the natural moisture content of your skin making it soft and shiny. To apply moisturizer, take it at your fingertips and apply it in a circular motion from the bottom to upwards.
Note: Keep in mind to not apply excess moisturizer, or else it can close your skin pores, which can cause blackheads and pimples if not taken care of.
It is extremely difficult to find time to go to a salon with so many work responsibilities and household activities. In this case, these simple tips will be very useful to you. I hope you will find this article helpful and don't forget to share your ideas of facial clean up with us in the comments box down below.
You May Also Like: