Restaurant Style Palak Paneer Recipe
Today I am going to share with you an easy way to Restaurant Style Palak Paneer Recipe, which is also low in fat and calories. This recipe and palak (spinach) soup are extremely popular during winter.
Palak Paneer is my most craved and all-time favorite Indian Punjabi dish, like most spinach lovers. Palak paneer is a vegan main course recipe, emerging from the Indian subcontinent. It is one of the most famous traditional Punjabi dishes, made with blanched Spinach and fresh cheese. It has paneer in a thick pureed spinach gravy seasoned with spices. Palak paneer recipe can be prepared in oil, butter or ghee, and to give it a rich creamy texture, fresh cream or yogurt are added to it. Palak paneer is served with roti, parathas, warm naan, or basmati rice.
Paneer is a kind of fresh cheese, which has a natural milky flavor. It is somewhat similar to Mexican queso fresco and Italian ricotta salata. Besides, like mozzarella cheese and cheddar cheese, paneer doesn't melt or go viscid. It remains in cubes or pieces into a gravy or soup and will give a chewy texture. Paneer can be paired with any spicy flavors just like Indian foods and soups. This dish is very economical and popular in buffets, weddings, in Indian restaurants as well as Dhaba (food stalls on Indian highways). Palak paneer is so popular that it can also be found as canned food in many large stores.
Besides its popularity and its flavors, 

Palak paneer also has enormous health benefits.
Palak or Spinach is a wholesome source of dietary fiber, vitamins, antioxidants, niacin, zinc, folate, iron, calcium, magnesium, potassium, phosphorus, copper, and manganese. It is also delicious as well as a low in cholesterol and fat.  Paneer is loaded with essential protein, vitamins, calcium, iron, phosphorus, potassium, manganese, sodium, selenium, and zinc that are essential for a healthy body.
Since palak paneer is loaded with essential nutrients, it becomes a whole lot of nutritious vegetarian meal in one dish. This healthy dish can also help in building body muscles and repairing body tissues, as paneer provides all the amino acids required for complete protein. Palak paneer is a reservoir of dietary fiber, low fat, and calories. It is a resulting weight loss meal that improves digestion and also helps your appetite.
Moreover, Palak paneer is of great benefit for pregnant woman and her baby. The dish provides a lot of vitamin A which strengthens the immune system of both the mother and her baby. Besides, the folate content in spinach is vital for the growth and development of the brain and nervous system of the baby. The calcium present in paneer also helps in the overall development of the skeletal system of the baby.
So, without further ado, let's get started with its recipe.
Ingredients
3 large bunches of spinach
1 cup low-fat fresh Paneer cubes
4 cups water for blanching spinach
1 onion finely chopped
1 medium tomato finely chopped
3 tablespoons oil (you can also use ghee or butter)
1 teaspoon cumin seeds
2 teaspoon Punjabi garam masala powder
1/4 teaspoon turmeric powder
1/2 teaspoon red chili powder
1/4 teaspoon asafetida
1 teaspoon coriander powder
1 bay leaf
1/2 teaspoon dry fenugreek leaves
1 cup of fresh Coriander leaves
2 green chilies
1 teaspoon minced fresh ginger
4-5 minced garlic cloves
1/2 teaspoon lemon juice
1 tablespoon fresh cream
1/2 cup water
Salt as per taste
Preparation Time: 10 minutes
Cook Time: 30 minutes
Serving: 4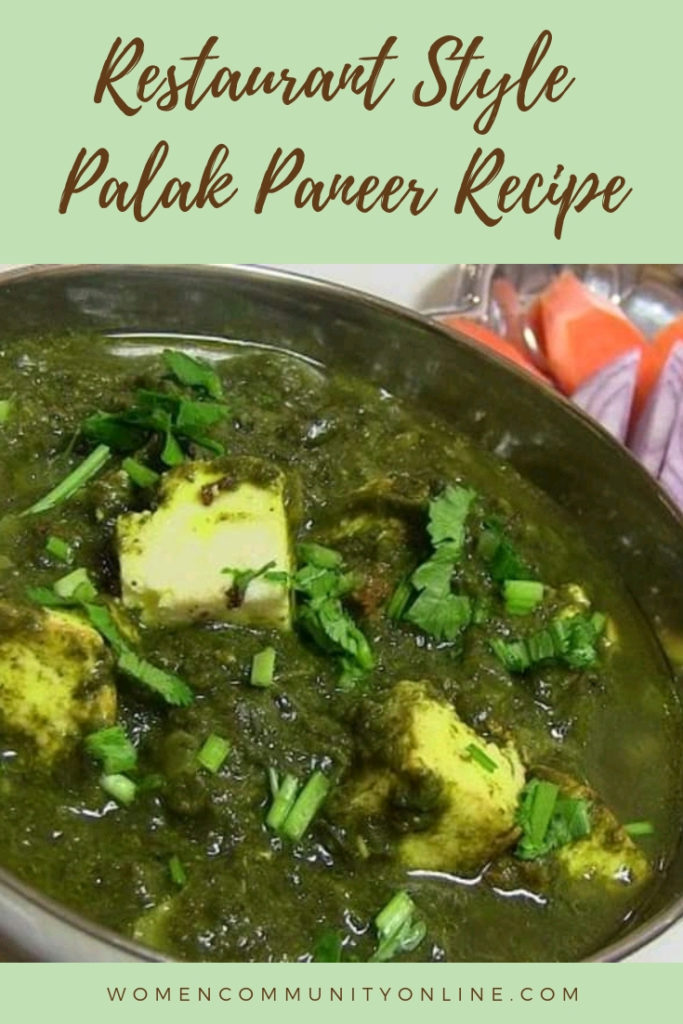 Restaurant Style Palak Paneer Recipe Instructions
Cut the spinach coarsely and then boil in hot water for about 5 minutes. Then, transfer the spinach leaves in an ice-cold water bowl to maintain the green color of the spinach.
Heat 2 tablespoon oil in a nonstick deep frying pan over medium-high flame. Saute the onion in the pan until soft and then add a bay leaf to the pan. Then add tomatoes and saute everything for 7 to 10 minutes until its soft and well mixed.
Now, press and remove all the excess water from the spinach leaves and add spinach and fresh coriander leaves to the pan. Cook everything until well mixed for 3 to 5 minutes.
Switch off the flame. Remove the bay leaf and let the spinach mixture cool.
Later, transfer the mixture to a blender and then grind it with green chilies, garlic and ginger until you get the desired smooth consistency. Make a fine puree of it and then keep it aside.
Heat about 1 tablespoon of oil in the same pan and add cumin seeds and let them crackle. Add the spinach puree to the pan, stir well and let it cook for 2 to 3 minutes on low flame.
Now add asafetida, red chili powder, Punjabi garam masala powder, turmeric powder and lemon juice to the mixture and stir well.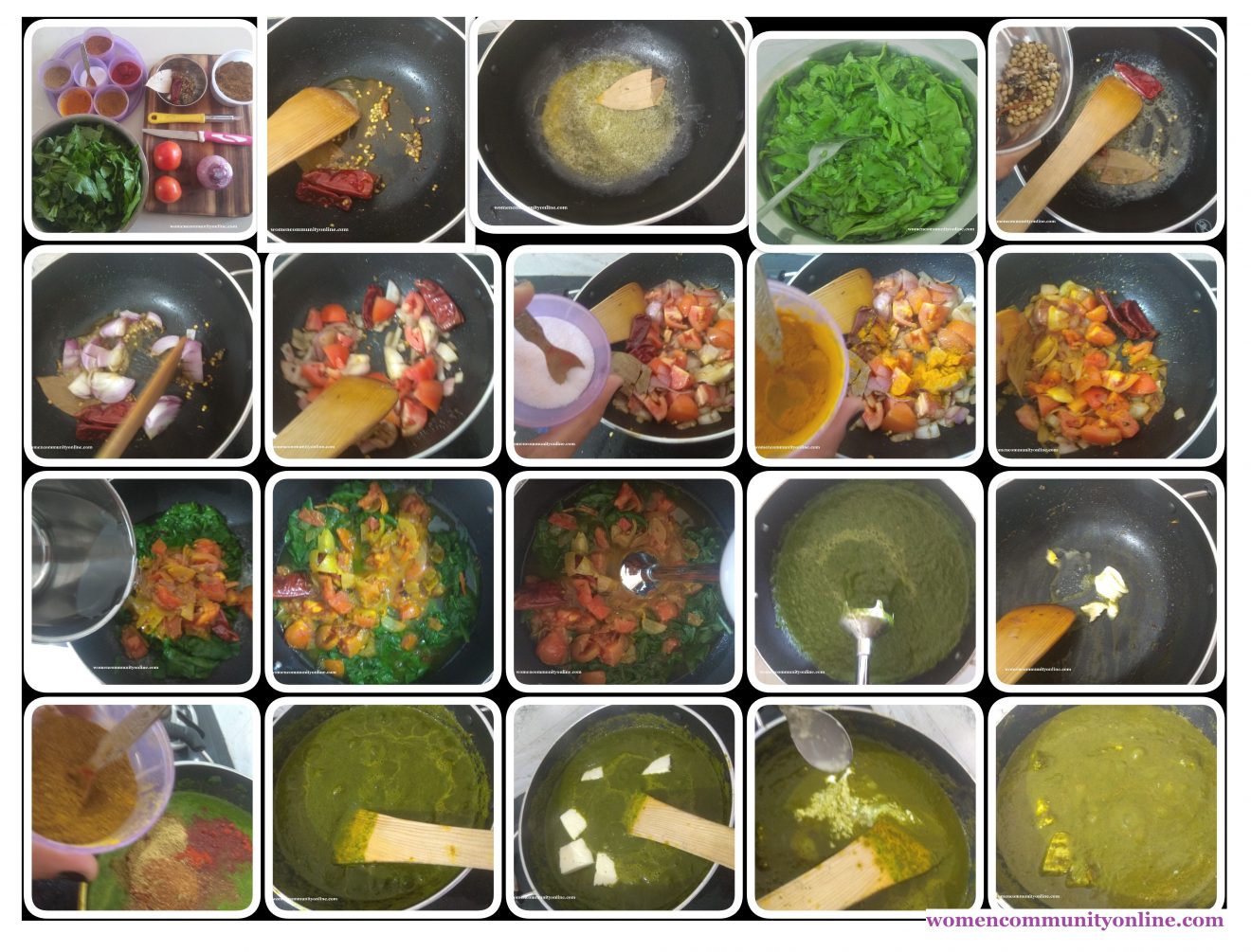 Add 1/2 cup water and simmer the gravy for 8 to 10 minutes or until the spinach is cooked. Do not cook the spinach for too long to preserve its nutrients.
After 8 to 10 minutes you will notice that the mixture has thickened by now. Add salt and dry fenugreek leaves and stir well. Then, add fresh cream and mix well to uniformly blend the cream in the spinach gravy.
Now add paneer cubes and stir gently for 2 minutes till the paneer cubes turn soft. Alternatively, to make them soft you can also fry them or soak them in warm water for 30 minutes. Nutritionist recommends eating it raw as raw paneer is more beneficial.
Turn off the flame and garnish with chopped coriander leaves on top. You can also top it with cream or butter. Take out palak paneer in a serving pot.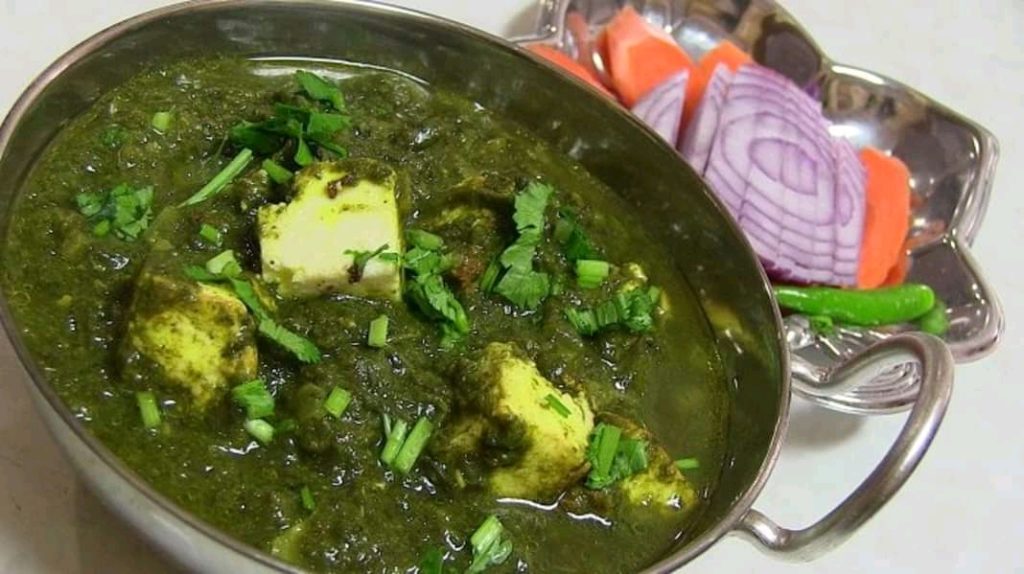 This Restaurant Style Palak Paneer Recipe is healthy, savory, creamy, and packed with flavors. Serve it hot with onions, salted fried green chilies, and pickle to give palak panner a more traditional look. Enjoy palak paneer recipe with paranthas, roti, naan, Punjabi flatbreads (Makki di roti), or basmati rice.
You may also like: