21st March World Poetry Day
Every year, World Poetry Day or International poetry day befalls on 21 March. It's celebrated, to encourage people to learn, compose, and publish poetry and to acknowledge the aesthetic gift poetry delivers to a nation.
The United Nations Educational Scientific and Cultural Organization ( UNESCO ) entitled 21st March as the International Poetry Day or World Poetry Day in its 30th General Conference. The General Conference held in 1999 in Paris, from 26th October to 17th November. Apart from magnifying linguistic diversity, the resolution also aimed to promote honor local, nationwide, as well as global poetic activities.
What Is poetry And Why It So Important?
Poetry is a unique creation that uses words, phrases, and sentiments, to communicate emotions, beliefs, and ideas. It's also associated with the events and views of individual life and nature. Besides, writing Poetry improves and strengthens one's writing skills. One can also meet expertise over language, vocabulary, and master the skill of foresight and imagination.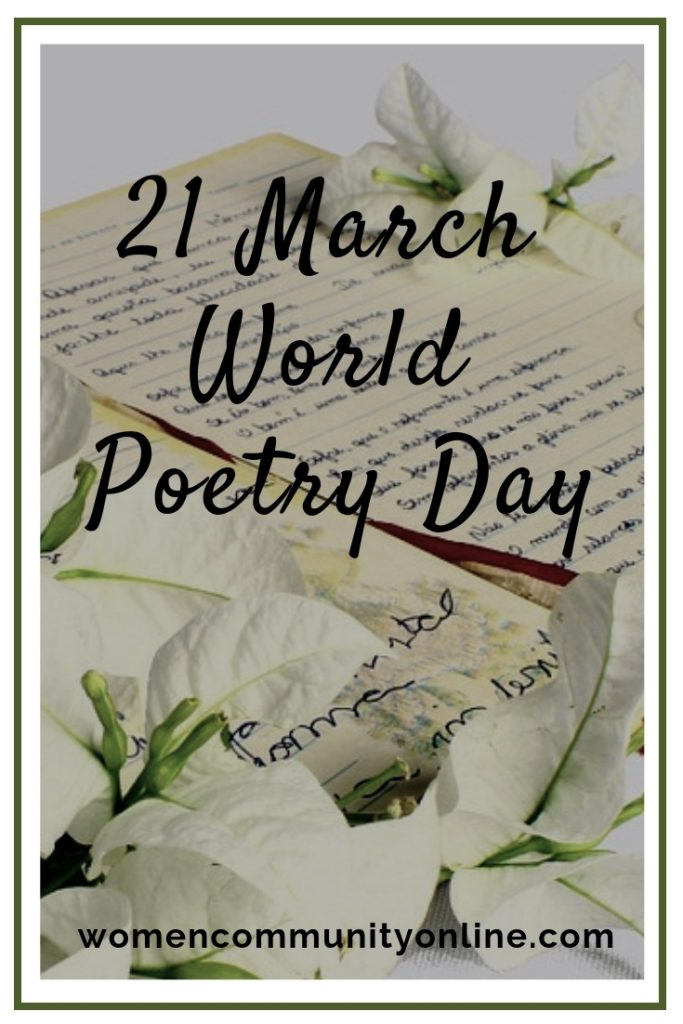 Why 21st March Is Celebrated As World Poetry Day?
World Poetry Day declared by UNESCO is an attempt to encourage the artistic composition and imperiled languages. It's celebrated yearly on 21st March to recognize the importance of the most precious asset poetry, for every culture, language, and nation. Every culture has been following some sort of poetry, linked to its composition, that enhances the uniqueness of that distinct culture. International Poetry Day also honors poetry as a connecting bridge between different cultures and communities, drawing them closer.
The day also honors great artists, authors, and poets for articulating cultural and social problems through their creation and encouraging masses. Furthermore, The United Nations Educational Scientific and Cultural Organization also appreciates how poetry plays an important role in strengthening global peace and unity. The event of World Poetry Day also supports the reading and composition of poetry. It also encourages its fusion with various art forms like singing, dancing, visual arts, theatre, etc.
Shop for Best Poetry Books On Amazon
How Is World Poetry Day Celebrated?
Several countries observe World Poetry Day on March 21st. The celebrations honor regional poets and poetry. On the occasion of World Poetry Day, artists and poets from all over the world share their compositions, expertise, and accomplishments. Various Poetic events include renowned poets of different cultures and languages. So they can share their compositions and express their opinions through their creations. Exhibitions take place to display the works of great poets from across the world.
Many schools and colleges organize poetry competitions. They also invite regional poets to acknowledge people about their compositions and also to express their viewpoints. The academy administration also held conferences or classroom lectures on poetry, to acknowledge how poetry helps in breaking cultural and social gaps in society.
Some Interesting Facts About Poetry
Each year the occasion of World Poetry Day focuses on a theme assigned to it. The theme is based on a topic related to the main problem of a nation or world, which serves as a purpose for participants and fans.
The first poem ever was The Epic of Gilgamesh, which began as a series of Sumerian poems and tales. It's assumed to be 4,000 years old piece that was written by the Babylonians nearby the 12th century B.C. It narrates the story of a half-god and half-man king named Gilgamesh.
The longest single-author poem in English literature is regarded to be My Blah Story. It consists of 23,161 lines and is composed of a US writer Nigel Tomm.
Mahabharata is the longest epic poem written in Sanskrit. It consists of about 1.8 million words. It also comprises 100,000 shlokas and 200,000 individual verse lines and long prosaic paragraphs.
Epic is one of the earliest types of poetry. It is long and narrative about brave accomplishments and adventures that are well-known in history.
You May Also Like:
Reference: