41 Popular Web Series To Watch In Lockdown
In one of our post we wrote about How to Stay Positive in Difficult Situations, In this post, we are bringing a collection of web series to watch during the lockdown.
While the lockdown has become a problem for our normal regular life, it has also given us a chance and enough time, to read our favorite book, watch our favorite show, cook new recipes and pursue our hobbies, till our heart's satisfaction. During these tough times, when everyone is staying home and encouraging and supporting corona warriors to fight this global pandemic, it becomes essential to stay positive and motivated at home. But are you getting bored sitting at home? There are lots of web series to watch when you feel bored at home in this lockdown.
Since the rush of a large number of VOD platforms, web series have become very popular in India. Now that cinema hall is closed during the lockdown and you can't watch daily soaps, TV series, or kids entertainment programs all day, we can rely on these platforms to cut boredom and keep us entertained. Note that Viewer discretion is advised because the content in the web series may contain language, scenes, graphics that may not be suitable for children to watch.
Below we have listed 41 popular web series to watch during this lockdown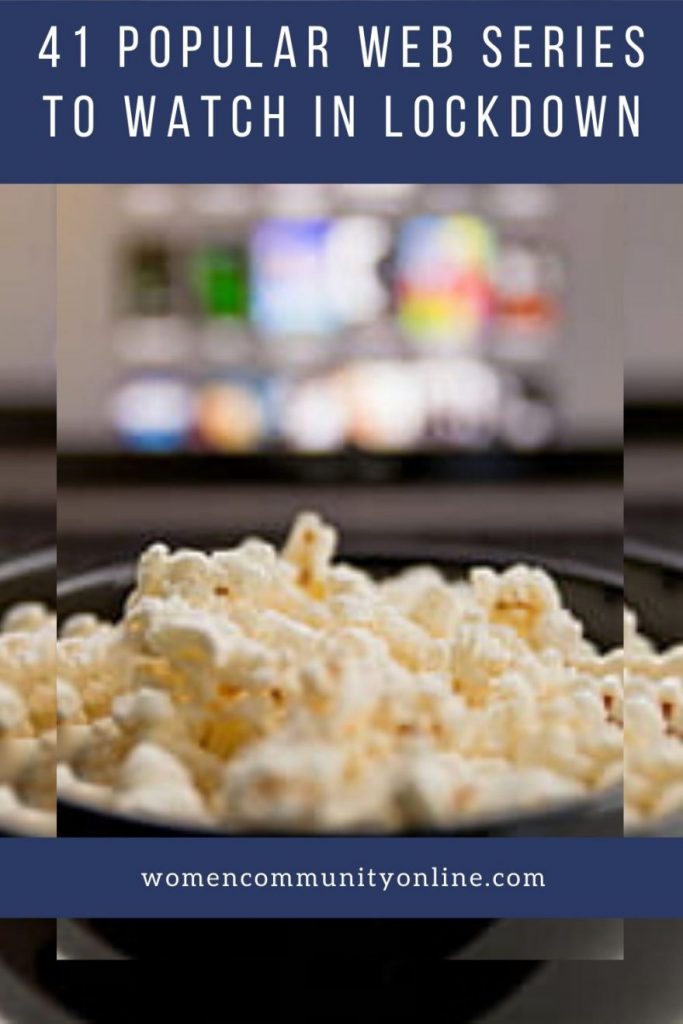 1. Money Heist
Cast – Ursula Corbero, Alvaro Morte, Itziar Ituno, Pedro Alonso, Alba Flores, Miguel Herran, Esther Acebo
Genre – Crime Drama
Storyline – Money Heist aired on Netflix is a crime drama incipiently called La Casa de Papel featured in 4 parts. The story of Money Heist is created around a professor. The plot involves eight robbers code-named with names of cities that are led by a Professor. The professor from an external spot has an eye on them and focuses on battling with hostages on the inner side and the policemen on the outside. A well-educated man does robbery to protest against the state. He is a dogmatic looter played by actor Álvaro Morte whose character has become very famous all over the world. I would highly recommend this web series to watch during the lockdown.
Platform – Netflix
2. The Forgotten Army – Azaadi Ke Liye
Cast – Sunny Kaushal, Sharvari Wagh, Rohit Choudhary, TJ Bhanu, Karanvir Malhotra, R Badree, Paloma Monnappa, Shruti Seth.
Genre – Drama, Action
Storyline – The Forgotten Army – Azaadi Ke Liye is a web series that has clear meaning from its name itself that it focuses on the sacrifice made by the Azad Hind Fauj for the independence of India. It describes the true story of the Indian National Army led by Netaji Subhas Chandra Bose.
Platform – Amazon Prime Video
3. Bhaukaal
Cast – Mohit Raina, Rashmi Rajput, Bidita Bag, Abhimanyu Singh, Sanyam Srivastav, Siddhanth Kapoor, Pradeep Nagar, Sunny Hinduja, and Gulki Joshi.
Genre – Crime, Lawlessness
Storyline – Bhaukaal is a biopic based on the real story of escapades of IPS officer Naveen Sikhera. The story is based on the crime capital of India Muzaffarnagar where SSP Naveen Sikhera is sent to eradicate crime. Mohit Raina and Bidita Bagh are seen as the leading characters of this web series. But who is the black sheep in the story? To find out watch this web series.
Platform – MX Originals
4. Samantar
Cast – Swapnil Joshi Tejaswini Pandit
Genre – Family, Thriller, Mystery, Drama
Storyline – The story of Samantar is based on the life of a man Kumar Mahajan, whose life changes after he goes on a mission to find a man (Chakrapani) who shares the same fate with him. The life he is living in is already lived by Sudarshan Chakrapani. It is a Marathi web-series dubbed in Hindi, Tamil, and Telugu. The web series is adapted from a novel by Marathi novelist and mythologist Suhas Shirwalkar.
Platform – MX Originals
5. Code M
Cast – Jennifer Winget, Tanuj Virwani, Kundan Roy, Meghana Kaushik
Genre – Drama, Mystery
Storyline – Code M is a Drama Mystery that is based on real-life events of an Indian Army Lawyer Monica Mehra, who investigates and tries to solve a case of a terrorist encounter and reveals some annoying truth.
Platform – ZEE5 Original, ALTBalaji
6. Afsos
Cast – Gulshan Devaiah, Sulagna Panigrahi, Aakash Dahiya, Anjali Patil, Heeba Shah, Ratnabali Bhattacharjee, Jamie Alter, Danish Sait
Genre – Black Comedy, Thriller, Drama
Storyline – Afsos is a black comedy web series that twirls around a depressed man Nakula, who wants to commit suicide but he is unable to.
Platform – Amazon Prime Video
7. Madhuri Talkies
Cast – Sagar Wahi, Aishwarya Sharma, Rajeev Panday, Saksham Dayma, Basu Soni, Ravi Janghu, Preeti Shukla, Darpan Srivastava
Genre – Crime, Thriller
Storyline – Madhuri Talkies is a love-revenge drama about a resolute man Manish who sets out in Banaras on a ferocious uproar avenging his love, Punita. Punita was brutally accosted by a gang of power-hungry people living in that town. So what is the treatment of such criminals? Is a delay in justice equal to not getting justice? Watch Madhuri Talkies a story of true love and revenge that will create fear in criminals.
Platform – MX Player
8. Special OPS
Cast – Kay Kay Menon, Karan Tacker, Vipul Gupta, Sana Khan, Divya Dutta
Genre – Action Espionage Thriller
Storyline – The story of Special Ops is packed with thrills. The story of special ops shows two terror attacks in India. A RAW officer certainly believes that there is a single person is behind all these attacks and he aims to catch him. Research and Analysis Wing officer attempt to stop another terrorist attack to happen.
Platform – Hotstar Specials
9. Asur
Cast – Arshad Warsi, Barun Sobti, Ridhi Dogra, Sharib Hashmi, Vishesh Bansal, Anupriya Goenka, Amey Wagh
Genre – Crime, Murder, Mystery, Thriller
Storyline – The story of Asur twirls around the life of forensic expert Nikhil, CBI officer Dhananjay Rajput and, Shubh. Shubh is a gifted boy from Varanasi who learns and masters anything in seconds. His bad childhood and father's misjudgments cause him to believe himself to be an asur and turn a serial killer. The story shows how Nikhil and Dhananjay strive to elude from the adverse events molded by Shubh.
Platform – Voot Select
10. The Raikar Case
Cast – Ashwini Bhave, Atul Kulkarni, Neil Bhoopalam, Parul Gulati, Reena Wadhwa, Kunal Karan Kapoor
Genre – Family, Hypocrisy, Murder
Storyline – The story of The Raikar Case web series revolves around the richest family of a businessman of Goa. The mystery begins when the youngest member of the family dies. Now it's a murder or a suicide is revealed by the series of events occurring in the family when all the characters being doubted as murderers.
If you love watching mystery thrillers, I would suggest both Asur and The Raikar Case are the best outwit web series to watch.
Platform – Voot Select
11.
Panchayat
Cast – Jitendra Kumar, Raghubir Yadav, Neena Gupta, Chandan Roy
Genre – Comedy, Drama
Storyline – The web series Panchayat is a story of an engineer Abhishek Tripathi who is employed in a rural location in India. He does not wish to do that job, but helpless in front of his destiny. Panchayat is an insight into the lifestyles and struggles of the people living in rural areas.
Platform – TVF Originals, Amazon Prime
12. Unorthodox
Cast – Shira Haas, Jeff Wilbusch, Amit Rahav, Alex Reid, Ronit Asheri, Gera Sandler, Aaron Altaras
Genre – German-American drama
Storyline – Unorthodox is a German-American Netflix drama miniseries that portrays the story of a young 19-year-old ultra-orthodox Jewish girl who escapes her arranged marriage and religious community and moves to Berlin to start a new life.
Platform – Netflix
13. The Innocence Files
Cast – Liz Garbus, Alex Gibney, Roger Ross Williams, Jed Rothstein, Andy Grieve, Sarah Dowland
Genre – Documentary
Storyline – The Innocence Files is a true-crime documentary in three parts. It exposes wrongful convictions, false witness statements, misuse of forensic data, prosecutorial failure, and the injustice delivered to victims and the involved.
Platform – Netflix
14. Taj Mahal 1989
Cast – Neeraj Kabi, Geetanjali Kulkarni, Danish Husain, Sheeba Chaddha, Anud Singh Dhaka, Anshul Chauhan, Paras Priyadarshan, Middat Khan
Genre – Romance, Comedy, Drama
Storyline – Every human being in the universe is distinct from each other and also their take on love. Taj Mahal 1989 is an Indian comedy-drama romance web series framed in Lucknow in 1989. The story tracks encompassing several characters with different views of love and friendship. The series tells the meaning of love through its characters.
Platform – Netflix
15. Jamtara – Sabka Number Ayega
Cast – Amit Sial, Dibyendu Bhattacharya, Aksha Pardasany, Sparsh Shrivastav, Monika Panwar
Genre – Crime, Drama 
Storyline – Jamtara – Sabka Number Ayega is a story of two ambitious brothers who illegally make money through phishing in Jamtara, a cybercrime hub in India. The indifference of the two increases the level of hatred between them due to various reasons. Due to their desires, both brothers get trapped in the clutches of a criminal MLA who offers them a deal, in return, he will protect them from the police. On the other hand, a young SP is employed in Jamtara to crack the phishing network.
Platform – Netflix
16. Delhi Crime
Cast –  Shefali Shah, Rasika Dugal, Aakash Dahiya, Adil Hussain, Rajesh Tailang, Denzil Smith, Yashaswini Dayama, Avijit Dutt
Genre – Crime Drama Anthology
Storyline – Delhi Crime is an anthology series of Delhi gang rape. It is based on that disgraceful incident and apprehends the investigation that happened during the most terrifying atrocity India has witnessed.
Platform – Netflix
17. The Family Man
Cast – Manoj Bajpayee, Priyamani, Sharib Hashmi, Mehek Thakur, Vedant Sinha
Genre – Action, Comedy, Drama
Storyline – The Family man is a spy thriller based on terrorism. It displays the struggles of an intelligence officer, who is also a middle-class man, a father, and a husband, who tries to protect the nation from terrorists and also has to protect his family from the impact of his job. The series explicates how he balances his duties as a father and also serve the nation. This is one of the best web series to watch in lockdown.
Platform – Amazon Prime
18. Kaafir
Cast – Dia Mirza, Mohit Raina, Dara Sandhu, Abhiroy Singh, Suhail Sidhwani, Dishita Jain
Genre – Drama, Thriller
Storyline – Kaafir is based on the true incidents of the life of a Kashmiri woman of PoK. She mistakenly passes the border and is held as a militant. She is jailed on charges of terrorism. The story begins with a journalist named Vedanta Rathod discovers about a young girl whose mother is jailed on allegations of terrorism. She finds her and on interviewing her, Vedanta finds out that the terrorism charges against her are false. Vedanta goes out to help her and face opposition from society and family to help a Pakistani woman.
Platform – Netflix, Amazon Prime
19. Made in Heaven
Cast – Arjun Mathur, Sobhita Dhulipala, Kalki Koechlin, Jim Sarbh, Shashank Arora, Shivani Raghuvanshi
Genre – Drama
Storyline – Made in Heaven is a story about two wedding planners who own Made In Heaven. They have a lot of issues but still, they manage to impress their clients to hire them. The series presents problems covered in all Indian marriages.
Platform – Amazon Prime
20. Kota Factory
Cast – Mayur More, Ranjan Raj, Alam Khan, Jitendra Kumar, Urvi Singh
Genre – Drama, Comedy
Storyline – Kota Factory is the center around the life of 16-year-old Vaibhav who goes to Kota for his studies. The web series displays the problems and life of students in the city, preparing for IIT and NEET.
Platform – TVF Play, YouTube
21. Hostel Daze
Cast – Adarsh Gourav, Nikhil Vijay, Shubham Gaur
Genre – Adult Comedy, Drama
Storyline – Hostel Daze is a story of four friends and their hostel life and college experience. The story is full of adventures in an engineering hostel life including many challenges, obstacles, ragging, study pressure, family barriers, etc.
Platform – Amazon Prime
22. Bard of Blood
Cast – Emraan Hashmi, Vineet Kumar Singh, Sobhita Dhulipala, Danish Husain, Ajay Mahendru
Genre – Thriller
Storyline – Bard of Blood is a spy thriller tale of an ex RAW agent named Kabir Anand, who is now a school teacher. Kabir Anand takes on a secret mission after four spies are caught in Pakistan and the mission soon becomes severe when they get caught and are about to be killed.
Platform – Netflix
23. Leila
Cast – Huma Qureshi, Siddharth, Leysha Mange, Seema Biswas, Rahul Khanna, Sanjay Suri
Genre – Drama
Storyline – Laila is based on Prayaag Akbar's novel Leila in which the struggle of a mother, who tries to find her missing daughter under mysterious circumstances.
Platform – Netflix
24. Booo Sabki Phategi 
Cast – Tusshar Kapoor, Krushna Abhishek, Sanjay Mishra, Kiku Sharda
Genre – Horror, Comedy
Storyline – Booo Sabki Phategi is a web series horror-comedy of childhood friends who reconvene at a resort for celebration. Later, all their romantic plans turn serious, and soon they realize that the resort is haunted and people are turning up into zombies.
Platform – ALTBalaji
25. 
Mission Over Mars
Cast – Sakshi Tanwar, Mona Singh, Nidhi Singh, Palomi Ghosh
Genre – Drama
Storyline – Mission Over Mars is an engaging story of 4 women who are scientists, who played an important part in the success of Mars Orbital Mission with their expertise and dedication.
Platform – ALT Balaji, ZEE5 Original
26.
Mind the Malhotras
Cast – Mini Mathur, Cyrus Sahukar, Denzil Smith, Sushmita Mukherjee, Anandita Pagnis, Nikki Sharma, Jason D'Souza
Genre – Comedy, Family Drama
Storyline – Mind the Malhotras highlights an entertaining story based on modern marriage and family life, representing the awkward and insane moments of a simple-looking family of five members.
Platform – Amazon Prime
27. 
Mirzapur
Cast – Vikrant Massey, Pankaj Tripathi, Divyendu Sharma, Kulbhushan Kharbanda, Amit Sial, Ali Fazal
Genre – Crime, Thriller
Storyline – The story of Mirzapur is about two brothers who rule the city who do all the evil things after they meet Munna. Tripathi exports carpets and earns in millions. Munna is the undeserving, power-hungry son of Mafia boss Tripathi, who wants to rule the city and maintain his father's legacy. The story revolves around these characters and reaches such a point, where no one can tell what will be their next move.
Platform – Amazon Prime Video
28. 
Sacred Games
Cast – Saif Ali Khan, Nawazuddin Siddiqui, Neeraj Kabi,  Jatin Sarna
Genre – Crime, Conspiracy, Thriller, Mystery
Storyline – Sacred Games is based on Vikram Chandra's 2006 novel Sacred Games. This web series is the story of a gangster and how he went to become a god. The story of the web series begins with a don Ganesh Gaitonde who is missing for years. Ganesh calls Mumbai Police Inspector Sartaj Singh and tells how he will finish Mumbai in 25 days. But before Sartaj gets to know anything else, Ganesh shoots himself and leaves behind many mysteries for Sartaj. To solve this mystery Sartaj is exposed to many secrets one by one.
Platform – Netflix 
29. 
Smoke
Cast – Jim Sarbh, Kalki Koechlin, Mandira Bedi, Gulshan Devaiah, Amit Sial, Neil Bhoopalam
Genre – Crime, Thriller
Storyline – This series is set in Goa that shows the stereotype image of Goa, the dark side of the world of drugs, power, politicians, and police.
Platform – Eros Now
30. 
Rangbaaz
Cast – Saqib Saleem, Tigmanshu Dhulia, Ranvir Shorey, Aahana Kumra, Ravi Kishan
Genre – Crime, Drama, Thriller, Action, Romance
Storyline – Rangbaaz is set up in Gorakhpur and is based on a true tale of a wicked and most wanted criminal of Gorakhpur. The story spins about his journey from a student of DDU Gorakhpur University to turning into the most wanted gangster of India.
Platform – ZEE5 Original
31. 
Breathe
Cast – R. Madhavan, Sapna Pabbi, Amit Sadh, Neena Kulkarni, Atharva Vishwakarma, Hrishikesh Joshi
Genre – Crime, Drama, Thriller
Storyline – Breathe is a story of two ordinary men. Kabir, a Police Inspector who has lost his daughter in an accident, and Danny a football coach who is forced to see his 6 years old sick son with a nose pipe suffering lung damage. He is in search of an organ donor. What makes the inspector suspects Danny and why the cat and mouse chase begins between them? how far will Danny go to save his son is shown in the story of this exciting web series.
Platform – Amazon Prime
32. 
Yeh Meri Family
Cast – Mona Singh, Vishesh Bansal, Akarsh Khurana
Genre – Comedy, Drama
Storyline –  Yeh Meri Family is a web series that gives a perspective about different emotions and dynamics of relationships from the eyes of a 12-year-old in a middle-class family.
Platform – TVF Originals, Netflix
33. Gullak
Cast –Jameel Khan, Geetanjali Kulkarni, Vaibhav Raj Gupta, Harsh Mayar, Shivankit Singh Parihar

Genre – Comedy, Drama
Storyline –Gullak means a clay piggy bank. This web series is a story that revolves around a middle-class family and the people around it. It displays their way of living, love, wittiness, in a UP accent.
Platform – TVF Originals
34. 
Sarabhai Vs Sarabhai
Cast – Satish Shah, Ratna Pathak Shah, Sumeet Raghvan, Rupali Ganguly, Rajesh Kumar, Vaibhavi Upadhyay, Deven Bhojani
Genre – Comedy 
Storyline – Sarabhai Vs Sarabhai is one of my favorite shows and web series that I can watch all day without getting tired. Made in two seasons, Sarabhai vs Sarabhai is a story of a Mumbai-based high-class rich gujju family members having different aspects of life. All characters of this series are simple and funny who keep the audience entertained with their behavior, accent, and dialogues.
Platform – Hotstar Specials
35. 
Zabaan Sambhalke (TV series & Web series)
Cast (Old) – Pankaj Kapur, Shubha Khote, Rajender Mehra, Bhavana Balsavar, Vivek Vaswani, Dinyar Tirandaz
Platform – Amazon Prime
Cast (New) – Sumeet Raghavan, Shoma Anand, Tanu Khan, Bakhtiyaar Irani, Ashwin Mushran, Rupali Bhosle, Pipa Hughes
Platform – ALTBalaji
Genre – Comedy 
Storyline – Zabaan Sambhal ke original TV series featured on DD Metro. The web series Zaban Sambhal Ke on ALTBalaji is the comeback of TV series with a new star cast. Both the series displays a diverse group of students and their struggle to learn Hindi with the funny miscommunication and dialogues among them and the teacher.
36. Baked
Cast – Shantanu Anam, Pranay Manchanda, Manik Papneja and Kriti Vij
Genre – Comedy
Storyline – Baked is stories about three friends buddies from Delhi University who joins a night-time food delivery business which gets weaker due to several reasons. This web series dwells around different insecurities, life personalities, and conflicts of the characters.
Platform – ScoopWhoop, YouTube
37. 
Apharan
Cast – Arunoday Singh, Mahie Gill, Monica Chaudhary, Nidhi Singh, Varun Badola, Neha Kaul, Pawan Chopra
Genre – Action, Thriller
Storyline – Apharan means Kidnap. It is a story of a cop who falls in the trap of a politician and gets himself jailed while decoding a kidnapping case. What happens next after he comes out of jail? will he solve the mystery? is shown in this web series.
Platform – ALTBalaji
38. 
Shaitaan Haveli
Cast – Varun Thakur, Bhupesh Singh, Hemant Kumar, Pippa Hughes, Kanchan Pagare, Neha Chauhan, Anand Vikas Potdukhe, Shweta Singh
Genre – Horror, Comedy
Storyline – Shaitaan Haveli is a horror-parody revolving around an empty mansion. A film crew goes there for a shoot and lands up into a frightening but funny experience of ghosts and zombies.
Platform – Amazon Prime
39. Bose: Dead/Alive
Cast – Rajkummar Rao, Naveen Kasturia, Edward Sonnenblick, Anna Ador, Alexx O'Nell, Chinmoy Das, Nondini Chatterjee
Genre – Historical Period Drama
Storyline – Bose Dead/Alive is based on our freedom fighter Neta Ji Subhas Chandra Bose and his struggle through Britishers' rule. Later Bose suddenly disappeared after a plane crash in 1945. People made different estimates and stories. The whole story of his mysterious disappearance is tried to show in this series.
Platform – ALTBalaji
40. Little Things
Cast – Dhruv Sehgal, Mithila Palkar
Genre – Romance, Comedy, Drama
Storyline – Little Things is a romantic series and story of a couple Kavya and Dhruv who love each other despite all the difficulties and the personal differences faced by them.
Platform – Netflix
41. TVF Tripling
Cast – Sumeet Vyas, Maanvi Gagroo, Amol Parashar
Genre – Drama
Storyline – TVF Tripling is a story of three siblings and their bond. The series is engaging and entertaining that displays their unplanned road trip despite all the hardships in their life. The series highlights their unique and enduring relationship.
Platform – TVFPlay
So this was my list of some of the best and popular Web Series to watch during lock-down. Let me know in the comments below which of these have you already seen and are now planning to watch.
You May Also Like