12 Affordable Best Beauty Products of All Time
Here I have listed my favorite best beauty products of all time with their key features and benefits.
Disclaimer- The beauty products listed below are my personal favorites, and I have been using them for a long time and so far haven't thought of switching any of them. Opinions are based on my personal experience. The results and views may differ from person to person.
The Wedding season and festivals are the best times for shopping and upgrading your beauty shelf. This is the time when most market shops and online stores also emerge with various offers on different products. Besides, the customers are also in the high mood of shopping, because of the attractive offers on their favorite products. I have oily skin and if you are born with oily skin, it is a real dilemma selecting the right beauty product for you, that do wonders for you. So, if you have oily skin, take a look at my ultimate collection of essential beauty products, that works great for oily and might also help you find the best beauty products of all time, that fits in your budget.
12 Affordable Best Beauty Products of All Time
Today, the beauty world is flooding with lots of new products in the market, from established and new arriving brands. But when it comes to nominating the best beauty products of all time, then always our favorites and tried products win. Beauty products help you feel more confident and amazing. For this reason, we are forever ready to spend money on them, as they enhance our beauty and personality. So ladies, here I am listing my favorite, 12 affordable best beauty products of all time, that are budget-friendly and help you look more confident and wonderful.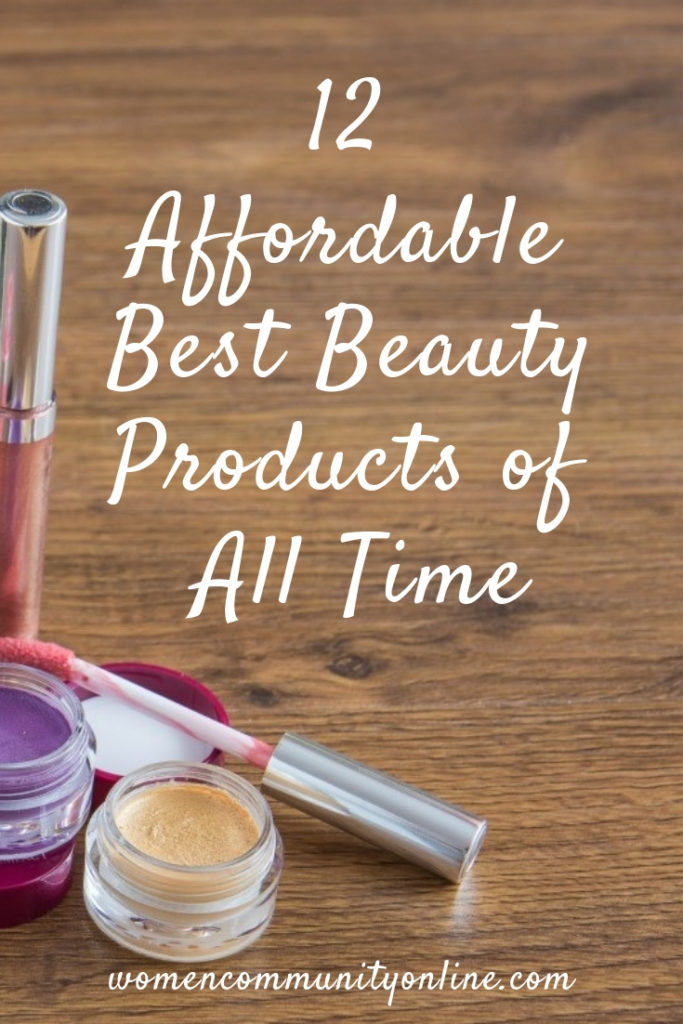 1. Himalaya Neem Face Wash
Himalaya is known for its quality skin care products with natural ingredients. Himalayas Purifying Neem Face Wash principally helps to combat oily skin, pimples, and acne on the face. It is a natural and reasonable product that is available in different packing, size, and price, and suits all skin types. A favorite product of not just girls but boys also.
I have oily skin and I'm using this face wash for a long time now. This face wash not only clears acne, pimples, and facial impurities but also prevents the reoccurrence of them. It is soap-free and a gel-based herbal face wash, with a blend of antimicrobial and antiseptic properties of Neem and Turmeric. Neem and Turmeric are excellent natural skincare ingredients well known for their antimicrobial and anti-inflammatory properties, that soothe itchiness and inflammation on the skin, relieve dry skin, retain the elasticity of the skin, and heals uneven skin tone.
2.
Lotus Herbals Safe Sun Absolute Anti Tan Scrub
In a busy life, it becomes extremely important to protect your skin from harmful ultraviolet sun rays. So if you are running short of time, you can always rely on this quick fix face scrub. Lotus Herbals Safe Sun Absolute Anti Tan Scrub will keep your skin healthy by exfoliating dead skin cells, eliminating blackheads, and giving you radiant and younger-looking skin. The scrub will give you an instant fresh glow on your face. Since I have oily skin, this is the best face scrub I have tried so far. This scrub is power-packed with natural exfoliators like walnut and strawberry seeds and antiseptic properties of turmeric. The scrub has soft granules formed with turmeric, walnut and strawberry seeds. I use it twice a week and as it says, it helps to remove suntan.
All you need to do it apply it on your face, neck, and hands gently massage in a circular motion for 5 minutes and wash it off. The scrub will leave an instant freshness with smooth and glowing skin. It works effectively for me and is suitable for all skin type but its other ingredients can be allergic to sensitive skin.
3. Lotus Herbals Basiltone Cucumber Basil Clarifying And Balancing Toner
Lotus Herbals Basiltone Cucumber Basil Clarifying and Balancing Toner is a lightweight natural toner, packed with cooling and astringent properties of Cucumber, and antimicrobial properties and antioxidants of Basil. It hydrates your skin, preserves its natural PH balance, making your skin soft and keeping it look fresh for long hours. Besides, the Basil extracts tighten the skin pores, reduces blemishes, and improve your skin tone. When applied it feels sticky as it takes time to get entirely absorbed by the skin. I use it twice in a day and I am quite happy with its results as it reduces oiliness on my skin.
4. Plum Green Tea Clear Face Mask
Plum Green Tea Clear Face Mask is a formulation of natural clays like Kaolin & Bentonite, glycolic acid, and green tea extracts. It is loaded with exfoliating properties of glycolic acid, and polyphenols, antioxidants, and anti-inflammatory properties of green tea. This face mask will help you get oil-free, pimple-free, clear, healthier-looking glowing skin. This product is suitable for oily skin and combination skin but if you have dry skin and decide of using it, use a mild moisturizer after its every use.
My skin is oily and this clay mask leaves a matte effect on my face. The texture of the face mask is creamy and also easy to apply on the face evenly. Once applied it tingles for a few times which is normal and a sign that clay mask is working on your face. Keep the mask on until dries completely and then wash it off and apply a moisturizer. It is advised to use weekly, but I use it once in 15 days. The only thing I am not happy about is its quantity at this price otherwise, it is a must-have product for oily skin.
5.
Lotus Herbals Safe Sun UV Screen Matte Gel
Overexposure to harmful sun rays can damage your skin and cause fatal diseases like skin cancer. The Lotus Herbals Safe Sun UV Screen Matte Gel will keep your skin refreshed, providing a soothing effect to your skin under the sun. It controls oil secretion, prevents skin darkening and tanning, and fights wrinkles. In summers, I can't put anything on my face as I sweat a lot but, this matte gel-based UV Protector with SPF 50 is effective for Oily skin. It is easy to apply and won't leave your skin greasy at all. It gets absorbed very easily. Apply it evenly on face, neck, and arms every 2-3 hours to protect your skin from harmful UVB and UVA sun rays. The only negative thing about this product is that it contains paraben, which acts as a preservative and prevents the growth of pernicious bacteria and fungus.
6.
Himalaya Herbals Revitalizing Night Cream
I don't have a face moisturizer on my list, because I use a mixture of honey and yogurt as my daily moisturizer. I use a Night Cream instead.
Himalaya Herbals Revitalizing Night Cream has herbal extracts of natural ingredients like Lemon, Tomato, Wheat, Crab Apple, and White Lily, that fix major skin issues like pimples, acne, blemishes, and skin irritation. It heals dull skin and restores the lost elasticity and radiance in your skin. It has Vitamin C, and antiseptic properties of Lemon and Tomato, which acts as a natural bleaching agent to improve the complexion and texture of the skin. Its keratolytic properties of Crab Apple help in reducing inflammation, glycolic acid from White Lily makes your skin glowing. It also has wheat which heals wrinkles, dark spots, and sun-damaged skin.
The texture of the cream is thin and gel-like, which is easy to apply and get easily absorbed by the skin, without making your skin oily. It moisturizes your skin, and your skin feels fresh, soft, and rejuvenated all day. This cream is suitable for all skin types for both men and women. Overall, Himalaya Herbals Revitalizing Night Cream will recover the lost elasticity of your skin, and make your skin fair, and blemish-free.
7.
Parachute Advanced Jasmine Hair Oil
Parachute is well known for its amazing variety of coconut-based hair products. It is rich in Vitamin E and Vitamin K, and the goodness of coconut oil, that strengthens and protects hair, reduce dandruff and keep hair follicles healthy. The active antiseptic properties of jasmine extracts fight microbial infection and keep the scalp healthy. It also provides moisture to Hair, resulting in silky shiny hairs. Parachute Jasmine non-sticky hair oil is my favorite no chip-chip (non-sticky) hair oil, with a unique and soothing fragrance. It makes my hair more manageable, shiny, and less frizzy. Simply massage your scalp for a few minutes and keep it overnight and wash it the next day.
8. Pond's White Beauty BB+ Fairness Cream
I would any day prefer a BB cream over any Foundation because foundation makes my skin look more oily, dark, and dull. Ponds White Beauty BB+ cream is lighter than a foundation and thicker than a tinted moisturizer, loaded with antioxidants that protect your skin against free radicals and pollution, and with SPF 30++ that works as a sunblock to protect your skin from harmful sun rays. It acts as a lightweight foundation and a fairness cream. It provides an instant glow to your face, minimizes pores, covers light spots, evens out your skin tone, and also moisturizes your skin. However, it won't conceal stubborn marks or blemishes, so you will need to use a concealer. It works well on all skin types.
9. Maybelline Baby Lips Moisturizing Lip Balm
Maybelline Baby Lips Moisturizing Lip Balm with SPF 16, is enriched with the goodness of Jojoba oils and pro-vitamin E, which nourishes and protects your lips, and keeps them moisturized for a long time. It is a formulation of the color bloom technology, with tone revealing pigments, that react with your lips and give them beautiful color. If you don't like lipgloss, this is the best option for you. They come in various shades. I have four shades of it, Antioxidant Berry, Soothing Cherry Lip, Coral flush, and Peach kiss, and It's a great product.
10. Maybelline New York Colossal Kajal
Maybelline New York Colossal Kajal is a waterproof smudge-proof kajal, enhanced with oils and aloe vera for a perfectly smooth application. I am using it every day for 2 years now. It claims to stay up to 16 hours without smudging, but it lasts for 6 to 7 hours. You can even use it as an eyeliner also. It is effortless to apply, as it slides easily and evenly defines your eyes. Maybelline New York Colossal Kajal has strongly pigmented coal, which does not leave patches on the eye. It is tested, and its formulation is safe and doesn't bother skin, and suitable for sensitive eyes and contact lens wearers.
11. Maybelline New York New Lasting Drama Gel Liner
I have been using Maybelline New York The Colossal Liner for a long time, but I recently bought this Gel Liner. It is creamy in texture, waterproof, glides easily, doesn't smudge, and gives a smooth and precise finish in one go. It comes with a brush that is effortless to apply and serves very well. So if you are good at drawing error-free lines, go for it. This gel-based eyeliner will compliment you with every eye makeup. It's Maybelline, so definitely a great product to buy.
12.
Lakme Eyeconic Lash Curling Mascara
Lakme Eyeconic Lash Curling Mascara with D-Panthenol Moisturizer keeps your lashes curl and smooth. Its smart curl brush gives volume to your lashes and enhances your eye makeup. This lightweight curling mascara is easy to apply, and effective product at an affordable price. Apply two coats and enhance the curls of your lashes. Apply on both upper and lower eyelashes and forget about artificial lashes. I love this mascara, it is also perfect for any occasion or daily use. Just remember to remove it with makeup remover or a cleanser, so it doesn't harm your eyes.
Since my skin is oily, I don't use much makeup. Not many people know, but I am crazy about lip balms, kajal, eyeliner, and mascaras since my college days. I adore them and even today, you will find my wallet flooded with a variety of them. This was my ultimate list of the best beauty products of all time that I use and recommend. Let me know in the comment box which beauty products are your favorites.
BUY YOUR FAVORITE BEAUTY PRODUCTS FROM  Amazon.in
You May Also Like: