Makeup Tips For Oily Skin In Summer
Girls/women with oily skin will always hesitate in doing their makeup in the summer season. Don't worry, as the following Long Lasting Makeup Tips For Oily Skin will keep your makeup intact on your face and will also help you look stunning.
In the summer, it is very difficult to maintain your makeup for a longer time. It is obvious that, if you will apply makeup on your oily skin, it will all run down your face like oil. But, it is very simple and easy to keep long-lasting makeup, if you do know the correct procedure for applying the makeup to your oily skin.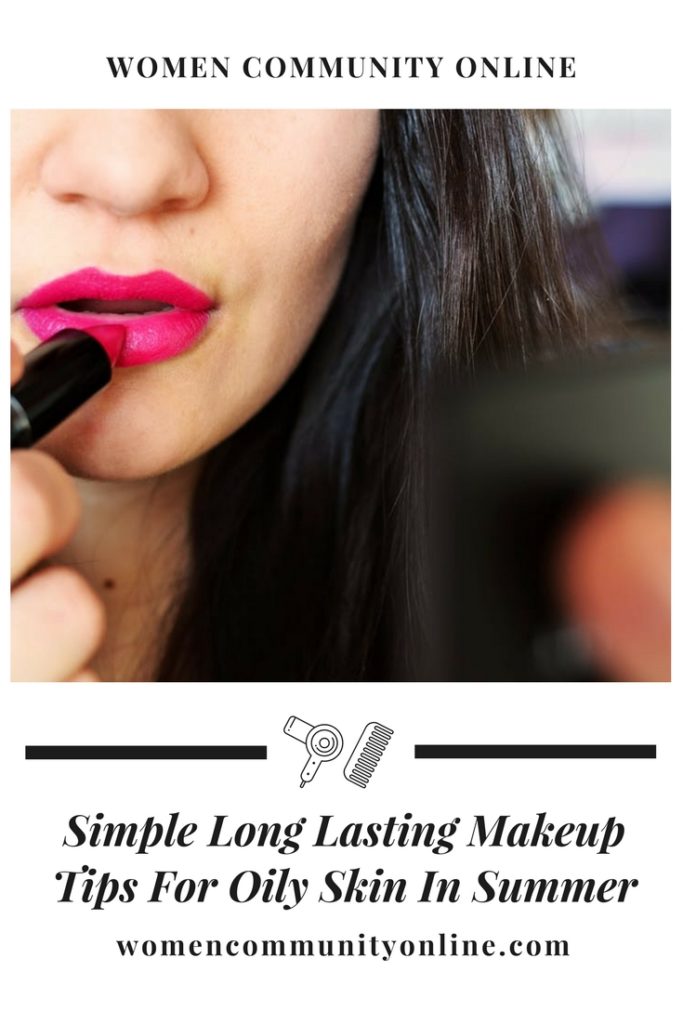 In summers you cannot avoid sweating. So, you must choose the right makeup technique that keeps your makeup last long.
6. Simple Long Lasting Makeup Tips For Oily Skin In Summer
1. Cleansing and Toning
In summer, due to high temperature and excess heat, sebum production is more. That causes oily skin. Because of which girls/women find themselves oiler in the summer. That makes Cleansing and Toning very important because they will remove all the dirt and excess oil from your skin and pores. Begin with cleansing and toning your face for smooth and even skin before applying the makeup. Use a quality product for cleansing and toning so it will help in the removal of the excess oil from your skin. For oily skin, cleansing your skin with mud, charcoal, or the fuller's earth/Multani Clay is found to be very beneficial. Apply a higher SPF and an oil-free moisturizer if your skin is oily.
2. Use a Primer
Priming is one thing you must do for long-lasting makeup. Apply a primer after cleaning, toning, and moisturizing your skin. It will smooth out skin and cut the appearance of skin pores. A primer will help your makeup stick longer on your skin. It prevents makeup meltdown. Always apply a primer before applying eyeshadows and other makeup. Prime your eyelids so that your eyeshadow will keep your color intact on the eyes for hours.
3. Apply a proper base 
Apply an oil-free foundation. If you sweat a lot, then the use of a regular foundation during the summer will result in melting and caking. So, choose a water-resistant lightweight foundation to avoid it before applying make-up. Apply the foundation dabbing on your forehead, under your eyes, chin, and on your nose. Then blend it with your face. Avoid bright and creamy foundations it will make you look extra sweaty. Use a little concealer where you need it, to hide the marks. Also, avoid the use of shimmers and blushes. 
4. Avoid powder and use a mousse
Use a mousse for a finished and spotless look with minimum makeup. The mousse will give you a matte finish without causing sweat. It gives light look to your face by removing extra oil. Use a sponge or a brush to apply a mousse to your face.
5. Lips
Simple lipgloss or a nude shade lip color is enough for a normal day to color your lips. But, when you love experimenting or you're attending a party or an occasion, try trendy heavy matte lip colors with long-lasting and versatile formulas for summers. Trying berry shades, pinks, peaches, magenta, and coral shades are beautiful for lips. Avoid heavy lipsticks.
6. Eye Makeup
Apply an eye primer to smooth your eyes first. Light eyeshadow is much better than smokey eyes in summer. Opt for neutral eyeshadow colors that match your skin tone to keep enjoying the carefree feeling. Use a regular pencil or cream liner for lining your eyes. After applying the liner using a dark eyeshadow to increase its wearability. Apply a waterproof eye mascara. Avoid thick mascaras, it can smudge and smear under your eyes. Groom your eyebrows. Choose an eyebrow pencil a lighter shade than your actual eyebrows to shape your eyebrows.
Dos and Don'ts
Use makeup setting spray to keep your makeup look fresh without making it look oily on your skin.
After applying makeup, and leaving for a party or function, don't forget to carry along blotting paper. It is the best way to wipe off the sweat and excess oil or makeup from your face. It maintains your makeup and does not take too much space in your bag.
Avoid very heavy dark colors instead of opting for sunnier and brighter shades products.
Protecting your skin from harmful sun rays is important. Use water resistance products with higher SPF protection.
Don't forget to stay hydrated.
Do not forget to also give time to your makeup removal.
Follow face clean up steps to remove your makeup.
Also, don't forget to exfoliate your skin. It will prevent skin breakouts.
Keeping these simple long-lasting makeup tips for Oily Skin in mind, you can easily summer-proof your makeup. These makeup tips will help you look fresh rather than looking and feeling oily.
Affiliate Links – Amazon. in
You May Also Like: