How to Conceal Acne and Blemishes
In this post, we will know some easy expert tips regarding how to conceal acne and blemishes. Acne and Blemishes appear in all shapes or sizes. Despite having excellent beautiful skin, one bad acne or blemish can completely ruin your look. But with some makeup techniques, you can minimize their appearance on your face. However, covering them up is easy and requires the right makeup skills.
The most critical element in applying makeup is to make a base on the face, for which we apply foundation and concealer to hide spots, dark circles, birthmarks, and sunburn. Concealing requires a concealer and a brush to apply it correctly on your face.  Concealers of various brands are available in the market. But you must use it according to your skin tone. For this, you should have the right knowledge about the selection of the Concealer.
With the following steps, you can easily conceal pimples, acne, and blemishes with a concealer. But before that let us know it's types and uses.
Types and uses of different Concealers
The following are the different types of concealers with their uses.
1. Stick concealer
Stick concealers are perfect for covering acne, acne scars, dark circles, and blemishes. They are full-coverage products usually thicker, and heavier in composition than liquid concealers. Stick concealer is great for people with oily and combination skin.
2. Liquid concealer
Liquid concealers are great for people with dry skin. They cover large areas of the face and are perfect to conceal dark circles near the eyes, uneven skin tones, and pimples.
3. Cream Concealer
Cream Concealer lessens the appearance of redness, uneven skin, dark circles, pigmentation, and blemishes. This type of Concealer is great for people with dry skin.
4. Balm Concealer
Balm Concealer covers wrinkles, dark circles, imperfections of the skin, and spots. they can also be used as color correctors. Use this concealer if you have very oily skin.
5. Pencil Concealer
Pencil Concealer is suitable for all and used to cover small spots, pimples, birthmark, highlight eyebrows, contour lips, and cheekbones.
Choosing and applying the right shade concealer
Follow CTM (Cleansing, Toning, Moisturizing) skincare routine according to your skin type five minutes before applying the makeup. Take care of shades while buying concealers. Use a green-tinted concealer to conceal the redness pimples, rosacea, and acne scars. Use a yellow-tinted concealer to brighten your face and cover blemish, bruises, nerves, and under-eye dark circles. Bright red or orange concealer is applied to hide dark spots, under-eye circles, and uneven skin tone. Apply orange or red concealer first, followed by a yellow-tinted concealer for best coverage.
Know-How to Conceal Acne and Blemishes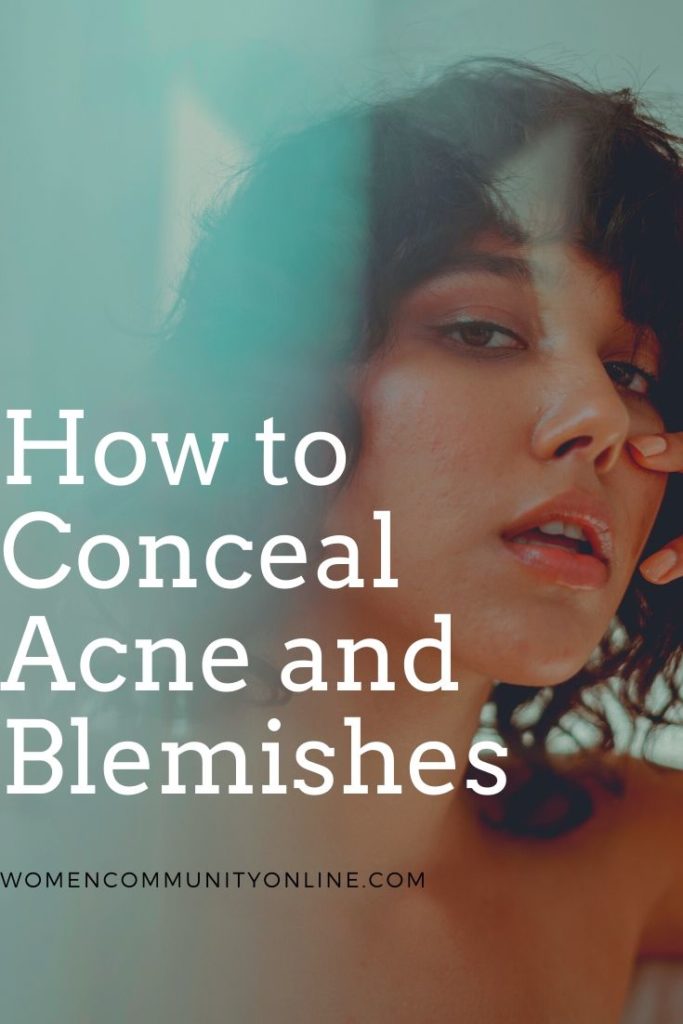 Apply concealer only after the CTM routine and Face Primer. Use a brush, beauty blender, or fingertips to conceal Acne and Blemishes. Gently tap concealer while using fingertips or beauty blender. Begin with applying it from the edges, nose, and eyes either with the help of a brush, fingertips, or beauty blender. Blend the concealer precisely with your skin to prevent the uneven appearance of skin tone. Don't forget to apply a layer of the foundation after concealing, contouring, and highting your skin. Then powder your face to set the foundation. Apply blush and highlighter to enhance your face features and makeup. Use makeup fixer and setting sprays to keep your makeup looking great all day.
Remember, the use of other cosmetics like a primer, foundation, powder levels up the matte effect on your skin and tone up the concealer to match your natural skin. Choose organic beauty products or products rich in Vitamin C serum with healing properties to cover the stubborn scar.
Apart from all these tips and tricks, remember that when you get a pimple, allow them to heal naturally to avoid redness, inflammation, and infection, which may lead to permanent blemish. Remember, when you aren't able to remove acne, you can use a concealer to cover it up and hide it.
You May Also Like: