Natural Homemade Moisturizer For Winters
Natural Homemade Moisturizer for dull and dry skin in winters with no side effects on the skin
Need For Moisturizer
You need a moisturizer when your skin becomes dry. Your skin gets dull during winter. At this time it is not enough to just apply body lotions on your body before or after the bath. Your skin needs even more nourishment and protection to fight cold winter. To help your skin fight cold winters, you can use Natural Homemade Moisturizer which has no side effects on the skin.
Reason to use Natural Homemade Moisturizer
There are several types of creams and moisturizers already available in the market to protect your skin in winters. But it is also important to know about their side effects. Some of these products are chemical-based and so the risk of getting skin breakouts, pimples, dullness increases.
As it is equally important to moisturize your skin and if you want to stay away from the effects of chemicals, then this Natural Homemade Moisturizer will be right for you. You can make some Natural Homemade Moisturizer by using home-made ingredients mentioned in this post.
The Best Natural Homemade Moisturizer
1.Steps to Make Natural Homemade Moisturizer
Ingredients required
1 tablespoon cocoa butter
1 cup aloe vera gel
2 cups of almond oil
1 tablespoon Vitamin E oil
A few drops of essential oil
Method
Take a double boiler and put it on a low flame to melt cocoa butter.
Then add essential oil, and vitamin E oil.
Leave this oil to cool down. Then mix the aloe vera gel thoroughly in it. Mix using the blender until it becomes a lotion.
Store this lotion in a glass bottle. You can keep it in the fridge for a long time.
This lotion is one of the best natural homemade moisturizers.
2. Natural Homemade Moisturizer For Sensitive Skin
If your skin is sensitive or very dry then it is very necessary for you to choose the right product available for you in the market. You can also use these homemade ingredients to make your own moisturizing cream.
Melt the coconut oil in a double boiler. Add cocoa butter to it and melt it. Then leave this mixture to cool down. This cream is likely to freeze in winter. When using this cream, take a little cream and rub it on your palms and then apply it on the face.
This cream is an excellent source of antioxidant that will remove all the free radicals from your skin. You can also use olive oil, coconut oil, and cocoa butter to make this face cream.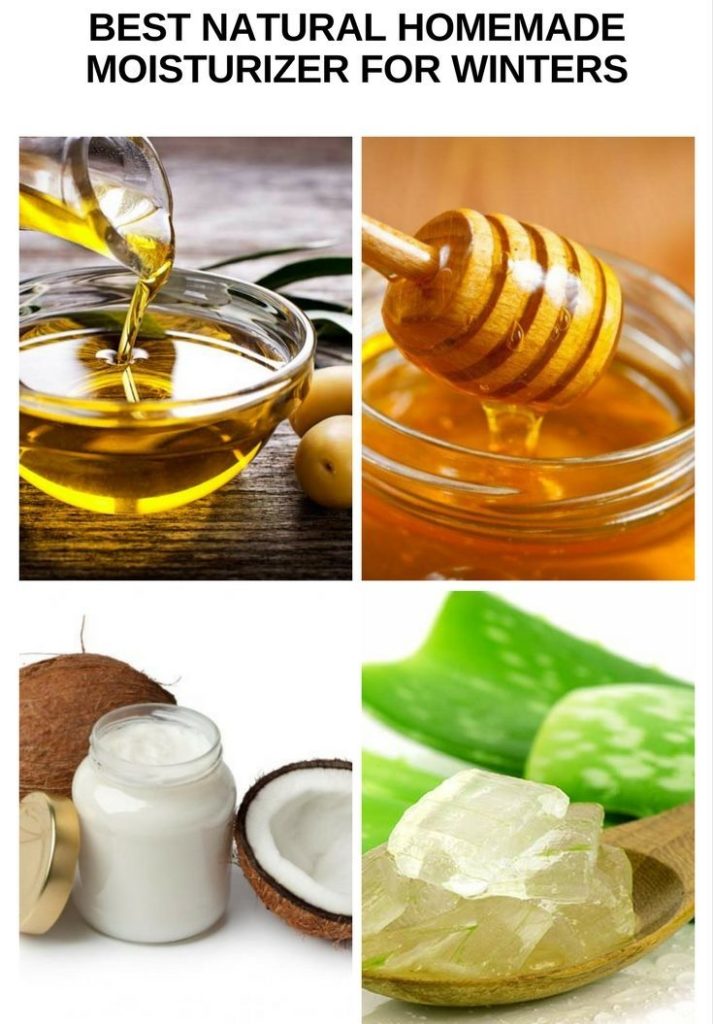 Olive oil
This oil is very effective for dry skin. This oil contains antioxidants which do cool the skin and repair the worn skin.
It also eliminates pimples and wrinkles.
Honey
Honey is a good moisturizer that can be used on dry skin. Massage the skin with honey and leave it for 10 minutes. Wash with lukewarm water.
In the winter, repeat this every day it will make your skin soft by giving it a natural glow.
Aloe Vera
There is a gel in the aloe vera leaves. Cut these leaves and remove the gel from it and store it in the fridge.
This gel will protect your skin from any type of infection and balance the moisture content of your skin.
Coconut oil
This oil is easily available oil. It maintains the moisture level of the skin and can be applied anywhere on the body including face.
This oil can also be applied to eliminate dryness of your elbows, knees, and hands.
3. Some Other Natural Homemade Moisturizers
Milk
Milk is a natural cleanser. It protects the skin from roughness, itching, and fades scars away.
Milk also contains a good amount of lactic acid, which helps to exfoliate the dead cells present in your dead skin and face.
Not only this, but milk also lightens the color of your skin. You can dip a cotton ball or a soft cloth in the milk and rub it slowly on the face. It cleans the skin naturally and makes it glow naturally.
Alternatively, you can make a face pack by mixing a few drops of milk, rose water, and a few drops of lemon juice. Apply this mixture to your face and body in such a way that it gets absorbed completely by your skin. Doing this regularly will make you realize that your skin is getting adequate moisture and elasticity.
Yogurt
Yogurt hydrates and moisturizes your skin. It can be used in summers also. With the help of yogurt, you can also get rid of the skin itching and rashes. So always keep your skin moisturize using yogurt.
Buy fresh yogurt from the market and apply it to your skin. After applying it, leave it for 10 minutes and then easily wash your skin with warm water. It also works as a gentle exfoliate and you will feel a lot of freshness in your skin.
Papaya
You can make a great moisturizing pack with the help of papaya, which removes the stiffness of your skin and keeps it beautiful and moist.
To make this pack, add chopped papaya, 1 teaspoon honey, and 1 teaspoon lemon juice. Grind all these ingredients in a grinder, mix them well, and apply them to your skin. Keep it like this for 10 minutes and wash well to get moisturized and beautiful skin. You can use this pack once in 15 days.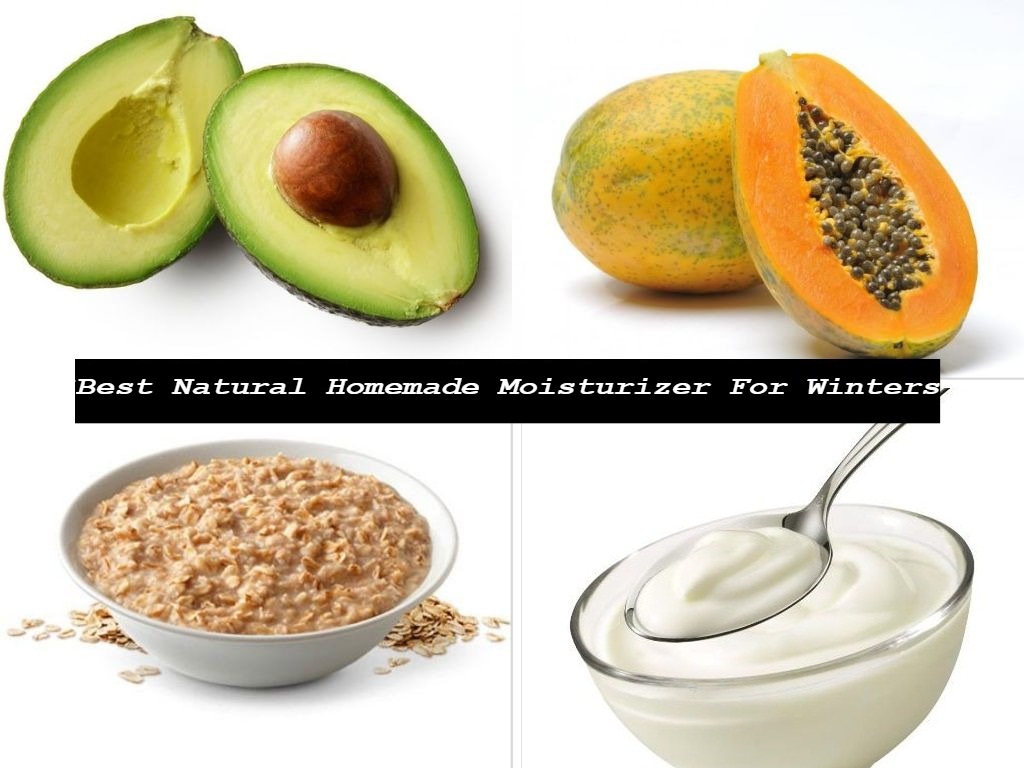 Almond and Honey moisturizer
Almond provides moisture to your skin and acts as a great exfoliate which removes dead and hard layers of skin easily.
First, crush almonds into half broken pieces. Now mix one spoonful of milk and one spoonful of honey. Mix them all together and apply them to your skin. Rub it well on the skin and leave it for 10 minutes. After that wash it with warm water and see the difference.
Almond oil moisturizer
The oil extracted from naturally obtained almonds proves an effective moisturizer because it is the best source of Vitamin E and is considered quite effective for the treatment of any skin ailment.
Take enough quantity of almond oil in a vessel warm it and apply it to your body. Apply this oil half an hour before going to bed, otherwise, it will not get absorbed by your skin. Once you have a bath in the morning, you will feel the freshness effect of almond oil on your body. Use a light moisturizer on your body so that the skin moisture remains intact.
Alternatively, you can also consume one spoon of almond oil into a glass of hot water before bedtime. This is a very effective method, especially when it comes to excessively dry skin. But use this method daily to maintain moisture and beautiful skin for a long time.
Avocado and honey moisturizer
To make this home-made moisturizer you need fresh cream, avocado, and honey. Grind the Avocado and extract its juice and mix it with fresh cream and honey.
Apply it on the face and wash with warm water after one hour.
Glycerine and honey moisturizer
It works as an effective moisturizer for cold weather. Glycerin maintains moisture in the skin and increases its elasticity. Mix glycerin and honey and apply it to the face and body.
4. Moisturizer for lips, hands, and foot
Moisturizer is needed for lips, hands, and feet also. You can also go through my article Winter Season Skin Care Tips to read more about it.
5. Other Effective Natural Moisturizer
Olive oil, lemon, and eggs work as a natural moisturizer for the skin. Use its mixture to apply on your face and hands and leave it for 15 minutes. After this wash the skin with lukewarm water. You can use this remedy once in 15 days to get good results.
Another effective natural homemade Moisturizer is made by utilizing the cocoa butter beeswax, coconut oil, sesame oil, and olive oil. Mix water and beeswax in a vessel and heat it on a low flame. Mix cocoa butter with this mixture and blend it. After this, add sesame oil, coconut oil, and olive oil slowly and make a thick paste. After cooling it, store it in a glass bottle. Use it daily on your body.
Sugar Scrub
Take 1 part olive oil and mix 2 parts sugar in it. Add some lavender or lemon oil to give a good aroma to the oil.
Store this scrub and use it once a week to eliminate dryness of lips and hands.
Avocado balm for lips
Avocado protects lips and gives adequate moisture. Add the coconut oil to Avocado extract to make a lip balm. Take a little Shea butter and honey to make a paste. Store this paste and apply it to the lips daily.
Moisturizer for hands
Make a moisturizer using shea butter, Vitamin E, and coconut oil.
Instead of coconut oil, olive or avocado oil can be used. This lotion is ideal to reduce the dryness of hands.
Foot Scrub
Mix 1 teaspoonful of coffee powder and some drops of lemon juice. Put this mixture on the foot.
It keeps your feet soft and protects from any type of infection.
I hope this natural homemade moisturizer For Winters information will be useful to you. If you have some other tips on Natural Homemade Moisturizers let us know in the comments below.
You May Also Like: