Burn The Inner Ravan This Dussehra
Every year on Dussehra we burn the effigies of demon Ravan. Ravan, the symbol of evil, is no more, but even today also, many evils are still prevailing in our society. So, there is a need to burn the inner Ravan on Dussehra.
Dussehra
Vijayadashami or Dussehra, is an Indian festival celebrated every year at the end of Navratri.  People burn the gigantic effigies of Demon Ravan, which marks the end of evil. Dussehra not only signifies the victory of Lord Ram over demon Ravan but also marks the victory of Goddess Durga over Demon Mahishasur. Thus, Navratri and Dussehra signify the victory of good over evil. The festival is also believed to be the beginning of the preparation for, Diwali – the festival of lights.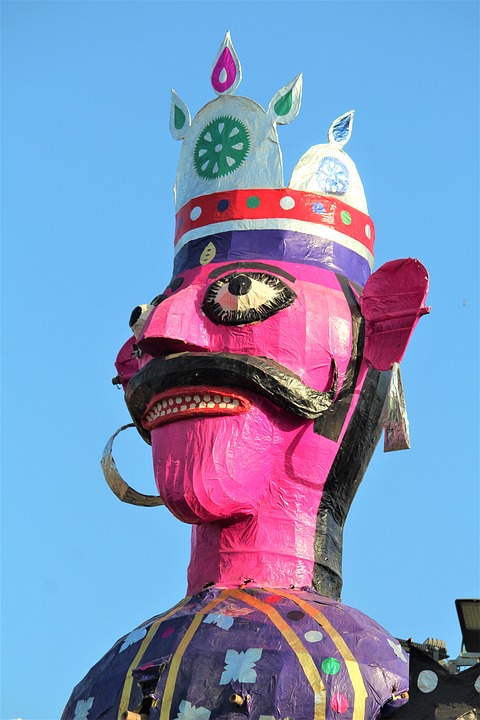 Why do we burn Ravan on Dussehra?
People all over the country burn the effigies of Ravan, his son Meghnad and brother Kumbhakaran and celebrate Dussehra. Let us know the reason behind it.
During the 14 years of exile of Lord Ram ( seventh incarnation of Lord Vishnu), he spent a few years of exile at Panchvati, with his wife Sita and brother Lakshman. Panchvati at present is a place on the banks of the river Godavari in Nashik, Maharashtra.
The evil Ravan decided to take revenge from Lord Ram and his brother Lakshman for ripping off his sister Shurpanakha's nose. He called demon Maricha and ordered him to disguise himself as a golden deer. It was an attempt to tempt Sita and take her away from Ram and Lakshman. Sita desired for that golden deer. So, Lord Ram to fulfill his wife's wish went after the deer in the dense forest. Hours passed, when Ram didn't return, Sita felt that he might be in trouble. She ordered Lakshman to go in search of him and bring him back. Laksham followed her orders, but after he leaves, Sita was all alone in the hut. So, to protect her, Lakshman drew a line around her ( Lakshman Rekha ) and told her not to cross that line, until he returns with brother Ram.
Ravan observed all this and disguised himself as a holy sage. He approached Sita asking for food. Sita offered him food, standing within the Lakshman Rekha. But, Ravan angrily denied to accept it and told her to come out of that line. As soon as Sita crossed the Lakshman Rekha, Ravan caught her hand and took her away from Lord Ram, towards Lanka ( at present Sri Lanka ), in his magical chariot. All attempt of Sita to save herself was all in vain. To bring back Sita, Lord Ram, led a battle against Ravan with the help of Hanuman and their monkey-army, and at last, was able to defeat Ravan. To celebrate this victory of good every year we burn Ravan, the symbol of evil.
Burn the inner Ravan this Dussehra
In today's time, Lord Ram is only in our thoughts and temples, but not in our deeds. We burn the effigies of Ravan but forget to burn the inside Ravan, but forget to clean our self from within. We get so busy enjoying the festivals, that we forget its purpose. The real purpose of Dussehra is to win over bad qualities like lust, anger, greed, jealousy, injustice, ego, cruelty and to destroy the evil customs prevailing in our society.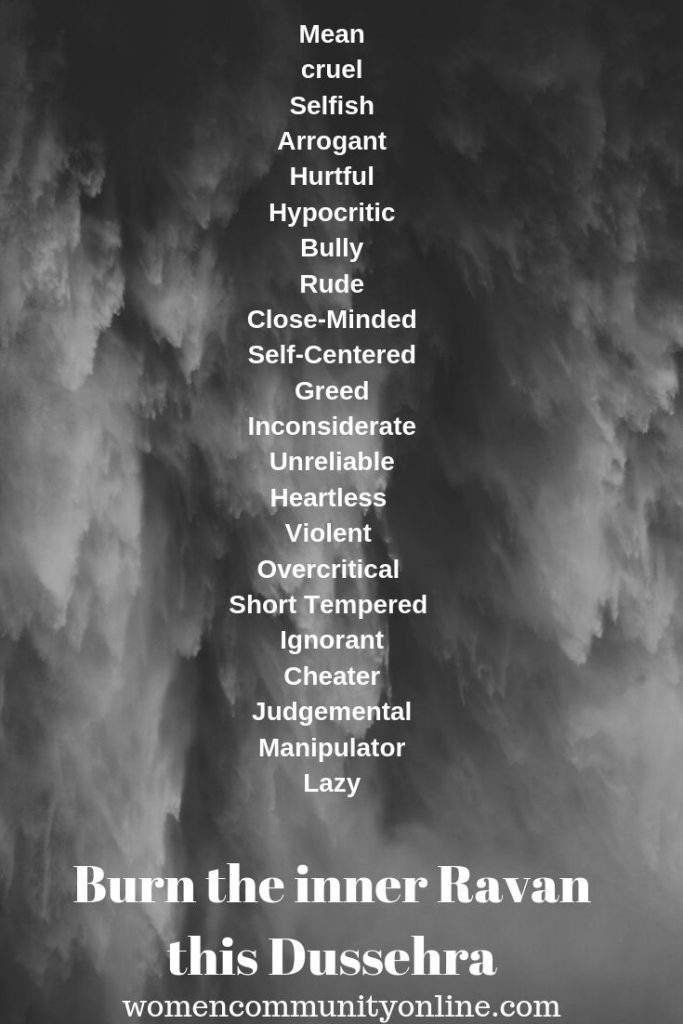 In this male dominating society, women are still not viewed equal to men. In some regions, even today, evil customs like gender inequality, female foeticide, dowry, child abuse, molestation, domestic violence, considering a girl child a burden to the family, not allowed to visit the temple during periods, indiscrimination, etc. are prevailing. These are "the real Ravans", that's still alive in our so-called modern society. It is so shameful that we live in a society that blindly follows some of these customs. We're forced to believe the norms of our society. So, we never try to demolish these social evils. Social evils are the problems that affect every person in a society, not only the person but also the nation.
Besides, Social evils like prostitution, rape, poverty, suicide, unemployment, caste system, corruption, are also hollowing out our society and are also major barriers for a developing nation like India.
We must understand and accept that society is by the people living in it. A happy society allows its people to live happily. Social evils won't stop overnight just by burning an effigy of Ravan. We need to change our thoughts and actions first and work collectively, to conquer them. We can't demolish all the evils from society completely, but we can certainly decrease them to a greater extent. To get rid of social evils, the first initiative begins at home.
Parents play an important role in mending the future of their children. Children learn from their parents and behave accordingly. Childhood is the phase of creating a good human being for a better future. Never discriminate between your children. Never neglect daughters.  It results in depression and sadness. Both girls and boys have the right to live a good childhood. They have equal rights to education. As parents, we need to focus more on the character-building of children and provide proper education to them.
We are sensible enough to distinguish between good and bad. But, Children are growing up watching us. I strongly believe that your choices in life create your karma and your karma creates your destiny. It is your choice whether you choose to be like a Ram or be like a Ravan and how you want your child to be?
As parents, keep your children away from social evils and connect your children with spirituality. Help them know and distinguish between good and evil. Teach them to respect all living beings, religion, and gender. This will make them good at heart, and when you are good at heart, society will itself turn into a better place to live.
So this Dussehra, let's burn the inner Ravan, spread love and kindness, and be honest in our duties towards our family, society, and nation, like Lord Ram.
Happy Dussehra.
You May Also Like