4 Sweets And Snacks Recipes For Festivals
Today, I am sharing with you some of my favorite sweets and snacks recipes. You can prepare these recipes on Diwali, any special occasion or festival. You don't have to compromise with the taste of your favorite snack. Make them at home, and enjoy its market-like flavors at home because these snacks and sweets are effortless to make at home.
India is a land of unique food and culture. Indian cuisine varies from spicy street food to royal feasts, lovely desserts to savory snacks, and namkeen. Indians celebrate more than 50 festivals around the year. And we cannot celebrate any festivals without eating, or distributing sweets and snacks.
Diwali is arriving, so, I have compiled an easy method of making famous delicious Indian sweets and snacks. Give them a try, they will taste better than the sweets and snacks of the market. These days a lot of preservatives and food colors are added to food items. The side effects of food colors and preservatives can have negative effects on health. So this is the main advantage of home cooking because we do not want to use any chemicals in our food Right? So let's see 4 Indian sweets and snacks recipe with their ingredients and instructions.
4 Easy Sweets And Snacks Recipes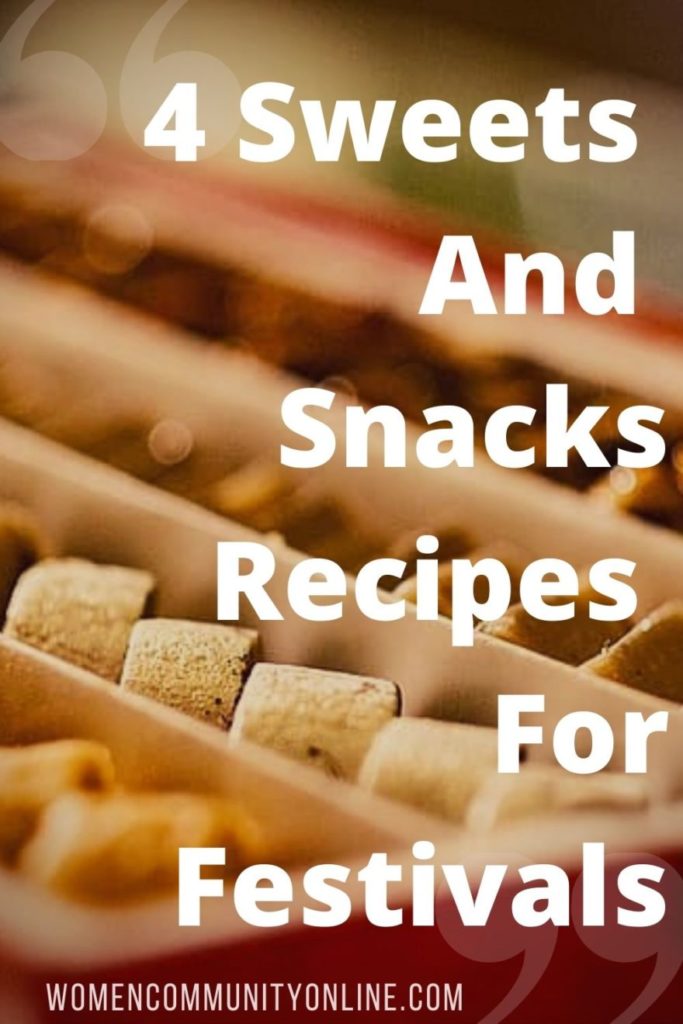 1. Kaju Katli
Kaju Katli or Kaju barfi is a famous dessert most commonly gifted during the festival of Diwali. It is a traditional Indian sweet dish eaten in Diwali. It is made from cashews by thickening milk and sugar. It's among the high-priced sweets as it is made with cashew. This milk-based has many health benefits of Kaju or cashews. Cashews can help control the blood pressure, reduce bad cholesterol levels, keeps the heart-healthy, and also provide strength to the body.
Kaju Katli Ingredients
200  grams of cashews
1/2 cup powdered sugar
1/2 teaspoon of cardamom powder
2 tablespoons of Desi ghee
water as required
varak/silver leaf/German paper (optional)
Preparation Time – 5 minutes
Cooking Time – 10
Serving – 20-25
Instructions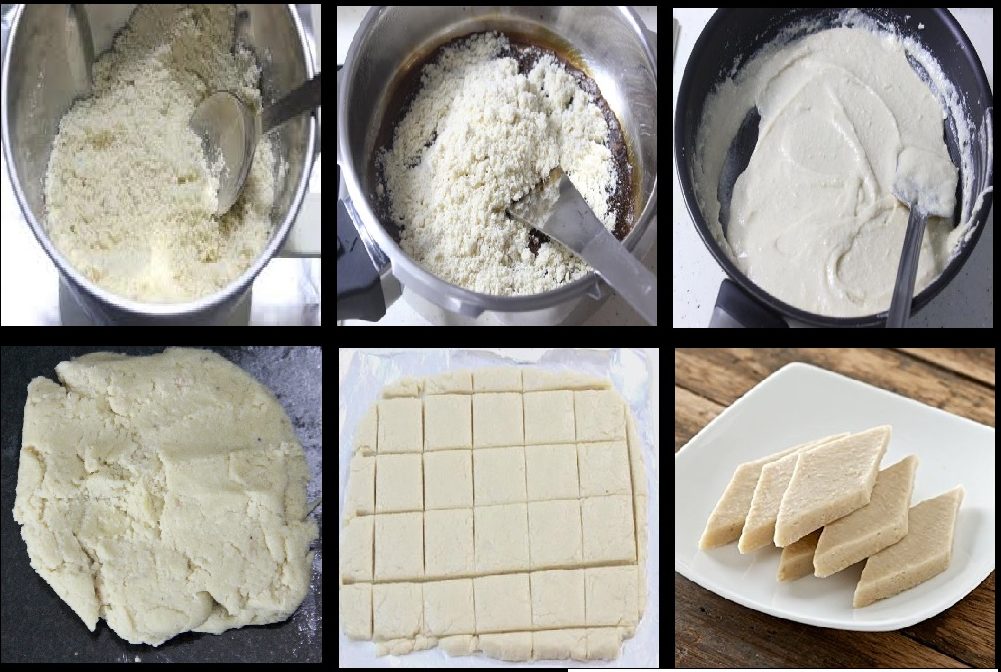 First, soak cashew nuts in hot water for an hour ago. After one hour, break one cashew to check whether they have become soft from inside.
If cashew nuts have become soft, take them out of the water and grind them into a fine paste using a mixer.
Add powdered sugar and cardamom powder to this cashew paste and mix well. Take a nonstick pan and cook this sugar cashew paste in it on a low flame.
Cook and stir the mixture continuously until it gets lump-free and thick. Once its consistency is reached as required turn off the gas.
Let this mixture cool. Once it's cooled, spread it on a greased surface, parchment paper, or a greased plate.
Then cut it into diamond shape pieces using a knife as shown in the picture. Use a butter knife to remove pieces of Kaju Katli from the plate without breaking them. You can also apply Vark, (varak/silver leaf/German paper) on its top to decorate it.
Kaju Katli is ready to serve. It can be stored in the fridge for 15 days otherwise you should consume it in a week to enjoy its good taste.
2. Rice Chakli
Chakli is a spiral-shaped savory snack made from either rice flour, wheat flour, or gram flour. It is named Chakri in Gujarat and Murukku in South India. This homemade rice chakli recipe is not a bad option to eat with tea or coffee it taken in moderation.
Ingredients
2 cups of rice flour
1/2 cup gram flour
1/2 cup oil, ghee, or butter
4 tablespoons red chili powder
1/2 teaspoon turmeric powder
1/2 cup roasted sesame seeds
1 teaspoon asafoetida
1 teaspoon salt
oil as required
water as required
Preparation Time – 10 minutes
Cooking Time –  20 minutes
Serving – 30
Instructions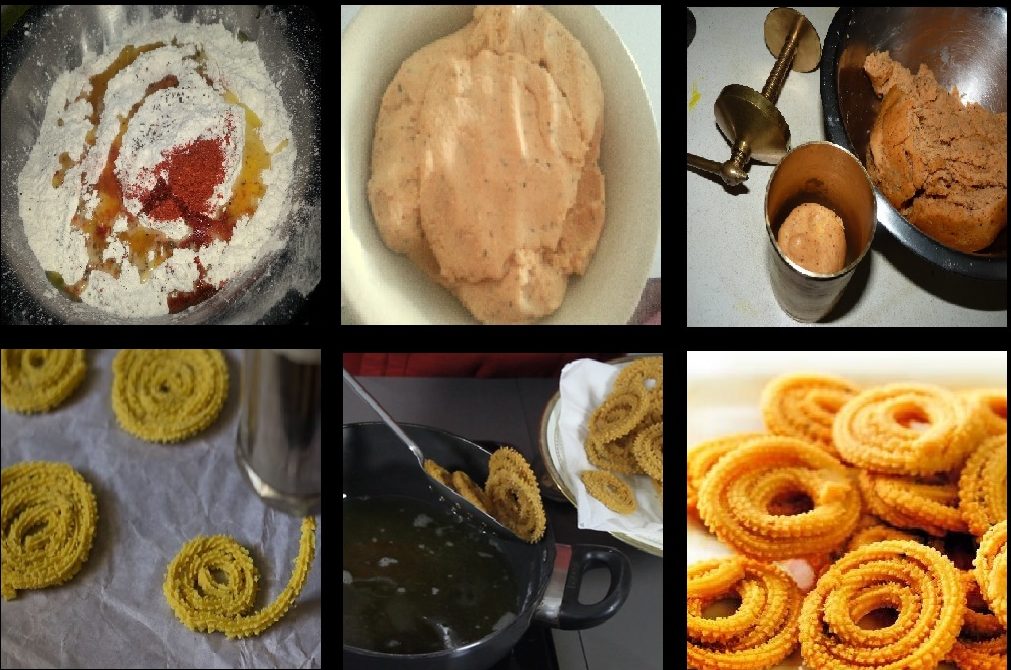 Take a mixing bowl, place a sieve on it and add rice flour, gram flour, salt, red chili powder, and turmeric powder.
Sieve these dry ingredients and mix well. Now, add butter, oil, or ghee (anything you prefer) and mix well.
Then, add sesame seeds, asafoetida, and water in a few amount and start kneading a dough. Knead this mixture well so that the spices bind well in the flour and chaklis are crispy and tasty. Meanwhile, heat oil in a frying pan on medium heat.
Grease the sides of a chakli maker and a star-shaped nozzle. Set a plastic sheet or a plate on your kitchen platform to assemble all chaklis.
Put the dough in the machine and press and turn the chakli maker in a circular motion to form the Chakli as shown in the image.
Make round spiral chakli without breaking them. Make all chakli on a plastic sheet.
Fry all chakli until crispy and golden brown and take them out in the tissue paper, so that the excess oil comes out. You can also bake them in an oven.
Rice flour chakli is ready. Serve it as a snack with tea.
3. Coconut Barfi
Coconut Barfi is another traditional Indian sweet dish which is prepared for festivals and special occasion. This tasty coconut-based dessert has a good amount of iron, protein, lipids, and carbs in it making it a healthy sweet.
Ingredients
200 grams of grated coconut
1 cup powdered sugar
1 teaspoon kewra (screwpine essence)
200 gms of condensed milk or khoa
1/2 cup almonds, chopped
1/2 cup pistachio, chopped
ghee as required
Preparation Time – 5 minutes
Cooking Time – 15 minutes
Serving – 15-20
Instructions
First, make sugar syrup. Take a pan and add half a cup of water and sugar in it. Cook for 5 -6 minutes and make a thick syrup. Turn off the gas and let the sugar syrup cool.
Once it is cooled, add condensed milk or roasted khoa to this syrup and mix it thoroughly.
Then add grated coconut, cardamom powder, and kewra essence to it and again mix it well.
Grease a plate with ghee and put the coconut mixture on it and spread it.
Garnish the top with almonds, and pistachio and press them with a spatula.
Keep the barfi to set in a refrigerator for half an hour.
After that, cut small square pieces with a knife as seen in the image.
Coconut Barfi is ready. Now you can eat coconut barfi, and keep the leftover barfi in an airtight box. Keep it in the refrigerator, it will remain fresh for about a week.
4. Tomato Sev Namkeen
Tomato sev is a crunchy, sweet, tangy, and light Indian snack. Tomatoes are a good source of the antioxidant lycopene, Vitamin C, K, potassium, and folate. They have the ability to lower the chances of heart disease and cancer. If baked, tomato sev can be more healthy than the fried ones.
Ingredients
500 grams of gram flour
100 grams of rice flour
1 tomato, chopped
1/2 teaspoon of turmeric
1 tablespoon of red chili powder
2 tablespoon of sugar
2 tablespoon unsalted butter
1 piece ginger, minced
1 tablespoon of tomato ketchup
½  teaspoon cinnamon powder
a pinch of asafoetida
salt to taste
oil for frying
water as required
Preparation Time – 10 minutes
Cooking Time –  30 minutes
Serving – 4 people
Instructions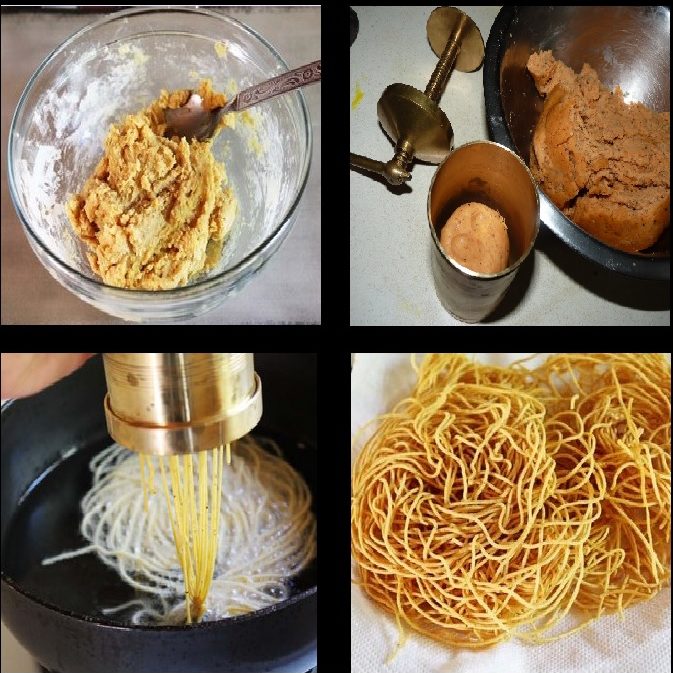 First, in a blender jar, take tomato pieces, ginger, salt, turmeric, chili powder, sugar, and cinnamon powder, and make a smooth paste without adding water.
Now in a large mixing bowl, place a sieve and add rice flour, gram flour, a pinch of asafoetida, and sieve it well so that no lumps remain.
Then add unsalted butter, and mix well. Sieve the tomato paste and mix it into the flour mixture. Add water if required to knead a soft dough.
Fill this dough in greased sev maker machine. Use a multiple hole mesh.
In a frying pan, heat oil over medium flame. Press and circulate the machine over frying to form the tomato sev in hot oil.
Start making sev as shown in the picture. Be careful that they don't get burnt. Fry them till they become golden and crisp. Then take them down on the tissue paper so that it absorbs the oil.
Tomato sev is ready. Break them into small pieces and enjoy it with tea. Store the leftover in an airtight container to keep them fresh.
This was my effort to deliver 4 easy Indian sweets and snack recipes to enjoy in festivities. Share with us in the comments down what are your favorite sweets and snacks.
You May Also Like