Enhance your Skin Tone with Glutone 1000 & Escor Z combo
Know how to enhance your skin tone with Glutone 1000 & Escor Z 
I always endorse the idea of healthy skin rather than fairer skin. There is no short cut to beautiful skin. The only secret to getting beautiful skin is proper skincare. Proper skincare comprises both internal and external factors to keep your skin healthy. These factors include the correct diet, sound sleep, exercising, meditation, hygiene, skincare routine, skin protection, beauty supplements, etc. Anyone can have perfect beautiful skin, but it requires time and effort. However, there are many oral supplements available in the market that claims to give faster results. Today we are going to talk about Skin lightening supplements, Glutone 1000 & Escor Z. But before we start, let's first know about Glutathione in brief.
Glutathione
Glutathione is a powerful antioxidant composed of amino acids i.e. glutamine, glycine, and cysteine, and produced by the human body. It aids in eliminating toxins and free radicals from our body, helps to sustain the optimum health of organs and cells present in our body, and helps protect your liver from toxicity. It is also helpful in making DNA, and in various biochemical reactions and metabolic activities of our body.
Glutathione is also known for its anti-aging properties and skin lightening properties. It fights wrinkles, hyperpigmentation, uneven skin tone, and sun damage and also helps in reducing the amount of melanin in the skin. Overall, Glutathione provides a brighter and blemish-free beautiful skin. Since years, many dermatologists also have been using glutathione in their practices. However, obtaining desired glutathione with our regular diet is tough, but possible with pure glutathione supplements that are available in the market. As we age, the glutathione levels decrease in our bodies. Glutone 1000 is a glutathione supplement that promotes well-being in the body without inducing harsh chemicals.
How to enhance your skin tone with Glutone 1000 & Escor Z?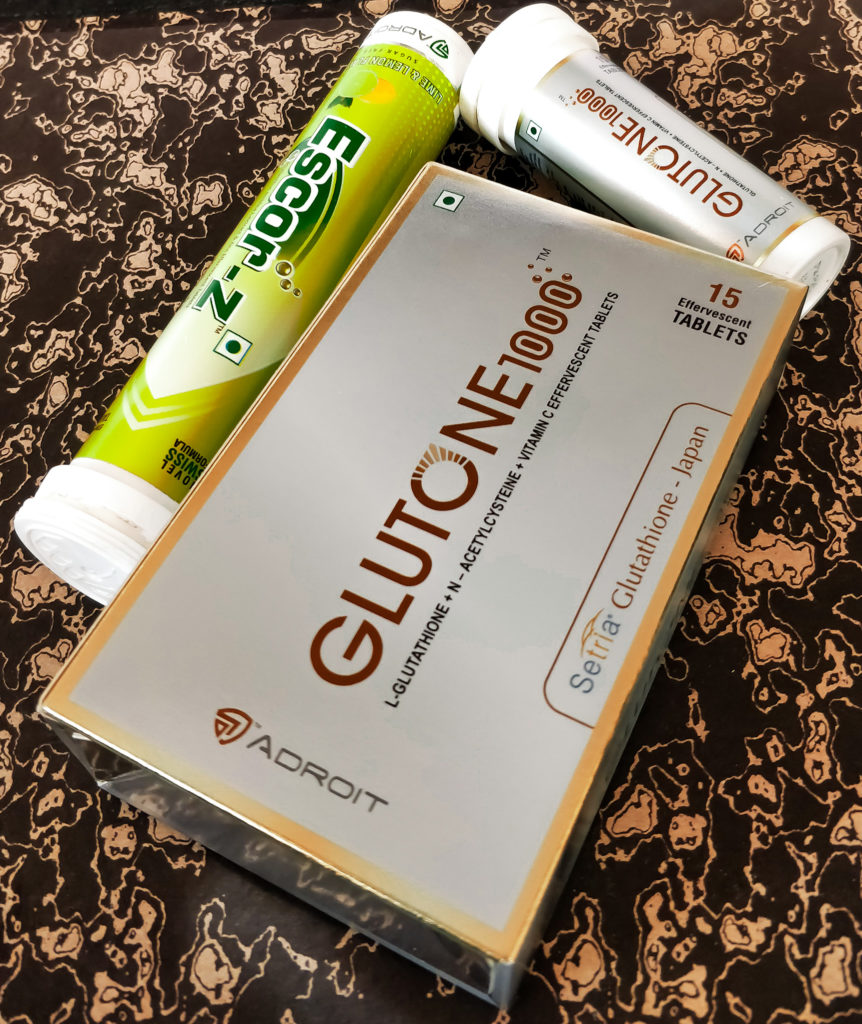 1. Glutone 1000
As we get older the glutathione levels in our body start reducing, which results in fading the vitality of the skin. Glutone 1000 is a skin-friendly skincare product that is tested by many health experts. It is composed to ensure the well-being of our dermal layer, that meets the optimum requirements that are endurable by our body. It is an anti-oxidant that improves skin health and boosts stamina. Glutone 1000 also helps in detoxification and functioning of the immune system, providing various other skin benefits. Its gentle skin-friendly ingredients also help in skin lightening and fight anti-aging without the use of chemicals. It also promotes the production of pheomelanin helpful for skin-lighting. Glutone 1000 contains the world's best glutathione SETRIA Glutathione and it is approved by Generally recognized as safe (GRAS) as safe.
Key Ingredients of Glutone 1000
L-Glutathione
Vitamin C
N-Acetylcysteine
2. Escor Z
Every day our skin is fighting with harmful atmospheric bacteria, ultraviolet radiations, pollution, dirt, dust, that not only degrade the quality of our skin but also cause the excess production of melanin. Escor Z is a Vitamin C rich supplement, that helps our skin to fight these atmospheric elements. Phyllanthus Emblica extract, also known as Amla or Indian gooseberry, is present in Escor-Z, which is a reservoir of vitamin C. Escor Z works at the maximum absorption of glutathione produced by our body. It increases collagen formation in our body, which is also essential for medicinal and cosmetic purposes. It also helps in the repairing body membranes and tissues, and skin lightening.
Key Ingredients of Escor Z
Phyllanthus Emblica L. (Indian gooseberry or Amla extract)
Zinc
Benefits of Glutone 1000 & Escor Z combo
This combo helps to maintain the glutathione levels in our bodies. Besides, its regular use also helps you to get back your original skin tone and repair skin damage. So, if you are looking to brighten your skin tone effectively, this combo can help you.
How to consume Glutone 1000 & Escor Z?
Take 1-1 tablets of each glutone 1000 & Escor Z and completely dissolve it in one glass of water. Consume it like any drink every day in the morning on an empty stomach. To see noticeable results, it is advised to use them for at least four months.
Apart from using glutathione supplements to improve the glutathione level in the body, you can also consume food rich in sulfur and selenium. Include seafood, eggs, meat, green leafy vegetables, brussels sprouts, garlic, onion, legumes, peanuts, almonds, walnuts, peaches, cheese, cow's milk, and soy products in your diet to maintain organically the levels of glutathione in the body.
 You can buy Glutone 1000 & Escor Z combo HERE
You May Also Like