Famous Women Engineers Of India
Famous Women Engineers of India – Women have conquered great heights in various male dominating professions. No matter what career a woman chooses, she will always accomplish her dreams with her dedicated hard work. Engineering is one of them. Women have evolved as great engineers. They're also involved in the advancement of various technologies. Women in the world are building a glorious career in the field of Engineering. Even Indian women are also not behind. In India, where even today, gender inequality is a big issue, some women have managed to break all stereotype barriers.
Engineer's Day is observed by many countries of the world on different dates. In India, each year, 15th September is celebrated as the Engineer's Day. It is the birth anniversary of the well-known engineer Sir M. Visvesvaraya. Born on 15 September 1861, Sir M. Visvesvaraya was a great scholar and an Engineer. He also received the greatest Indian honor the Bharat Ratna for his contribution in the field of engineering. On this engineers day, Let's know about some of the famous Women Engineers of India.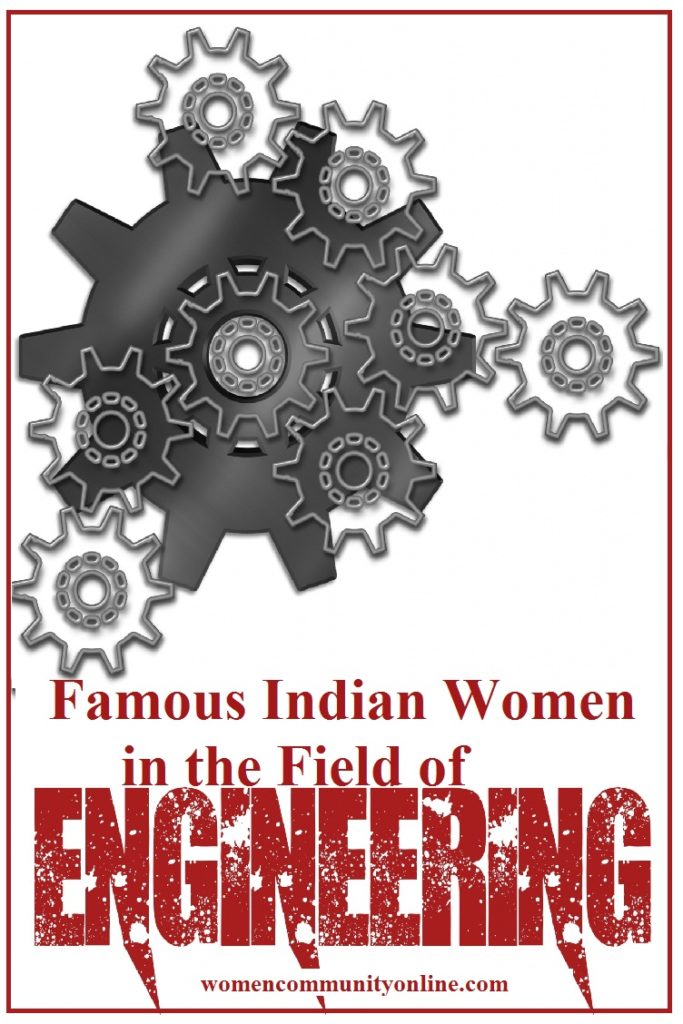 A.Lalitha
Born on August 27, 1919, in a middle-class family in Chennai, A. Lalitha, was the first woman engineer in India. She got married at the age of 15 and continued her studies even after her marriage until her secondary education. When her daughter was 4 months old, her husband's passed away in 1937. She became a widow with a child at a very young age. She desired to get a professional degree in education.
A. Lalitha enrolled in Queen Mary's College in Chennai. In 1940, Lalitha joined The College of Engineering, Guindy (CEG) for the electrical engineering program. A. Lalitha after completion of Electrical Engineering, Jamalpur Railway Workshop for her apprenticeship. In 1944, she worked as an assistant engineer in the Central Standards Organization of Simla till 1946. She left her job for her father and accompanied him in his research work. Later, she joined the Associated Electrical Industries of the Calcutta branch. There, she worked in the engineering department. In 1953, she became the associate member chosen by the Council of the Institution of Electrical Engineers, London. She became a full member in the year 1966. She retired in 1977. In 1979, at the age of 60, she died of a brain aneurysm.
Below are some other names of famous women engineers in India.
Rajeshwari Chatterjee
Rajeshwari Chatterjee was a professor and an Indian scientist. She was the first female engineer from Indian state Karnataka. She graduated in B.Sc (Hons) and also obtained the M.Sc degrees in Mathematics from the Central College of Bangalore. After her post-graduation, she joined the Indian Institute of Science at Bangalore as a Research Student in the Electrical Technology Department of Communication. After her Ph.D. degree, she joined the Department of Electrical Communication Engineering as a faculty member. She also mentored Ph.D. students. Her main teaching subjects were electron tube circuits electromagnetic theory and microwave technology.
Sudhira Das
Sudhira Das was born in Cuttack city of the Odisha state of India. She graduated from the Ravenshaw College and post-graduated in Radio Physics and Electronics, from the University of Science and Technology of Calcutta. Sudhira Das started her career as a lecturer in the Department of Mathematics. Later, she also became the principal of Women's Polytechnic in Rourkela. She also founded Women's Polytechnic college in Bhubaneswar, which provides diploma programs to female students.
Kalpana Chawla
Kalpana Chawla was born in Karnal city of Haryana India. She was an Aeronautical Engineer from the Punjab Engineering College of Chandigarh, Punjab. Kalpana Chawla received the MSc degree in Aerospace Engineering from the University of Texas. She was an American astronaut and first Indian woman to go to space. She was one of the seven crew members of the Columbia space shuttle who died in the tragic space shuttle disaster in February 2003.
Sudha Murthy
Sudha Murthy is an Indian engineer, philanthropist, teacher, and writer. She graduated in Electrical Engineering from the B.V.B. College of Engineering & Technology. She pursued Masters in Engineering in Computer Science from the Indian Institute of Science.  Sudha Murthy started her career as an Engineer and a computer scientist. She is a chairperson of the Infosys Foundation. Sudha Murthy is also a part of public health care initiatives of the Gates Foundation. She became popular as the first female engineer, selected at TATA Engineering and Locomotive Company (India's largest auto manufacturer company).
Padmasree Warrior
Padmasree Warrior is born in Vijayawada city of Andhra Pradesh India. She is a graduate in chemical engineering from the Indian Institute of Technology, Delhi. She also holds a master's degree in chemical engineering from Cornell University. Padmasree Warrior is based in San Jose, California where NIO headquarter is situated. In the United States, Padmasree Warrior is a Chief Executive Officer of NIO and also a member of its board of directors.
Tessy Thomas
Tessy Thomas is born in Alappuzha city of Indian state Kerala. She graduated in B.Tech. from the Government Engineering College of Thrissur. She also pursued her postgraduation in M.Tech in Guided Missile from Pune from the Institute of Armament Technology. Tessy Thomas has also completed her MBA with Operations Management specialization. She is a Ph.D. holder under DRDO in guidance missile.  Tessy Thomas is a  Scientist at DRDO. She is recognized as the first woman scientist to head a missile project in India.  She is well-known as the Missile Woman of India.
Minal Rohit
Minal Rohit is an Indian scientist working with the Indian Space Research Organisation.  She graduated in electronic and communication engineering from Gujarat University and joined the ISRO. Minal Rohit worked with mechanical engineers on the team of Mars Orbiter Mission. She is a senior engineer at the Indian Space Research Organisation. Minal Rohit is well known as one of ten women scientists to bring India to Mars. She served India be the first country to orbit Mars with a satellite on the first try.
Moumita Dutta
Moumita Dutta is an Indian scientist and an Engineer. She is working at the Space Applications Centre, Indian Space Research Organisation in Ahmedabad, India. She started her career as an engineer and obtained M Tech degree in Applied Physics from the University of Kolkata. Moumita Dutta was a part of Mars Orbiter Mission which aimed to explore into the orbit around Mars. She also received the ISRO Team of Excellence Award for the Mangalyaan.
Ritu Karidhal
Ritu Karidhal is an Indian scientist working in the ISRO. She completed her graduation in Physics from the University of Lucknow. Ritu Karidhal enrolled herself in the Indian Institute of Science to pursue her master's degree in Aerospace engineering. She has worked for ISRO since 1997. She was also a Deputy Operations Director in Mars orbital mission.  Ritu Karidhal is recognized as the Rocket Woman of India.
Kriti Sharma
Kriti Sharma is born in 1988 in Rajasthan, India. She graduated in Engineering and has a Master's degree in Advanced Computer Science from the University of St Andrews. She is awarded as the Google India Women in Engineering award, for her excellence in computer science by Google. Kriti Sharma specializes in financial technology, big data, product management, & millennial entrepreneurship. She was listed in Forbes magazine's 30 Under 50.
Reference:
You May Also Like