Sprint Queen & Golden Girl Hima Das Now A DSP
From rice farms to a star sprinter and now a Deputy Superintendent in Assam Police, the story of golden girl Hima Das is very inspiring. On the occasion of International Women's Day, which honors women, who have achieved success and step forward in various fields they participated in, let's know about an inspirational tale of an Indian sprinter Hima Das. She is an exemplar of women working hard and fighting all odds to achieve the impossible. Let's laud her this spirit of Woman Power on women's Day 2021, #ChooseToChallenge.
Who Is Hima Das?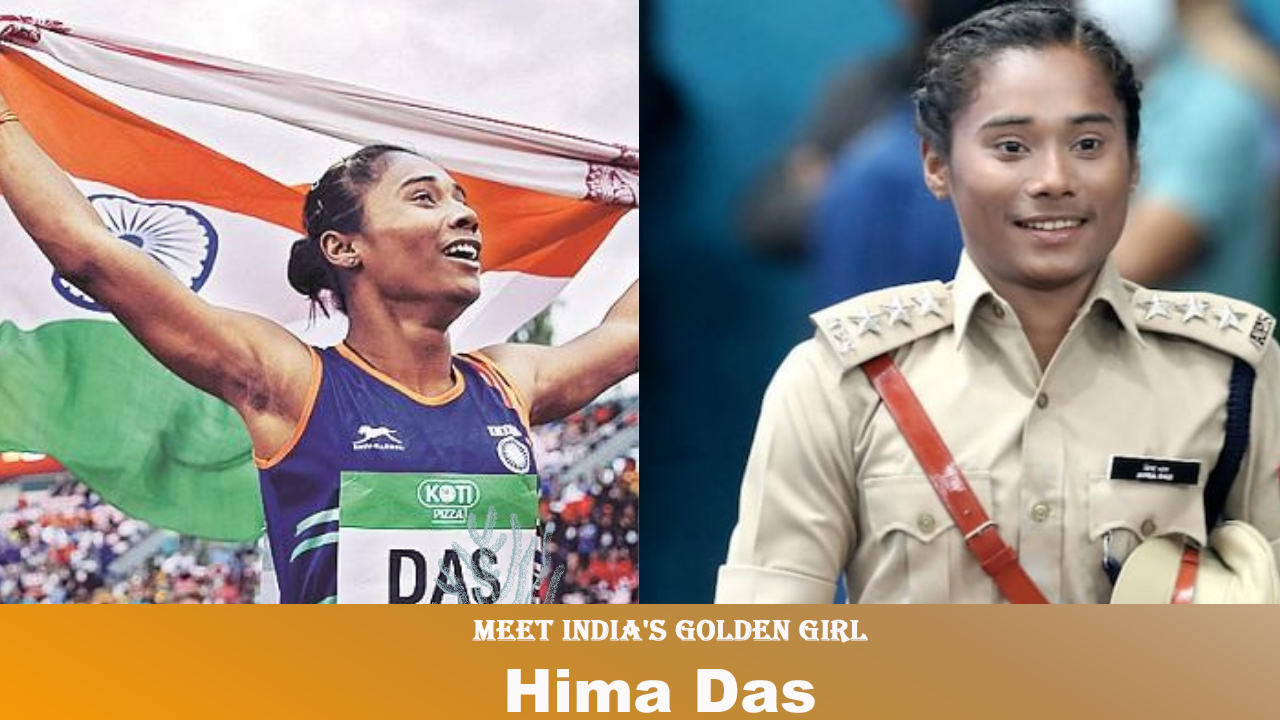 Hima Das ( Mon Jai ), born on 9th January 2000, is an Indian sprinter to hold the global honor as the first Indian woman athlete to win a gold medal in women's 400 meters final race under-20 athletics championship, in the International Association of Athletics Federations (IAAF). She earned this feat in 51.46 seconds at the World Under 20 Championship and did it five times in nineteen days. She has also won five gold medals in a row in the year 2019 and for this reason, became popular as the golden girl Hima Das.
Train hard, turn up, run your best and the rest will take care of itself! #training #focus #hardwork #sprint #athlete #run #grind pic.twitter.com/zvooE5zbTV

— Hima (mon jai) (@HimaDas8) March 2, 2021
Journey Of
Hima Das
Hima Das hails from Dhing, a small town in Assam and hence she is nicknamed the Dhing Express. 21-year-old Hima Das is a resident of Kandhulimari village in Dhing town of Nagaon district Assam. She belongs to a farmer family and is the youngest of five children in the family. Her parents, Ronjit Das and Jonali Das sustain their family by cultivating rice.
Hima Das had an interest in sports since her childhood. She also used to play football at Jawahar Navodaya Vidyalaya in her village as a striker. In fact, she also took part in football tournaments nearby her village and district. Hima did not see any big prospects for herself in football and preferred sprinting. She woke up at 4 o'clock in the morning and went in the rice fields with her father. She trained herself in her father's rice fields.
In January 2017, Hima Das attended a training camp in Guwahati. Nipon Das, an athletics coach with the Directorate of Sports and Youth Welfare, noticed her potential. He realized that she has the possibility to become an international-level athlete with proper training.
For this reason, he finally decided to meet Hima's parents and requested them to send her to Guwahati for better coaching. Initially, her parents were unwilling to send Him to Guwahati for training but, later changed their mind. Consequently, with her hard work and diligence her journey towards becoming an athlete commenced.
Hima Das's Records & Achievements
In Guwahati, Hima Das used to run in 100 meters and 200 meters, later switch to a 400-meter race. Hima participates in 400-meter, 200-metre, and 4×400-meter relays. She has a record title as the first Indian athlete to win a gold medal in any track event at the international level. Earlier no Indian or female player has won gold in the World Championship at any level, junior or senior.
Hima Das has won a silver medal in the 4 × 400-meter mixed relays at Asian Games in 2018.
She has won the 400-meter final at the World Under 20 Championships at Tampere in Finland in 51.46 seconds in July 2018.
She also holds a record of 51.32 seconds in 400 meter final in the Commonwealth Games held at Gold Coast, Australia in April 2018. On 4th July 2019, Hima at her first competing race won a gold medal in the 200-meter race at the Poznan Athletics Grand Prix in Poland with a record timing of 23.10 seconds.
She also won a gold medal in the 200-meter race at the Kutno Athletics Meet in Poland in 23.97 seconds in July 7, 2019.
Additionally, Hima also bagged a gold medal in the 200m race at the Kladno Athletics Meet in 23.43 seconds and at Tabor Athletics Meet in 23.25 seconds in European races in the Czech Republic in July 2019.
Hima Das also grabbed a gold medal in the 400-meter event in Nove Mesto with the timing of 52.09 seconds on 20th July 2019.
Hima Das also has an endorsement deal with Adidas, which manufactures customized shoes for her with her name imprint.
She has also awarded with Arjuna Award by Ram Nath Kovind, the President of India, for outstanding performance in sports and games in September 2018.
Bengaluru's Bannerghatta Biological Park management named a six-month-old tigress Hima to honor the gold medalist Hima Das on July 29 International Tiger Day.
She is also the first sports ambassador of Assam.
She is known as a golden girl for grabbing 5 gold medals in various tournaments in nineteen days.
A proud day for Assam.

Glad to ceremonially appoint ace athlete @HimaDas8 as Dy SP in @assampolice. An honour for her achievements under the Sports Policy, the appointment will further motivate youths to pursue excellence in sports.#SIsRecruitment pic.twitter.com/9tPOt667Eh

— Sarbananda Sonowal (@sarbanandsonwal) February 26, 2021
Hima Das has become people's favorite by creating a new history in Indian athletics. India's sprint queen and golden girl Hima Das will now wear a khaki uniform. Since her childhood, she harbored a desire to become a police officer. With her constant effort to achieve something, she vowed to serve as a Deputy Superintendent of Assam Police, continuing her career and passion in athletics. Hima Das is inducted as DSP in the Assam Police on 26th February 2021, in an official ceremony attended by the chief minister of Assam Sarbananda Sonowal, Director General (DG) of police, and other VIPs.
Thanks to my parents for always supporting me in achieving my dreams. pic.twitter.com/IEZwua7MWg

— Hima (mon jai) (@HimaDas8) February 28, 2021
The whole country is celebrating this historic achievement of golden girl and ace sprinter Hima Das. People are not tired of congratulating her on social media. Of course, she worked hard to get to this position. Her coach Nipon Das, and former Russian athlete Galina Bukharina have impelled the rise of Indian sprinter Hima Das to success. Not only did Hima lived up to the confidence of her family and mentors, but also raised new hope for people in the country.
Hima Das is truly an inspiration for women and men who want to pursue a career in defense, police force, sports, gymnastics, and athletics. More power to you Mam, thank you for inspiring us.
You May Also Like