Quick Kitchen Cleaning Tips
The secret of good health is hidden in a clean and beautiful home. Every member of the house should voluntarily take responsibility to clean the corners of their house. The important part of the house is the kitchen, which gets dirty while making food every day. If the kitchen is not clean, then members of the house will be regularly sick. Many things in the kitchen require cleaning every day. Let us know some quick kitchen cleaning tips which can be used to keep the kitchen clean and know the hassle-free way of cleaning it.
Hassle-free and Quick Kitchen Cleaning Tips, Everyone should know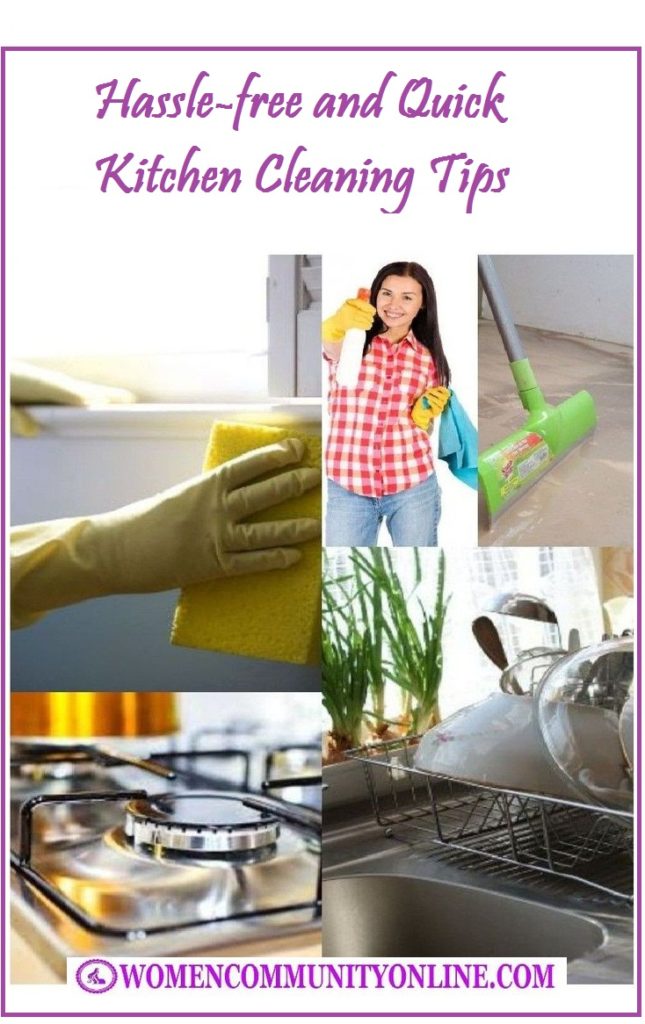 Cleaning the Cooking Gas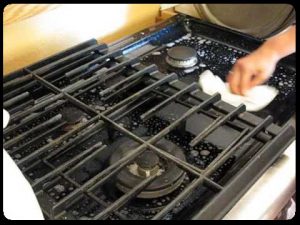 Do not forget to clean the cooking gas after cooking. If food has fallen on the burner or around it, clean it with a wet cloth. Apply a kitchen degreaser or detergent on the sponge and clean the cooking gas. After that rinse it with clean water and then wipe it with a dry cloth. If something has fallen on the gas burner, causing its holes to close, then use a brush to clean it. This brush can be found at a gas agency, a kitchen shop or online. Keep checking gas pipe i.e. rubber tube from time to time. Many times rubber tubes degrade due to abrasion or cleaning. After using the cylinder, do not forget to close its gas taps. This will keep both your gas and family safe.
Cleaning the Microwave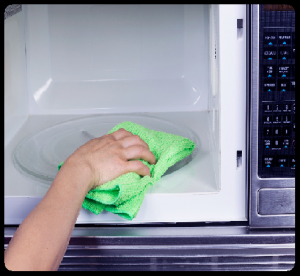 The microwave probably is the most used kitchen appliance in our kitchen, so be sure to keep it tidy by giving it a good cleaning once a week. Fill two cups of water in a microwave bowl and add a spoonful of lemon juice in it. Microwave this water for five minutes and leave it. When microwave stands by, take microwave wipes or a kitchen towel and clean it from inside it. This will not only clean the microwave but also, leave a fresh smell in it eliminating food odor from it. Besides, you can also use a ready-made Microwave Cleaner available online. Its steam will clean all the messy crud from your microwave in just a few minutes.
Cleaning the Refrigerator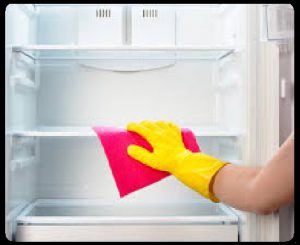 Like the microwave, regular cleaning, and maintenance of the refrigerator are equally important. Use hot water and baking soda for cleaning your refrigerator. Always remove the fridge plug before cleaning it. Remove all the ingredients from the fridge and cover them. Mix baking soda with lukewarm water and clean the fridge with a soft and clean cloth. After cleaning the refrigerator, wipe it with some soft and dry clothes or fridge wipes available in the market. Never give a direct wash to your refrigerator with water. If the fridge is stinking, place a fridge odor remover in it or cut a lemon into two and put it in your fridge. Besides, never overload your refrigerator by placing too much stuff.
Cleaning the Toaster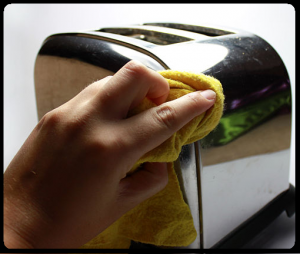 Always use a toaster of a good brand, so it lasts for a long time. Unplug your toaster before cleaning. Always use a dry cloth to clean the toaster and its switch, because wet cloth may moist your toaster from inside, which can take a long time to dry. Shake it upside-down to clean it's inside and never scrape it with a knife. Take out the crumb tray and wash it with soapy warm water. Keep your toaster clean, so it works better and safer for you.
Cleaning the Mixer Grinder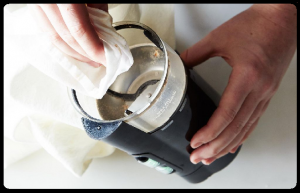 Remove mixer blades and attachments before cleaning. Clean the surface of the mixer with a wet cloth and then dry it out with a dry cloth. Clean the blades and attachments with clean water and dry it with a cloth. Wash the mixer jar with dish soap. Always remember to unplug your mixer after its use.
Cleaning the Nonstick Kitchenware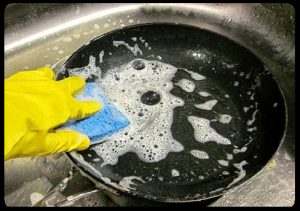 Nowadays nonstick utensils are a part of every kitchen. Therefore, their care is equally important. Use water and white vinegar mixture to clean them. In a nonstick vessel, pour water and add 1/2 cup white vinegar and bring it to a boil until the residue starts floating on the top. Throw the water once cool and then wash the vessel with a regular dishwasher and nonabrasive dishwashing scrub. Remember to wash your nonstick kitchenware carefully. Never clean nonstick utensils with rough and edgy things as it can ruin the nonstick coating.
Cleaning the Cabinet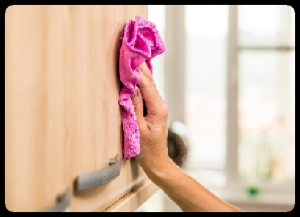 It is essential to regularly clean dust spreading over the kitchen cabinets. The first step is to clear the dust from the kitchen cabinet doors and then clean them from the inside and outside with a kitchen cloth. Then, use a sponge and soapy water to clean the inner side and door of the cabinet. After cleaning it thoroughly, take a clean cloth and dip it in hot water and wipe out the soap solution from the kitchen cabinet. Later, dry them with a dry cloth and keep them open under the fan for a few minutes.
Cleaning the Kitchen floor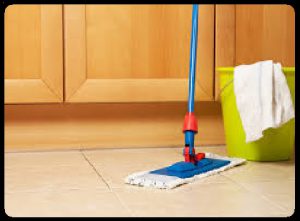 Germs and bacteria are everywhere in the house, so it is necessary to keep the kitchen floor neat and tidy. If any sticky thing has fallen on the kitchen floor, then use bleach or vinegar to remove it. Move furniture from the floor and sweep it thoroughly with a sweeper. Mix one cup of bleach or one cup of vinegar to one gallon of water warm water and use this mixture to sweep your kitchen floor. Besides, use a disinfectant floor cleaner daily to sweep your kitchen floor to keep it clean and shiny.
 Cleaning the Kitchen Sink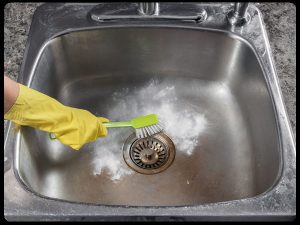 Cleaning the sink is extremely important to avoid clogging and plumbing issues. Fill your sink up with warm water and bleach or home drain cleaner to clear clogged drains and to avoid clogging. It clears the sink pipe passage effectively and keeps them germ-free. Scrub the kitchen sink regularly to remove the sticky grease and food stains from the sink. Use a brush and scrub the sink surface with it. Use white vinegar and baking powder for cleaning the kitchen sink surface. Sanitize it to kill all the microbes in the sink and close the drain with a sink strainer and waste filter.
I hope you'll find these quick kitchen cleaning tips helpful. Don't forget to share with us what are your easy ways of cleaning your kitchen, in the comments section below.
You May Also Like: