How To Make Lipstick Last All Day
Your makeup is half-done without the use of lip products and lip color. Applying a lipstick that suits your makeup and outfit earns your look extra points and proffers radiance to your face. However, you might have noticed many girls and women often complaining that their lipstick doesn't last long or their lips look chapped. Chapped or chafed lips look quite unpleasant. Keep reading this post to find out how you can make lipstick last all day.
Know-How To Make Lipstick Last All Day With These Easy 8 Steps 
A lipstick applied correctly gives a beautiful impression to your face but, many of us fail to do that, due to which the lipstick spreads, looks dry, or gets on the teeth.  Most working ladies have complaints, that their lipstick fades while eating or drinking.
Even after following several tricks for long-lasting lipstick, if your lipstick does not stay for more than two to three hours, then you might consider adopting the following ideas. The below-mentioned measures help me make my lipstick last all day and I am sure they will help you too. So, let's find out how you can make your lipstick last all day.
1. Prep Your Lips Before Applying Lipstick
Most ladies or girls forget to prepare their lips before applying lipstick either due to negligence or a lack of time. Also, many simply apply a compact powder on their lips before applying lipstick, assuming it will hold their lip color longer. Well, this will only dry up your lips and make your lip color a shade lighter. This won't help you secure your lipstick for a longer time. If you really desire to secure your lipstick for a long time, then follow a proper lip care routine (as mentioned in step 8 below).
Make sure your lips are their best before applying your lipstick. First, remove the dead skin cells or dry layers off your lips by gently scrubbing a soft exfoliator on your lips. Next, moisturize your lips well, before applying any lip product like lip primer, lip liner, and lipstick.
2. Use Lip Primer
Apply a primer on your lips before lipstick to prevent your lip color from fading. Like we prime our skin before applying makeup, priming your lips acts as a canvas and imparts a smooth base to your lipstick. Lip products can stick ending in dry patches and fine lines on lips. So, it is important to use a primer to set a base for your lipstick. Besides, lipstick applied on properly prepped and primed lips surface better and last longer. You can also use a nude lip color for priming your lips. Nude lipstick can provide a smooth base for lips and goes fine with all lip colors.
3. Outline Your Lips
Applying a lip liner correctly can be tricky, but if applied correctly, it can extend your lipstick's wearability and prevent blotch. Outline your lips with a lip pencil, lip liner, or your lip color and lip brush, so it's difficult for your lip color to get outside the line while filling your lips.
Line your pout, before filling in your lips, this will also block lipstick from smudging and fading. Outline your lips from the corners to the center of your lips. Lipliner will also shape your lips. So if your lips are too thin you can amp up your lips with the help of a lipliner.
4. Set Your Lipstick
After outlining your lips, first, apply an initial coat of lipstick to your lips. Blotting is a crucial step in applying lipstick. It will absorb excess lipstick and deliver a mattify stain-free color on your lips. After applying a coat of lipstick, hold a blotting paper in between your lips for five seconds, and slowly press to remove the excess lipstick. You can also use facial tissue instead of blotting paper.
After removing extra lipstick using blotting paper, apply translucent powder to your lips with the help of your finger. Now, again apply lipstick to your lips. This way the lipstick will stay on your lips for a long time.
Use a brush to fill in the lip color to get a fabulous look. Don't forget to blend your lipstick along with your lip liner. The advantage of applying lipstick with a lip brush is that it can be applied evenly with precision. Following this step will make sure that the first coat of your lipstick will not smudge on your lips.
5. Store Your Lipstick In Refrigerator
Your lipstick is made up of substantial oils and fats. Lipsticks are likely to oxidize, which can convert natural oils resulting in a spoiled product. Keeping your lipsticks in the refrigerator can subdue this oxidation process. Moreover, lipstick stored in a cool place will preserve its color and composition.
Storing your lipstick in the fridge will help them last longer and will prevent them from deteriorating. Also, external factors will be inept to break down its composition or alter its pigmentation. But note that once you store your lipstick in a refrigerator, you need to always refrigerate it otherwise it will spoil.
6. Use Matte or Waterproof Lipstick
The deterioration of the added oils in lipsticks makes their composition drier, resulting in the appearance of cracks on your lips. Hence, always use waterproof matte lipstick as it stays on your lips for a long time. Various varieties of lipsticks are available in the market. But if you have a plan to go out, dip in the pool, or are an office-going person who doesn't get enough time for touch-ups, then always opt for water-resistant matte formula lip color. Choose shades that match your skin tone perfectly, to impress everyone with your glazed makeup look.
A matte lipstick with a water-resistant formula infused in it is highly pigmented and has more wax and fewer oils, which makes them claret, and long-lasting. Apart from this, avoid using a lip gloss and cream-based lip products as they fade away easily.
7. Keep Your Lips Healthy
Our lips are a fragile layer of skin that can get easily damaged due to external environmental conditions, lack of hygiene, and abandoned proper care. Because the skin of Lips is too delicate, they tend to get chapped, cracked, and can even bleed, if ignored. Repeatedly picking or touching your lips can also be perilous for your lip skin. Often keeping your lips hydrated and moist with lip balm will prevent dry lips.
Avoid licking your lips to coat them in saliva, because it leads effect your lips to turn drier when it evaporates. Besides, saliva contains enzymes that can dry your lips, which can be severe for your gentle lip skin. Therefore, it is necessary to take care of your lips and follow a proper lip care routine to keep them healthy.
8. Proper Lip Care Routine
Regularly scrub your lips once or twice a week to maintain the smoothness and softness of your lips. You can also use a toothbrush for this, it will also help your lip appear plump. Use honey and sugar mixture to scrub your lips to reduce chapped lips.
Clean and moisturize your lips daily. Daily apply a good moisturizer or coconut oil on your lips to keep them moisturized naturally. You can use any good lip balm or glycerin. Apart from this, applying clarified butter daily before going to bed is really beneficial for your lip's health.
Clean all your makeup accessories, beauty blender, and brush once a week. Also, invest in a good makeup remover to allow your skin to be in its natural form again after removing makeup. Garnier Micellar Cleansing Water does miracles for me.
Lipstick is also an essential part of makeup like any other makeup product for women, as it enhances facial beauty. If you follow the above-mentioned suggestions while applying lipstick, then you will be able to apply correctly lipstick which will also last for a long time.
So these were my 8 techniques about how you can make your lipstick last all day. These techniques will also benefit you to safeguard your lipstick under your mask. What are your favorite lipsticks and how you keep them last lasting? don't forget to share your ideas in the comments below.
Liked This Post? Please Pin It For Later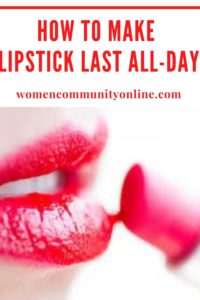 You May Also Like