11 Lipsticks Perfect For Valentine's Day
Red is considered to be a symbol of love. So if you prefer to wear any shade of red on Valentine's day, then keep reading this post as we are going to tell you about lipsticks perfect for Valentine's day. These are some impressive shades of red under $11. They're suitable for Indian skin tone, which you can wear to get the most kissable lips this Valentine's day.

Every girl or woman loves to wear lipstick on special occasions or daily routine. Every makeup look is incomplete without it. Even though there are many color options available nowadays, every girl likes to wear shades of red lipstick either on Valentine's day, or her wedding. 14th February is approaching. So, if you desire to look more attractive for your partner this Valentine's day, then we have the following suggestions of lipstick for you that will enhance your valentine's day look. Additionally, we also have some handy tips to help you choose the perfect red lipstick according to your skin tone. Red, maroon, coral, burgundy, auburn, magenta, fuchsia, brown, or pink sultry lips add four moons to your face. There are many shades available in red lipsticks that suit all skin tones.
How To Choose the Perfect Red Lipstick For Your Skin Tone?
Make sure you prep your skin and lips on valentine's day eve, to get the most out of the products you apply to your skin. Talking about the colors, all lip colors are great as long as you are confident enough to carry them on your skin. However, we do have some suggestions for you to help you choose the best red shade lip color for valentine's day.
Light skin tone girls and women should opt for a red lipstick with brown, burgundy, hot red, purple, cool-hued reds with blue, orange-based red, raspberry reds, or purple as a base or blue-red undertones lipsticks. If your tone is medium or wheatish then you should choose blood-red, brick red, wine-red lipsticks, or orange-red shades in lipsticks.
These lip colors will highlight your whole makeup look. For deep skin tone choose a red color with glossy reds, coral reds, blue-based reds, or a shimmery finish with a slight hint of orange and brown. If you want to look more attractive on Valentine's day, then try these red lipsticks with a minimal makeup look.
11 Lipsticks Perfect For Valentines Day Under $11
1. Maybelline New York Color Sensational Creamy Matte Lipsticks
Maybelline is a top-selling brand offering personal care, skincare, and cosmetics. I m a huge fan of Maybelline lipsticks, eyeliner, and mascara, it is my favorite brand of lipstick. Maybelline Matte Lipsticks are well pigmented and does not dry out lips after application. These lipsticks are affordable, lightweight, and provide a matte coating to your lips. Its ultra-matte formula will certainly last for at least 5 hours on a single application. Its formulation is long-lasting, smooth, and creamy.
2. SUGAR Cosmetics Matte As Hell Crayon Lipstick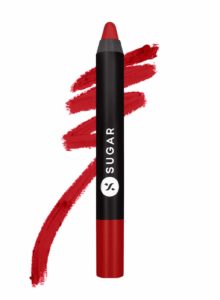 Get It Here
SUGAR Cosmetics brand offers a variety of classy beauty products that are paraben-free and cruelty-free. Talking about this red lipstick, this lipstick looks like a liner and it comes with a sharpener. This lipstick is highly pigmented and will easily stay on your lips for 4 to 5 hours. The best thing is that after its application you won't get chapped or cracked lips so you do not even need to apply a lip balm on your lips. It will provide your lips a perfect matte finish that will compliment your Valentine's day look.
3. SUGAR Cosmetics Smudge Me Not Liquid Lipstick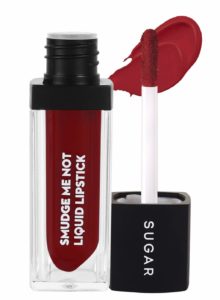 Get It Here
SUGAR Cosmetics Smudge Me Not Liquid Lipstick in Deep Red with blue undertone color, goes well on all Indian skin tones. It offers other color options too. This matte lipstick collection by SUGAR Cosmetics comes with a liquid well-pigmented formula that is smudge-proof and long-lasting. After application, it dries out completely so this lipstick may not be suitable for you if you have excessively dry lips.
4. L'Oreal Paris Color Riche Moist Matte Lipstick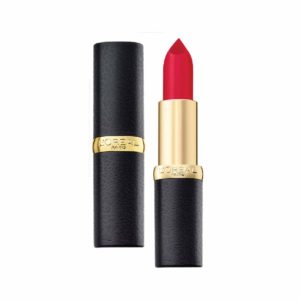 Get It Here
L'Oreal Paris Color Riche Moist Matte Lipsticks – 213 Lincoln Rose will look great on medium to fair skin tones. This lipstick is highly pigmented and lightweight with powerful hydration formula that will remain on your lips all day. It offers varied shades suitable for Indian skin tone.
5. Lakme 9 to 5 Primer + Matte Lip Color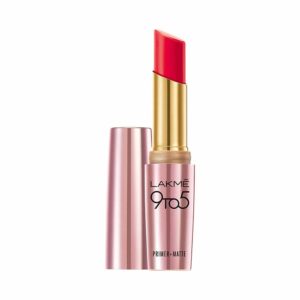 Get It Here
Lakme is the first and oldest Indian cosmetic brand that offers economical and classy beauty, makeup, and personal care products. If you are looking for a perfect matte finish lipstick that's available in a variety of colors. This lipstick will also keep your lips hydrated, then you can opt for this lipstick. It also has an inbuilt primer that makes it long-lasting and smooth on application.
6. Lakme Forever Matte Liquid Lip Colour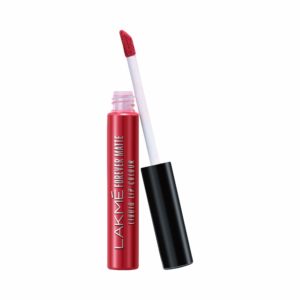 This Lakme Forever Matte Liquid Lip Colour available in different shades is highly pigmented and lightweight. On application, it is smooth and glides easily on lips. It provides a smooth and bright matte finish to the lip. It has a creamier texture that doesn't dry out lips after application. Click Here to check out its other shades.
7. Lakme 9 To 5 Weightless Mousse Lip Color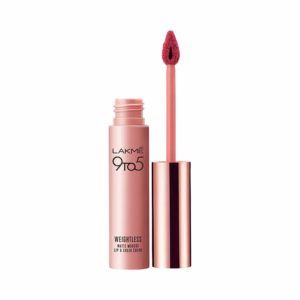 Get It Here
Lakme 9 to 5 Weightless Mousse Lip and Cheek Color- Plum Feather lipstick glides on smoothly with a matte and weightless texture. This lipstick will easily sit on your lips for at least four hours and it is suitable for all skin tones. It is transfer-proof and gives a classic high pigmentation on lips on single-use.
8. Lakme Enrich Lip Crayon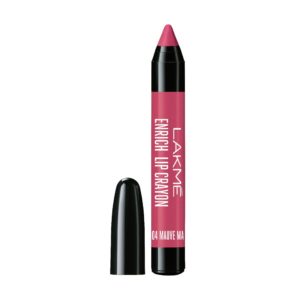 Get It Here
This affordable, easy to apply moisturizing lip crayon will give a bright satin-matte finish to your lips. If you have dry lips you will fall in love with this lip crayon. Its texture is smooth and shiny due to its sheer formula higher in oil. This lip crayon contains jojoba oil and olive oil that will not only hydrate your lip but also nourish chapped lips. It comes in varied colors that suit fair to medium skin tones.
9. Colorbar Velvet Matte Lipstick, All Fired Up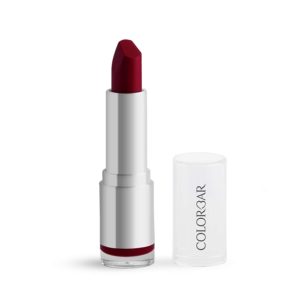 Get It Here
Colorbar cosmetic is one of the leading brands that offer PETA certified, cruelty-free vegan beauty products. This all fired up matte lipstick is suitable for dusky and fair skin. On application, your lips will become shiny and creamy, it doesn't give a completely matte finish. It is long-wearing, highly pigmented, and affordable that has a wide range of colors you will love, so make sure to reassure which color suits your skin tones.
10. NY Bae Liquid Lipstick Brown – Hopelessly Romantic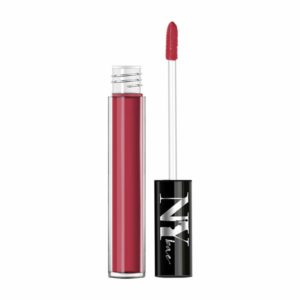 Get It Here
NY Bae offers eleven shades in liquid lipsticks suitable for all skin tones. This Brown – Hopeless Romantic lipstick by NY Bae is very pigmented, smudge-proof, and can easily last an average of 5 hours. The texture of this lipstick is creamy and smooth, which neither dries out on lips nor forms creases.
11. Iba Halal Care Pure Lips Moisturizing Lipstick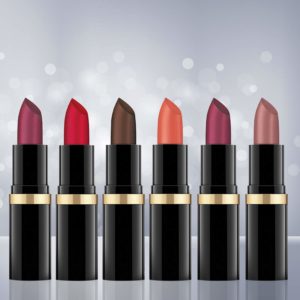 Get It Here
Iba is PETA certified cruelty free and vegan brand that offers a variety of skincare and cosmetics. Its lipstick collection has some of the best lipstick shades for Indian skin tone. These lipsticks contain a hydrating formula that moisturizes your lips. It will last straight for 3-4 hours on a single swipe.
You May Also Like